Posted December 11, 2021
By BRIANNA OARD
Nestled deep within the heart of Coral Gables, Fla., is a grand structure that stands out from a backdrop of luscious green palm trees.
The property in question is The Biltmore Hotel, a huge edifice with a soaring tower modeled after the Giralda, the famous medieval tower of Seville Cathedral in the Spanish city of the same name.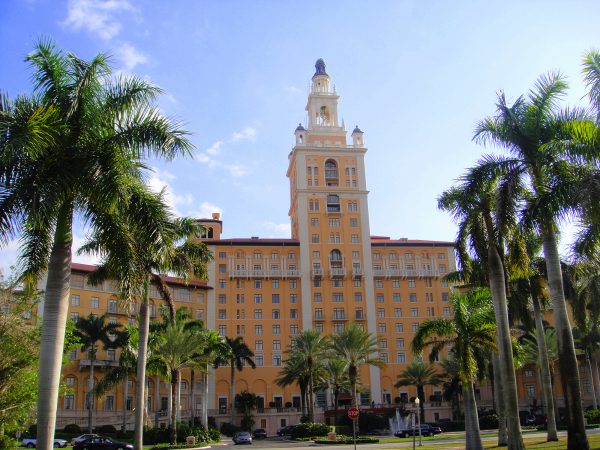 Resembling a European palace and situated in the middle of a peaceful residential neighborhood of old homes, the hotel features an intricate architectural design of Mediterranean architecture with Spanish, Italian, and Moorish influences.
Since The Biltmore Hotel first opened its doors in 1926, it has attracted high-profile celebrities and public figures from around the world for its majestic property, storied history, famous pool, and incredible restaurants. It was added to The National Register of Historic Places (NRHP) on Sept. 27, 1972, and designated a National Historic Landmark (NHL) on June 19, 1996.
Veronica Villegas Baldwin, who works for The Biltmore Hotel as executive vice president of the public relations agency Kreps PR & Marketing, stated that the classic Mediterranean architecture brings many people to the historic landmark.
"The Biltmore's signature classic Mediterranean-inspired architecture is definitely a big draw because it's so majestic-looking. It has a lot of European influences throughout the entire hotel. You know, it has Spanish influences, Mediterranean influences, Italian Moorish influences throughout you know, and it is just stunning inside and outside. And it is definitely a draw for many people because it does look like a majestic castle and it is not something that you would typically see in Miami," Villegas said.
Candy Kakouris, director of The Club at The Biltmore and its in-house historian, agreed that the architectural design of the historic property differentiates it from other resorts in Miami.
"The building as a whole is something that we call Mediterranean revival. And Mediterranean revival was an American style that was [extremely] popular in the 1920s. So, when you see a lot of these older properties like Freedom Tower downtown, they are what you call Mediterranean revival because they incorporate a lot of different Mediterranean architectural styles. So, you will have a gothic look, you will have Italian folded in there, along with Spanish, Greek, and French. So, it incorporates all of them. And that is why they call it Mediterranean revival," Kakouris explained.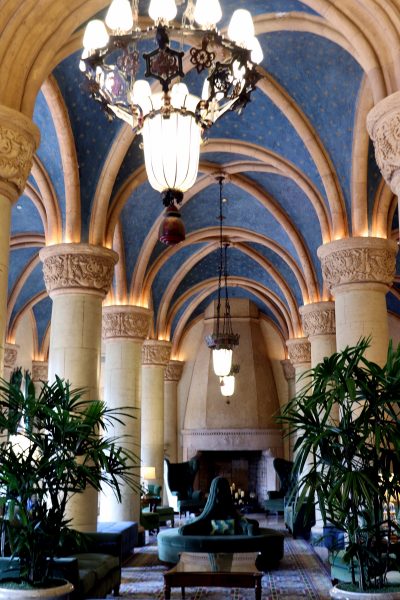 Villegas Baldwin has been working with The Biltmore for the past seven years to ensure that it continues its relationship with the city and abroad through the media.
Despite not being a direct employee of the hotel, Villegas revealed that her favorite part about working for The Biltmore is its beautiful and magical atmosphere.
"Every time I go there, it just feels like such a magical place. It is such a beautiful place. It is got a beautiful spirit about it. And the people there are wonderful, and everyone that works there is like a family.
"And it is just a beautiful, magical place. It is got so much history, it has so much culture, and it has its own spirit about it. That is just very pleasant. It makes you feel like you are not even in Miami and makes you feel like you are in an Oasis … it's just a very beloved place that has a lot of rich culture and history and just amazing architecture and scenery," Villegas said.
Built by real estate developer George E. Merrick and Bowman-Biltmore Hotels president John McEntee Bowman, and designed by Schultze and Weaver, the Biltmore opened its doors in January 1926.
However, just nine months after its grand opening, the Great Miami Hurricane of 1926 struck in September. The Biltmore surprisingly went undamaged during the storm and was used to provide shelter for over 2,000 survivors.
During World War II, The Biltmore was taken over by the War Department and converted into a 1,200-bed Army Air Force Hospital in November 1942.
"It was a hospital … when the [World War II] hit, and in the beginning, it was an Army Air Force hospital that was for the severely wounded. After the war, it became a Veterans Hospital. So, the government owned it because they took it through eminent domain. So, it operated as Pratt General Hospital — they changed the name in '46 to Pratt — and it remained a hospital until 1968, until the Veterans Hospital moved to the Jackson Memorial area." Kakouris, the in-house historian and director of The Club at The Biltmore, explained.
Kakouris also highlighted that the country club part of the hotel remained in use during the 1970s and that it was not until a decade later that the restoration process for the hotel part began. The Biltmore Hotel officially reopened on Dec. 31, 1987, as a first-class hotel and resort, but closed again in 1990.
In June 1992, Seaway Hotels Corporation, a Florida hotel management firm, reached a long-term agreement with the City of Coral Gables to become The Biltmore's operators. Plans for extensive refurbishments across property were immediately made to help transform the hotel into a world-class luxury resort. However, Seaway could not have anticipated Hurricane Andrew ravaging through the Sunshine State in August, throwing a wrench into the works.
Villegas Baldwin explained how the property reprised its role as caretaker following the aftermath of Hurricane Andrew in 1992, which was even more devastating for the city than the 1926 Miami Hurricane.
"The Biltmore basically went through the same thing that it did when it first opened. … The Biltmore was not supposed to open for another month … but then it ended up opening early in August, literally a week, probably about three weeks to a month before it was supposed to open, because Miami was devastated [by Hurricane Andrew].
"And The Biltmore sort of served as a beacon of light for the city. And it was a hub, and … they served meals to hundreds of workers and hundreds of people. They literally rushed to open that hotel to help Miami make a comeback after Hurricane Andrew," Villegas Baldwin explained.
Today, the Biltmore is a 271-room resort, including 174 suites. The ornate building is situated on more than 150 acres of tropical landscape, with an 18-hole, 71-par championship golf course, tennis courts, European Spa and a modern fitness center.
Its 23,000-square-foot pool holds 600,000 gallons of water, and, according to USA by Numbers, it is the sixth-largest swimming pool in the United States.
Over the years, it has also attracted various celebrities and public figures, including Edward VIII and Wallis Simpson (the Duke and Duchess of Windsor), Judy Garland, Ginger Rogers, and Bing Crosby. Mobsters Al Capone and Thomas "Fat" Walsh have stayed there as well; during a visit in 1929, the latter was killed in the hallway on the 13th floor.
Hotel guests, locals, and tourists alike can enjoy an unforgettable meal at any of The Biltmore's award-winning restaurants: Fontana, a traditional Italian restaurant surrounding the historic landmark's courtyard and fountain; Cascade, the al-fresco restaurant that overlooking The Biltmore's famous pool; and The 19th Hole, the causal restaurant offering a magnificent view of the golf course.
The Biltmore is also a hotspot for Sunday Brunch where guests can indulge in a plethora of buffet stations featuring their favorite hot and cold dishes, in addition to boards featuring popular breakfast and lunch options.
"[Fontana] is a good one. We see all their food they actually make from scratch, which is something most places [cannot] even offer…. their food is just really delicious, and I know more giant favorites of a lot of people in the city," Villegas Baldwin said of Fontana, The Biltmore's award-winning Italian restaurant.
If You Go
Reservations: Telephone: 855-311-6903
General Inquiries: Telephone: 305-445-1926, e-mail: general@biltmorehotel.com
Address: 1200 Anastasia Ave., Coral Gables, Fla. 33134