Posted October 1, 2019
By AUSTIN PERT
NASHVILLE— Nashville, Tennessee. Music City USA. The Athens of the South. The buckle of the Bible Belt. The bachelorette party capital of the world. No matter a person's background, interests, or tastes, Nashville has something for everyone. Often paired with country music, the Tennessee capital has all types of song. Contrary to popular belief, there is far more to Nashville than just country, with plenty of independent and alternative rock venues dotted around the urban area, but most concentrated in the quasi-college town area known as midtown. People come to Nashville to listen to music, but your visit wouldn't be complete without good food. Visitors can find a wide variety of delicious cuisine in the city, ranging from the native hot chicken, to local sizzling barbeque. Make sure to find time for a relaxing stroll along the winding Cumberland River, before getting ready for an action-packed night out on the town, on Lower Broadway's world-famous honky tonks or petal taverns. People come to Nashville to wear cowboy boots and sing Johnny Cash, but they stay for the and return for nonstop party that can be found in the Music City.
Friday at 5 p.m.—Welcome to Nashville!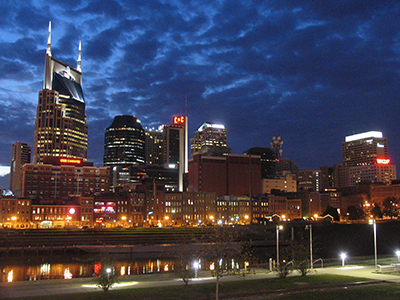 Passengers are making your final decent into Nashville and can see Percy Priest Lake below you along with the growing, sprawling suburban area. All that traffic to be faced this weekend is thanks to all the new arrivals that live in the surrounding area. A staggering 100 people move into greater Nashville per day, and thanks to the city's warm hospitality, visitors will get to know these people very well over your stay.
Friday at 6 p.m.—Getting Settled
Welcome to Nashville! Now the right hotel must be found. There are many options for both the frugal coupon-cutter all the way up to the five-star options that dot the glittering southern skyline. For the hip history buffs out there, the Millennium Maxwell House is worth checking out, with its reasonable rates and the distinction of being named after the original Maxwell House Hotel, the namesake of Maxwell House Coffee. The Lowes Vanderbilt offers a convenient location between the hustle of downtown and the hipster-centric bars and coffee shops of midtown. If someone want to be right in the heart of downtown and Lower Broadway, be prepared to pony up, with chains such as Hilton, Omni, and JW Marriott available. The JW Marriott boasts an incredible rooftop bar, overlooking the city and the Cumberland River below. No hotel guide is complete without mentioning the famous Gaylord Opryland Hotel. Adjacent to the Grand Ole Opry, this giant complex of rooms, shops, and restaurants is an attraction in of itself.
Friday at 7 p.m.—Barbecue for Dinner
Once visitors have checked in and settled into your hotel, whichever hotel you have chosen, it's time to get some grub. You came to Tennessee, so feast on some barbecue while you're here. Why not get a head start on night one! Nashville may be less known for barbecue than Memphis, its archrival city 200 miles west on Interstate 40, but that doesn't mean you still can't find some of the nation's best smoked meats in the Music City. Just don't tell anyone or else the secret will get out. Two places stick out if you're looking for a BBQ dinner close to the center of town. The Peg Leg Porker is located in The Gutch, a trendy district to the southwest of the central business district, which has undergone a transformation from largely abandoned industrial under-structure, to eclectic cafes and restaurants in only about a decade. Peg Leg Porker diners can indulge on their food inside or—if the weather is good—on the outdoor patio. The restaurant offers all the staples of BBQ for reasonable prices, with a bar including bourbon, whiskey, and beer buckets. Another option is Martin's, with a location just to the south of the core downtown area on Korean Veterans Memorial Boulevard. Sit in an authentic BBQ joint and rub elbows with locals, while enjoying one of Nashville's best new spots. Order any combination of meat, cooking method, and side dishes while also making sure to check out the backyard beer garden.
Friday at 10 p.m.—Honky Tonk Time
Enjoy a night out at the honkytonks, located along Broadway in downtown! The world-famous bars that dot the avenue provide a one of a kind energy, found nowhere else in the nation. It's Miami Beach with cowboy boots and southern accents. Begin the night at Honky Tonk Central, a three-story venue providing all the live music you came to Nashville for! But Lower Broadway is a block party, and a visit requires stops at more than place to get the full experience. The Tin Roof is located across the street from Honky Tonk Central and has two stories including a third-floor rooftop patio. Finish the night at Jason Aldean's Rooftop Bar, owned by the country music star and offering some of the best views of the bustling Broadway area. While you'll be sure to have fun, don't overdo it while out and about, with two more exciting days in the horizon!
Saturday at 10 a.m.—A Walk in the Park
Sleep in. Rest is needed after a wild night downtown. But don't let too much of the day pass by, as plenty of fun still remains on the agenda. Get up and take a stroll through Centennial Park, built in 1896 to celebrate the State of Tennessee's hundredth anniversary. Owing to the city's nickname of "Athens of the South," a full-scale replica of the Greek Parthenon sits in the center of the park.
Saturday at 11 a.m.—Brunch Nashville Style
Take the morning and have brunch as the Pancake Pantry—no trip to Nashville is complete without a visit! The line can be long, so be prepared to wait up to 45 minutes. But don't worry, the wait it worth it and service inside is quite speedy. While the menu is dotted with all types of breakfast favorites, make sure to also include a side of their original buttermilk pancakes in your meal!
Saturday at 1 p.m—Happy Hour Earlier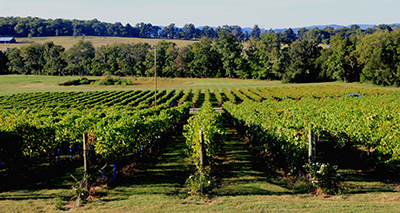 It's time to venture outside of the city center. To get away from the hustle and bustle, head to Arrington Vineyards, a 30-minute drive from the center of town. "Nashville's Wine Country," boasts views of Middle Tennessee's rolling hills. While taking in the view, also sample some of the vineyard's fine wines. Classic tastings and wine flights are offered, along with an array of cheese and crackers. Guests are also welcome to bring a picnic lunch to accompany their wine!
Saturday at 4:30 p.m.—Much Needed Caffeine
It's been a busy, action-packed weekend so far, with plenty more still to come. One may be tired, so now may be a good time to sample some of Nashville's best coffee shops. Check out Nashville's hipster hot spot in the 12South district as you make your way back into town. The Frothy Money is one of the Music City's best places for a caffeine jolt, while also sitting with all types of local Nashvillians, including everyone from your "laptops and lattes" crowd to the next country star.
Saturday at 6:30 p.m.—Discover Nashville's Trendy Gastrobars
It's time to eat again. It may not be Tuesday, but that doesn't mean tacos can't be on the menu! Check out Taco Mamacita right in the heart of Music Row, where all of Nashville's recording studios are located. The tacos pair very well with the gastrobar's signature tequila. If there is a wait list to get a table, spend the time walking by all of the recording studios. Many look no different than a nice house with a front yard. No matter if one is lucky enough or not to be seating close to a star, customers are lucky enough to choose from dozens of handmade, creative tacos, including those with Korean BBQ, gyro, bean, and of course, hot chicken. Get a head start on the upcoming night out with a selection of refreshing margaritas or tequilas, but don't enjoy too many!
Saturday at 9 p.m.—Move Over, Pedestrian!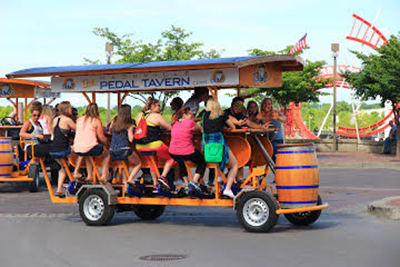 It's time to enjoy another night out, and why not get it started with a ride on the Pedal Tavern! Warning: This is not for the faint of heart! Roll down Broadway on a bar with wheels, but make sure you pedal as well, it's no different than a bicycle! Feel the breeze as you tower over pedestrians downtown, and the bartender pours you another drink. Patrons sing and yell as loud as they can! Seats on the pedal tavern can be booked as a group or individually.
Saturday at 10:30 p.m.—Rooftop Views
After probably hitting a few other clumsy tourists on the pedal tavern, make time to go up to one of Nashville's famous rooftop bars. Acme Feed and Seed is a venue that allows patrons to look over all the action on Broadway, and also looks over the Cumberland River and the famous river cruises that sail up and down the waterway. Look out across the city and see it sparkle with its bright nighttime lights, at the exclamatory skyscrapers and thousands of feet below, it'll hit everyone just how special this weekend has been. While there will be some more essentials to check off the list tomorrow, one will start to think ahead about how you can someday return. Because while a weekend in the Music City can bring you so much, the entire metropolis offers so much more that cannot be accomplished in a single visit.
Sunday at 10 a.m—Country Legends
There isn't much time remaining, so full advantage needs to be taken on the last day in Nashville. One must is the Country Music Hall of Fame, which opens early every day. See the likes of Johnny Cash, George Jones, Reba McIntyre, and Hank Williams' enshrined in country immortality, and get a taste of the Nashville known before the rowdy bars and tall buildings came to the city. If you have time, also hit up the Johnny Cash museum nearby, with the largest collection of Johnny Cash memorabilia, and souvenirs in the world.
Sunday at 1 p.m.—One Last Delicacy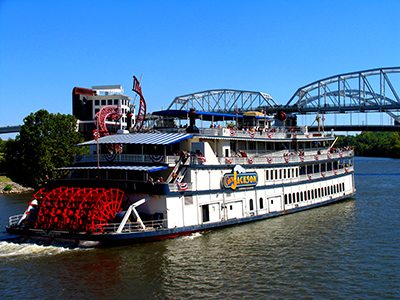 Nobody can leave Nashville without trying hot chicken! This fried chicken dish is the signature food item on the Music City, with a spicy kick adding flavor to the Southern staple. The hot chicken sandwich is the main thing to order, but milder options for those who prefer their mouths not feel a burn are also present. Hattie B's Hot Chicken is the primary go-to for the dish, quickly earning fame worldwide, less than a decade after opening. Consider purchasing a T-shirt from the restaurant as a gift to take back home.
Sunday at 2:30 p.m.—Time to (Unfortunately) Leave
As you pack up and return to the airport for the flight home, friends will keep refreshing Instagram and notice how many likes a post from the pedal tavern has generated. Nashville is a popular destination, and visitors can expect to be bombarded with texts the whole trip. Consider including them in the next getaway to the Tennessee Capital, because visitors will return in the future for another visit!
If You Go
Hotels
· Millennium Maxwell House, 2025 Rosa L Parks Blvd, Nashville, TN 37228; 615-259-4343; https://www.millenniumhotels.com/en/nashville/millennium-maxwell-house-hotel-nashville/
· Lowes Vanderbilt, 2100 West End Ave, Nashville, TN 37203; 615-320-1700; https://www.guestreservations.com/loews-vanderbilt-hotel/booking
· Hilton, 121 4th Ave S, Nashville, TN 37201; 615-620-1000; http://www.hilton.com/search/hi/us/tn/nashville/
· Omni: 250 5th Ave S, Nashville, TN 37203; 615-782-5300; https://www.omnihotels.com/hotels/nashville
· JW Marriott, 201 8th Ave S, Nashville, TN 37203; 615-291-8600; https://www.jwnashvillehotel.com
· Gaylord Opryland Hotel, 2800 Opryland Dr, Nashville, TN 37214; 615-889-1000; https://www.marriott.com/hotels/travel/bnago-gaylord-opryland-resort-and-convention-center/
Restaurants
· Peg Leg Porker, 903 Gleaves St, Nashville, TN 37203; 615-829-6023; https://www.peglegporker.com
· Martin's, 410 4th Ave S, Nashville, TN 37201; 615-288-0880; https://www.martinsbbqjoint.com/menu
· Pancake Pantry, 1796 21st Ave S, Nashville, TN 37212; 615-383-9333; http://www.thepancakepantry.com
· Frothy Money, 2509 12th Ave S, Nashville, TN 37204; 615-600-4756; https://www.frothymonkey.com/menu
· Taco Mamacita, 1200 Villa Pl, Nashville, TN 37212; 615-730-8552; https://tacomamacita.com
· Hattie B's Hot Chicken, 112 19th Ave S, Nashville, TN 37203; 615-678-4794; https://hattieb.com
Nightlife
· Honky Tonk Central, 329 Broadway, Nashville, TN 37201; 615-742-9095; https://www.honkytonkcentral.com
· Tin Roof, 316 Broadway, Nashville, TN 37201; 615-242-4446; http://tinroofbroadway.com/documents/tr-menu-plus.pdf
Jason Aldean's Rooftop Bar, 307 Broadway, Nashville, TN 37201; http://jasonaldeansnashville.com
· Pedal Tavern, 1504 Demonbreun St, Nashville, TN 37203; 615-390-5038; https://www.nashvillepedaltavern.com
General Attractions
· Acme Feed and Seed, 101 Broadway, Nashville, TN 37201; 615-915-0888; https://www.acmefeedandseed.com
· Country Music Hall of Fame and Museum, 222 5th Ave. S, Nashville, TN 37203; 615-416-2001; https://countrymusichalloffame.org
· Johnny Cash Museum, 119 3rd Ave. S, Nashville, TN 37201; (615) 256-1777; https://www.johnnycashmuseum.com
· Grand Ole Opry, 2804 Opryland Dr. Nashville, TN 37214; 615-871-6779; https://www.opry.com
· Ryman Auditorium, 116 5th Ave. N Nashville, TN 37219; 615-889-3060;
· Centennial Park and Parthenon, 2500 West End Ave, Nashville, TN 37203
· Arrington Vineyards, 6211 Patton Road, Arrington, TN 37014; 615-395-0102; http://www.arringtonvineyards.com