Posted September 28, 2023
By CAT BETTRIDGE
NASHVILLE— Music City or the bachelorette party capital of the world, Nashville is home to so much more than country music. People come with the expectation of seeing cowboy boots everywhere they turn, but this vibrant city is visited by thousands of people each year for a range of occasions. Birthday celebrations and college and pro gameday events, the capital of Tennessee has something for everyone to enjoy. With live musicians playing, visitors can see why Nashville is the home to country music.
Often called "The Athens of the South," this city extends well beyond its international fame for country music. Nashville has an extensive food and drink scene, from its famous hot chicken to barbecue and excellent distilleries and breweries. There are tons of areas and stores to shop for hours in and fun excursions that show Nashville's roots. There is a coffee brand named after a local hotel, it is the birthplace of hot chicken, and is where the beloved Oprah Winfrey started her career. While blending traditional Southern roots with contemporary elements, Nashville is an experience much more diverse than guitars and cowboy hats.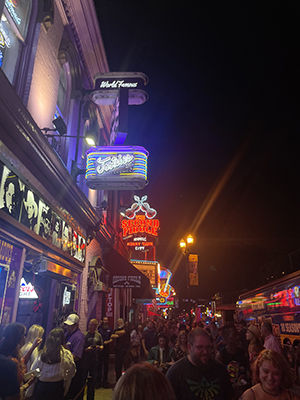 Friday
12 p.m.
After hours of traveling and checking into the hotel, food is a must. Nashville has so much to offer, so why not start the first adventure off at Assembly Food Hall that includes more than 30 eateries, restaurants and bars, all with a great outdoor view of the city!
With more than 20 local artisan eateries, there is something for everyone to get a taste of Nashville whether it be a wood-oven margherita pizza from DeSano's, hot chicken from Prince's or a cup of cookie monster cookie dough from No Baked.
Assembly Food Hall includes three different stages so depending on the day, there could be rock or country bands performing.
2 p.m.
Being just a three-minute walk down Rep. John Lewis Way, begins the first excursion to really get into the country vibes of the city at the Country Music Hall of Fame. Check out Nashville before it was known for their nightlife by learning about the lives of Reba McIntyre, Johnny Cash, Hank Williams, Dolly Parton and more. Enhance the experience by catching a show at the CMA Theater, exploring RCA Studio B to see where historic country music moments were made, or visit one of America's oldest working letterpress print shows, Hatch Show Print. There is also plenty of area to shop and get some first souvenirs as well as dining and restaurant options.
7 p.m.
After a few hours seeing the growth of country music and freshening up at the hotel, enjoy the first night out on the town on Lower Broadway at the popular spot with locals and tourists, Robert's Western World, known as Nashville's Home of Traditional Country Music. Voted the Local Favorite Honky Tonk for the last eight years in a row, enjoy live music every night with a wide range of beverages and beers. Don't fret about food, the Honky Tonk Grill always serves appetizers from wings to fried pickle spears, to delicious burgers and sandwiches. Try their Recession Special if up for the challenge — a fried bologna sandwich with seven slices served grilled with lettuce and tomato, topping it off with a Moon Pie for dessert and an ice-cold specialty beer! A true southern meal!
Saturday
9 a.m.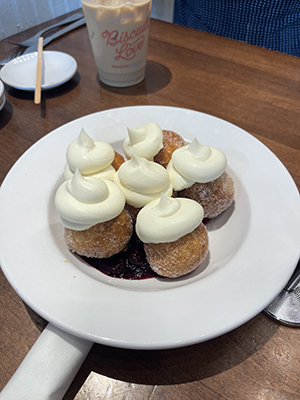 After a traditional Nashville first night, arrive early to the local and trendy breakfast spot, Biscuit Love. With multiple locations in Nashville, the southern-inspired breakfast and lunch options are all made from scratch and sourced locally.
As seen in many destinations and food magazines, buy some souvenirs or t-shirts, grab a cup of coffee, or try their famous biscuits or "bonuts," which is fried biscuit dough that is tossed in sugar with lemon mascarpone.
11:30 a.m.
Following a southern breakfast, take a trip to the northeast side of the city to visit the iconic Grand Ole Opry. The home of country music offers multiple different types of backstage tours to experience all the sounds, sights, and stories that have been created there over the years. From the Daytime Backstage tour, the Women of Country tour, Post-Show Backstage tour, or the duo's experience with a tour of the Ryman Auditorium, there is an experience for everyone to see the evolution of country music and its artists. Check out tickets to their shows to see if it fits in the weekend schedule as well as the souvenir shop!
2 p.m.
Making the way back towards Lower Broadway for the rest of the day, stop at the Ryman Auditorium to complete the tour of country music's most iconic stages. Ryman Auditorium offers self-guided tours, backstage VIP tours, or group tours, so there is a way to explore where the biggest performers have made history depending on the person. Learn about artists of all music genres, top comedians, authors, and entertainers who have performed here and about how Ryman became country music's main stage as the home of the Grand Ole Opry in the 1950s and 1960s.
6 p.m.
Before a night on the town, enjoy a nice dinner at Midtown Cafe, what Open Table rates as one of the Top 50 southern restaurants in America. With their famous lemon artichoke soup, shrimp and grits, or one of their filling entrees, everyone is sure to get a taste of old-school southern comfort food. Right next to Music Row, Midtown Cafe offers affordable and casual dining with a unique dark ambience that allows for sharing delicious meals and conversations.
8:30 p.m.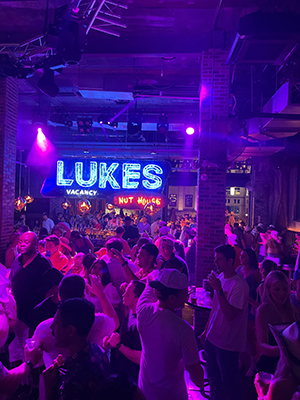 Close out the last night at one of the most popular spots in town, Lower Broadway. From tourists to locals, there is no shortage of bars to visit on this strip.
Many bars offer live music all night long or check out the "classic" spots such as Tootsies, Tin Roof, or The Stage. Many famous country musicians have bars on Broadway including Luke Bryan, Jason Aldean, Florida Georgia Line or Dolly Parton's all pink rooftop bar.
Nicknamed "Honky Tonk Highway," this street is one everyone should experience and can find a place they enjoy. With light up signs outside and inside of every bar, live music or hearing the best country hits, this street is always filled with dancing and crowds of people so get ready to wait in some long lines!
Sunday
8:30 a.m.
With just a few hours left in Nashville, head to one of the hottest neighborhoods in town, 12South. A half-mile long, 12th Avenue South, has more than imaginable. From shopping to dining, the walkable neighborhood is a destination full of local, vintage and unique boutiques, bakeries, and bars. Grab a coffee at The Frothy Monkey or brunch at ButterMilk Ranch to start off before hitting up Nashville raised singer, Reese Witherspoon's, classic Southern clothing and accessory store. There are so many options to shop and dine that everyone will enjoy some time in this up-and-coming neighborhood.
11 a.m.
There is no trip to Nashville without Hattie B's! Before heading on the flight home, stop by one of the popular hot chicken joint locations. They have heat levels ranging from "no heat" to "enthusiast's only" so everyone can enjoy their favorite type of chicken. Chicken choices range from small dark, small white, wings, or even half a bird, but be sure to try one of their typical Southern sides! Hattie B's opens at 11 a.m. and within minutes there is always a line so make sure to get there early or be prepared to wait!
If You Go
Hotels
Transportation: many areas are walking distance such as 12 South and Lower Broadway. Locals and tourists say Ubers/ Lyfts are the best way to get around.
Restaurants
Assembly Food Hall— 5055 Broadway, Nashville, TN 37203; Hours: 9 a.m.-10 p.m. Sundays- Thursdays; 9 a.m.-12 a.m. Fridays and Saturdays, Happy Hour: 3- 6 p.m.; 615-800-5395; For events, have to buy tickets online and in advance at https://www.assemblyfoodhall.com/.
Biscuit Love— 316 11th Ave. S.; Open daily from 7 a.m.- 3 p.m.; No reservations, so arriving early is encouraged; 615-490-9584.
Midtown Café— 102 19th Ave. S., Nashville, TN 37203; 615-320-7176; Breakfast/ Brunch: 8 a.m.-2 p.m. (Mondays- Sundays), Lunch: 10:30 a.m. -2 p.m. (Mondays- Sundays), Dinner: 4:30-8:30 p.m. (Mondays- Thursdays) and 4:30-9 p.m. (Fridays- Saturdays), Closed Sundays dinner; Complimentary valet parking for lunch and dinner.
Hattie B's— Broadway location: 5069 Broadway Suite A103, Nashville, TN 37203; Multiple locations; Hours: 11 a.m. -10 p.m. (Mondays-Thursdays), 11 a.m. -12 a.m. (Fridays- Saturdays), 11 a.m.-11 p.m. (Sundays); https://www.hattieb.com/menu.
Excursions
Country Music Hall of Fame— 222 Rep. John Lewis Way S., Nashville, TN 37203; Everyday, 9 a.m.-5 p.m.; (615) 416-2001; Advance ticket purchase is recommended- Adult ticket (13+): $27.95 and Child ticket (6-12): $17.95 and can be purchased at https://www.countrymusichalloffame.org/.
Robert's Western World— 416B Broadway, Nashville, TN 37203; Open every day 11 a.m.-3 a.m.; Open to all ages until 6 p.m. After 6 p.m., you must be at least 21 to enter or stay https://robertswesternworld.com/honky-tonk-grill/ ; Do not take reservations, if a larger party or want to rent out, email rwweventplanner@gmail.com.
Grand Ole Opry— 600 Opry Mills Dr.; Open 9 a.m.- 5 p.m.; Hours are extended to 7:30 p.m. on show days; Ticket prices are different depending on type of tour and show at www.opry.com.
Ryman Auditorium— 116 Rep. John Lewis Way N.; Open every day: 9 a.m.- 4 p.m.; 800-733-6779; Ticket prices vary depending on type of tour, show and age; www.ryman.com.
12South neighborhood: South of Downtown Nashville; seven-minute drive from Downtown Nashville; Near Belmont University.