Posted November 16, 2022
By ALEXANDRIA SHARIFI
POSITANO, Italy — The first time my toes touched the hot dark sand of Positano beach it was mid-afternoon, the sun had just slipped behind the mountainous backdrop, painting the sky with sweeping strokes of orange and pink. I kicked off my slides and let my toes sink into the earth, taking in the sights and sounds of people gathered at the shore to watch the sunset mixed with lingering beach-goers from their daytime excursions with bright pink cheeks from the Italian sun.
I traveled across Italy that day with two of my good friends to make the trip to Positano. We hopped on a five-hour train at our home base of Florence then took an hour-long taxi ride from Naples to arrive at sea level in this southern village on the Mediterranean.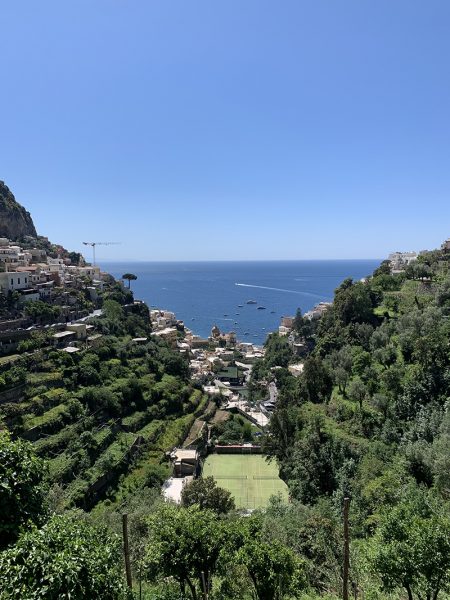 Our taxi driver spoke enthusiastically for the entire duration of the ride, giving us comical descriptions of the loud Italians in Napoli and how the southern coast stands out with its unique character and demeanor.
"You know Napoli is not like Firenze, ah? You see, take the ferry back to Napoli, no taxi, and you will see, we are very loud, but you will like," he told us through laughs, giving us directions on ferry transportation for our return.
Although circuitous, our coastal taxi was both thrilling and beautiful, even with the nearly sickening winding along the mountainside.
We were dropped off at the furthest place cars could go on Positano's tiny roads and wobbled our rolling suitcases down cobblestone stairs for the last 15 minutes of our day-long trek.
Staying at water level in Positano was quite unique. Most hotels wrap around the mountainside, with views of the village from high levels on flatter roads. The private beachfront apartment we rented through Airbnb was a staircase away from the crashing waves, packed in with four neighboring waterfront restaurants, right off the path of touristy boutique stores and gift shops.
We didn't know it at the time, but our prime location for our May 2022 "start of summer" trip paved the way for the most incredible experience in this little Italian village, allowing us to make friendships we still cherish today and memories we'll look back on for the rest of our lives.
On our first night, we ate at one of the most recommended restaurants — a seafood place named Chez Black. The host who walked us to our table expressed a keen interest in my friend, asking her multiple times, "So how long you will stay? We can have a drink?" to which she responded kindly with "Maybe, we'll see!" He seemed pleased with her answer.
Our dining experience, in true Italian fashion, started in the early hour of 9 p.m. with a bottle of vino rosso and focaccia. Our youthful demeanor and ample Italian made us stand out in the dining crowd of preppy tourists and earned us attention from multiple waiters, frequent visitations from the host, and even the manager, who sat and laughed with us for quite a while, helping us assemble the loose itinerary of our trip.
We spent the next two days exploring mountainside trails, beach hopping, and tanning. My favorite part was the solitude of the mornings. I went off solo to explore the winding trails through the homes built on the mountain side. I usually hiked about three miles, through the Santa Maria del Castello Church and up through the vacant fields.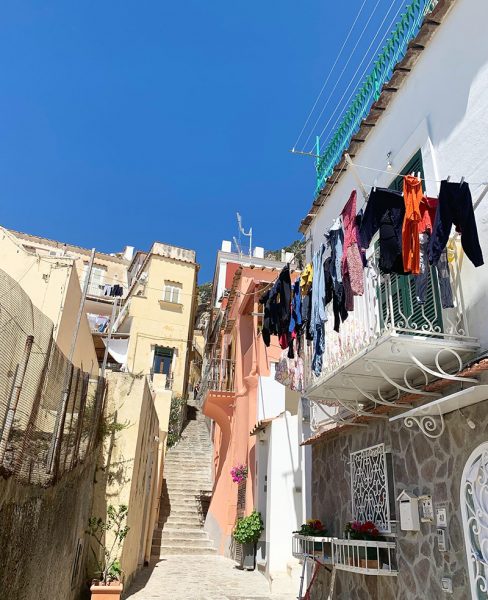 The varied scenery was like nothing I'd seen before; the bottom of the mountain was perfect for people-watching and window shopping, crowded with tourists and excellent for a laugh from overheard American chit-chat.
The top was quaint and clearly filled with locals, colorful old homes bouncing the sun's rays off their side-by-side rooftops.
I had lived in Florence for six months at the time of my trip, so the company of Americans was quite foreign and a bit comical. I felt more comfortable as I hiked higher, in the company of the houses of the shop owners, restaurant workers, and locals. The tourist crowds disappeared along with the English dialect.
I grabbed an espresso at a tiny bar and continued my hike, winding through roads that seemed to be the entryway for homes. I felt intimately connected to the local's lives as I read the bright-colored signs plastered on their homes, indicating the family name.
The trail I followed led me to flatter roads where I reached breathtaking heights and views of the village, bright white buildings shining through lush greenery, hints of pink and green buildings peeking through with the glistening Tyrrhenian Sea at the foot of it all.
The night before our last full day was filled with conversation about a boat rental. It was just the three of us, so our group wasn't big enough to split any of the rentals we found online, but we still yearned for a sea excursion and decided to ask our local friends for ideas.
We kept in touch with our Chez Black friends (our front door overlooked their host stand) and became quickly and excitedly introduced to every restaurant owner on the block.
We dined at Ristorante Bucca di Bacco with personally prepared dishes from the bald middle-aged marathon-running chef, Andrea, who showed us videos of his running excursions along the mountainside after our meal.
Andrea and his brother Luigi, who manages the restaurant, took us out for espresso martinis and brought out a special cake that wasn't on the menu.
We enjoyed fresh clams two nights in a row at Osteria Tre Sorelle, hung out in the kitchen quite a bit, and took photos with the sou chefs per their request. Even though the three of us shared minimal features, we had the restaurant staff convinced we were three sisters as well.
One evening, our delicious meal at Tre Sorelle greatly surpassed the early hours of dining tourists. We were joined by Alessandro, the manager Marco, the chef, and four of their friends who had just gotten off work at neighboring restaurants. They came bearing wine and dessert and our table of three quickly turned into a party of 10, filling the empty restaurant with laughter and broken English.
One of their friends, Salvadore, overheard our inquiries about boat rentals.
"Ah! Ragazze, no!" he exclaimed loudly with distinct Italian passion. "You want a boat? I have a boat! We go together tomorrow!" he continued loudly, earning encouragement from his friends.
In a half-English, half-Italian explanation, Salvadore told us he would take us sightseeing for the entire afternoon on his boat, wherever we wanted to go for a genuinely cheap price. If that didn't sell us right then and there, he also promised champagne.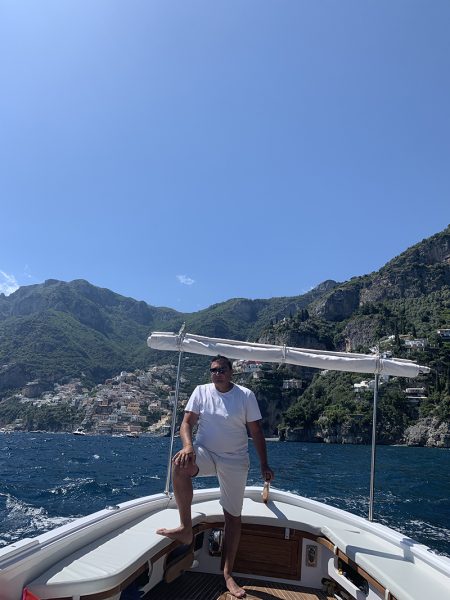 Our night of bonding with the Italian restaurant staff earned us a beautiful afternoon on Salvadore's boat. He served us champagne with booming laughter through his wrinkled, tanned skin.
That night, we ventured to yet another recommended spot, a waterfront bar, and were joined by two waiters with impeccable English and great conversation.
Our last dinner would have only been appropriate at the place that knew us best, so we put on our final outfits and took the 30-second walk together to Osteria Tre Sorelle.
Specialized pasta, gourmet fish, complimentary desserts and wine filled our small table as we said our goodbyes to the people who made our trip truly unforgettable. We walked along the beach after dinner and met up with the aperitivo waiters who had reserved a table for us on the beach at the nighttime waterfront bar.
We spent our last day boating, laughing, and rocking in gratitude. We were overwhelmed with joy and love from our new friendships, experiences, and surprises.
Midway through our first round of drinks, we found ourselves yawning and decided against the initial plan to wait in line at Music on the Rocks, the sole disco in the village, famous for its music and unique structure, built into the side of a mountain. Minutes before we were preparing to head back to our Airbnb, a man walked up and asked if he could speak to the three of us for a moment.
To throw together all the serendipitous moments of our trip–- the free wine, the boat trip, personal introductions, reserved tables, kitchen tours, curated meals, special desserts–- and to pick the best, most perfect moment would have been impossible, up until this man's surprise appearance.
He was getting married the following month and was in Positano for his bachelor's party with his five friends. They bought a table to celebrate but the club's rules didn't allow all-male tables. Everything was paid but they weren't allowed to enter without girls, specifically, at least one girl for every two guys on the table.
My friends and I couldn't help but burst into laughter at the perfection of that exact moment. His nervousness and sweet demeanor only made the proposal more hilarious; it was the exact thing he needed to say to round out our stupendously perfect stay in Positano.
We became friends with his buddies and danced until the early hours of the morning, strobe lights illuminating the inner carvings of a cave amongst numerous ethnicities, ages, and a variety of outfits.
Positano was by far the most serendipitous experience all of us had ever had and will forever regard it with a warm smile and gentle disbelief for the perfection of the chain of events that occurred over that weekend.
Italy has a sense of romantic magic no matter where you go, but Positano holds a powerful enchantment that makes the hair on your arm stand up. I do plan on returning to Positano one day to explore more of its breathtaking hikes, discover more hidden beaches, and of course spend lots of time with our friends at their restaurants.
Who knows, we may all return next summer and join our friends in Positano hospitality. After all, we were offered summer jobs.
---