Posted September 26, 2019
By CLAUDIA SAFAVI
Coral Gables has been dubbed "The City Beautiful," as it is known for its enchanting ivy-covered estates and historic attractions. Designed in 1925, Coral Gables features Mediterranean architecture all around the city that blends in with its fairy tale-like environment. The environment in Coral Gables features long and winding roadways, grand buildings and endless amounts of green vines. Founder George Merrick had a particular vision to create a city that had diverse types of tourist attractions. Merrick has succeeded in doing so as Coral Gables offers everything from cinemas and playhouses to botanic gardens and outstanding dining experiences.
FRIDAY
2 p.m. Have Afternoon Tea at the Biltmore
Travelers can start their visit in the city of Coral Gables by checking into the Biltmore, a national landmark hotel, where a bellman will take their bags immediately upon arrival. At the Biltmore, visitors can attend afternoon tea and treat themselves to a selection of tea flavors ranging from Green to Herbal. The set menu containing a large assortment of sweet and savory pastries is distributed to guests as well. While dining, tea-goers are able to listen to live harp music, which gives them a more elegant and luxurious experience. After tea, guests can make their way up to their Spanish and Italian architectural-inspired rooms, where they can relax for a moment. They are greeted with amenities such as minibars, bathrobes, premium bedding, free Wi-Fi and espresso makers.
4 p.m. Go on an escape at the Biltmore Spa
Unwind at the most affluent spa Coral Gables has to offer. Located on the seventh floor of the Biltmore is South Florida's ultimate realm of peace and serenity. While waiting for their appointments, customers are invited into the relaxation lounge to indulge in some light pastries and soothing beverages. Biltmore Spa is a place where visitors can choose from a variety of treatments. Treatments include extensive massages, facials and therapeutic body scrubs. Guests are also given the opportunity to freshen up for dinner by receiving full services of their choice from the Salon such as manicures, pedicures, waxing, make-up application, and hair styling treatments. While many women and couples of two choose to relax by getting pampered, there are still other members of the family who may wish to explore the outdoor recreational activities during this time. Designed in 1925, the Donald Ross golf course located within the Biltmore is an attraction in itself. Legendary figures such as Babe Ruth, Dwight Eisenhower, and Al Capone have golfed there, making it the ultimate travel-worthy destination. Guests have the option of participating in activities such as swimming and playing tennis as well.
7 p.m. Dine at the Biltmore's luxurious Fontana Italian Restaurant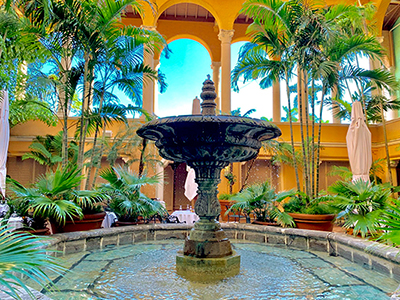 The lavish Mediterranean courtyard dining space at Fontana is anything but ordinary. It feels like stepping into an enchanted Mediterranean garden as guests are greeted by courteous hosts who distribute the restaurants' luxurious menu. While reading the menu, restaurant-goers will find that Chef Beppe Galazzi uses organic ingredients. Galazzi offers a variety of food options from Cold Cuts, Zuppe (soup), Antipasti (first-course traditional Italian meat), Carni & Pesci (meat and fish), to Insalate (salad), and Pasta & Risotto. A recommendation would be to order various Small plates at Fontana. The small plates feature stuffed Zucchini Blossom with goat cheese, Cesar Salad, and Minestrone Soup/or Soup of the Day. By the end of the meal, guests will find themselves indulging in the popular Tortino Di Cioccolato E Caramello, which consists of chocolate caramel cake paired with vanilla ice cream and topped with caramel sauce.
10 p.m. Have a drink or two at The Biltmore Bar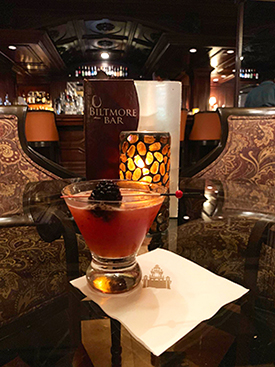 Recover from dinner by visiting the Biltmore Bar located in the lower lobby of the Biltmore hotel for an old-fashioned evening of jazz. This tiny bar has some of the best drink options in town, where customers can try over one-hundred wines as well as a variety of fresh and organic cosmopolitan martinis, vodkas, craft beers, and tequilas. It would be highly suggested to try the Sophistication Martini- a blend of Absolut Elyx Luxury Vodka, blackberries and passion fruit puree, if it is on offer. It is important that guests have a heads up that drinks for two are around $40.
SATURDAY
10 a.m. Go for a morning swim at the historic Venetian Pool
Soak up the sun at the stunning Mediterranean architectural inspired Venetian Pool located in the heart of Coral Gables. Designed by George Merrick in 1923, the Venetian Pool has the reputation of being the most iconic, spring water-filled pool around the globe. The pool has attracted thousands of tourists each year and is large enough to hold more than 815,000 gallons of crystal-clear water from an aquifer. Visitors are able to swim by the historic waterfalls, where they can then take the nearby bridge to a quiet, tiny island for more of a deep relaxation experience. Mornings are typically less crowded than afternoons, which makes it the best time of the day to visit the location.
12 p.m. Browse the shelves while sipping coffee at Books & Books
Founded in 1892, Books & Books is the main spot for literature in Coral Gables. Books & Books is the perfect place in town to browse for new releases or classics. Author events are very popular as a variety of authors from all around the country come here to present their pieces and spark discussion about modern news. Close to 70 author events are hosted each month featuring athletes, celebrities, presidents, and Noble prize winners. While visiting Books & Books, readers are encouraged to take a seat at the cafe, where they can sip on a warm cup of coffee and enjoy farm-to-table eats. Whether customers are in the mood to glance at the shelves, grab a bite to eat, or people watch, Books & Books has got them covered.
2 p.m. Go shopping at the Shops at Merrick Park
The Shops at Merrick Park is an upscale outdoor shopping mall located in the city of Coral Gables. The Shops at Merrick Park features a variety of world-renowned designer brand stores including Burberry, Gucci, Louis Vuitton, and Tiffany &Co. The mall also gives visitors exposure to more affordable shopping options such as J. Crew, Nordstrom and Sephora. There are numerous fitness spots as well such as the famous indoor cycling destination SoulCycle and the full-service luxury gym Equinox. If visitors need to cool down from being outside or have to recover from an intense workout, they can step into Yogurberry on level 1 for some delicious frozen yogurt. The Shops at Merrick Park is Coral Gables go-to spot as shopping, fitness, and food can all be found in one place.
4 p.m. Visit the world-renowned bridal boutiques on Miracle Mile
Travelers are encouraged to head downtown to explore the city's signature steps of Miracle Mile, where they can check out one of the finest shopping destinations South Florida has to offer. Coral Gables is the home of a variety of luxury bridal boutiques, making the city an ultimate tourist attraction for bridal wear. One boutique that is particularly unique is Ella Bella RoZio, which is run by a mother and daughter, who design the most elegant, one-of-a-kind bridal, prom, and evening gowns. Out of all the bridal shops on the mile, Ella RoZio is the one to explore as visitors can step in and observe fashion design classes that are being offered by designers RoZio & Ella. The design classes are what set this bridal boutique apart from all the others on the mile making it more of a top attraction.
7 p.m. Wine and Dine at Zucca
Travelers can satisfy their Italian food cravings at Zucca, where they will be presented with a real authentic regional cuisine. To start off, Zucca features an alcoholic beverage menu that contains classic fine wines and craft cocktails. A popular dish to try at Zucca is one of the made-in-house pasta dishes made with rich sauces. Restaurant-goers can never go wrong with the Gnocchi al Pomodorino Fresco, Melanzana E Battuto Di Burrata, which consists of homemade gnocchi sautéed with eggplant, fresh tomatoes, and burrata cheese. Warning for guests: DO NOT skip dessert at Zucca. The Tortino Di Cioccolato (Warm chocolate cake with mascarpone ice cream) is to die for as the cake melts instantly as one takes a bite.
9 p.m. Watch a late-night film at Coral Gables Art Cinema
Coral Gables Art Cinema is South Florida's most prestige art theater, playing the most excellent independent, foreign, and documentary films. The screen is large leaving movie-goers with the perfect amount of legroom and body comfort. Many locals have expressed that they prefer attending the Coral Gables Art Cinema over any nearby mainstream movie theater due to its unique showing options and atmosphere.
SUNDAY
9:30 a.m. Perform yoga at the Fairchild Tropical Botanic Gardens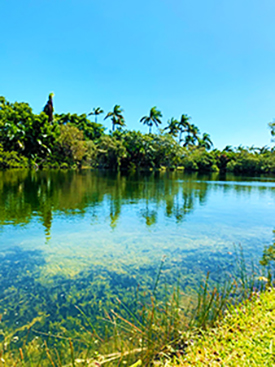 Explore the 83-acre botanic garden with exotic plants including vines and flower trees. The museum is all about preserving biodiversity and what better way to embrace this message than to become a part of Sunday Garden Yoga. At Sunday Garden Yoga, visitors will be able to connect with nature and shake off the stress and anxiety they have been feeling all week. After Yoga, guests can explore the breathtaking paths and vistas, while making their way to the Pool in the Moos Sunken Garden. The Moos Sunken Garden is a space where guests can meditate, while being surrounded by a natural tropical forest environment (Note: guests cannot swim in the pools). After their meditation session, garden-goers are advised to check out the gift shop. At the Botanic Garden store, customers can shop for home decor, jewelry, stationery, books, garden tools, and hats.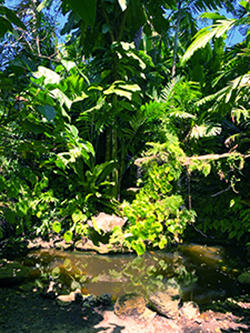 1 p.m. Have an elaborate Sunday brunch at the Biltmore
Travelers can end their trip by attending the Best Sunday Brunch in Miami, which is located in the lavish courtyard connected to the Biltmore. Every Sunday, the Biltmore Hotel features an expensive buffet filled with a variety of different kinds of pasta dishes, sushi, omelets, and caviar. After the main courses, customers are able to experience Pastry Chef Chef Olivia Rodriguez put together a cluster of desserts that are baked and decorated to perfection. Absolutely no trip to Coral Gables is complete without having brunch at the Biltmore.
If You Go