Posted November 6, 2019
By CLAUDIA SAFAVI
As a novice in the kitchen, there I was anxiously awaiting to place my first piece of filet mignon ever onto the grill at the Biltmore Culinary Academy. My heart was racing as I envisioned my steak bursting into flames. I requested Chef Victor to come to my aid as a safety precaution.
Once Chef Victor came to my assistance, I mustered up the courage to finally set the meat onto the grill. My goal was to cook my steak medium-rare as Chef Victor guided me through the process of how to achieve my desired result.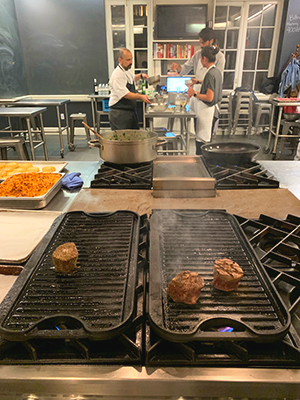 "The process of making a filet mignon medium-rare is to rotate each part of it and cook every side of the steak for three minutes each," explained Victor Santos, a chef at the Biltmore Culinary Academy.
My attempt at cooking a medium-rare steak was highly successful as I was able to follow the directions of the skilled chef.
The main reason I chose to take this cooking class was to gain the skills and techniques on how to prepare the ultimate classic American-style meal.
The Culinary Academy is an extraordinary place, where students from all cooking levels are welcome.
"I signed up for cooking classes at the Biltmore based on the fact that my cooking has always been inedible. This past month I took Chef Victor's three-day cooking Bootcamp. I was surprised by how tremendously Chef Victor's class improved my cooking skills. It allowed me to get over my fears in the kitchen as well," claimed Samantha Thomas, a current cooking student at the Biltmore Culinary Academy. "I am now taking his Steak House Favorites Cooking Class because I want to learn how to prepare meat. Plus, I want to be able to cook my boyfriend's favorite meal for him."
I found couples who were taking the Steak House Favorites class together had similar objectives.
"I chose to enroll in the Steak House Favorites Cooking Class because it is a staple at the Biltmore Culinary Academy. Cooking steak is something that interests my husband and we have wanted to take cooking classes together. Preparing and cooking meat is not something my husband or I am powerful at, so we are both here to learn all the basics," stated Nancy Zaffiro, a cooking student at the Biltmore Culinary Academy.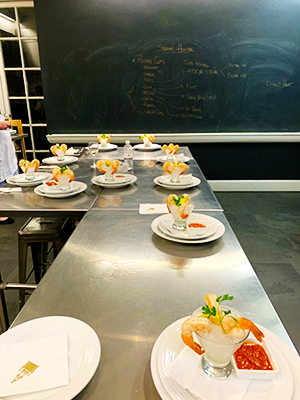 Before class started, Chef Victor went into detail about what students would be expecting from the Steak House Favorites Cooking Class.
"For the Steak House Favorites course tonight, we will be making an assortment of dishes that consist of shrimp cocktails, jumbo lump crab cakes, creamed spinach, classic mashed potatoes, hash browns and truffle mac & cheese. Students are also going to learn how to both cook and cut three types of beef properly from Filet Mignon to Ribeye and New York Strip steak," explained Chef Victor. "I want to describe the structure of my cooking classes to all of you. Every station is going to have one or two different recipes. Each person or couple on the station will be assigned to these recipes. You will all work on your dishes for about an hour or so. In the end, we will put the tables together to serve the meal in a family-style manner."
After Chef Victor was finished explaining the process of the course, he assigned me to the shrimp cocktail station, where I was in charge of preparing the seasoning and cocktail sauce.
My favorite part of the shrimp cocktail experience was the presentation aspect of it. I was instructed to assemble the cocktails by filling each martini glass with crushed ice and "hooking" three shrimps onto the side of every cup. Lemon wedges and green garnishes were placed in the center of the cups with a side of cocktail sauce as the finishing touch.
Next, I was instructed to kick off the serving aspect of dinner by placing the shrimp cocktails onto the table as an appetizer.
Once the appetizers were consumed, the remaining students delivered each of their final side dishes to the table, which featured jumbo lump crab cakes, creamed spinach, classic mashed potatoes, hash browns and truffle mac & cheese.
Chef Victor then served the main course, which was composed of the steaks we had each prepared earlier.
Every plate had a very distinct yet tasteful flavor.
New friendships were formed as we all gathered around the table for a family-style meal together and bonded over our cooking experience.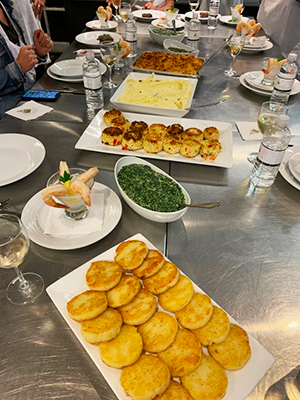 "There is typically an average of 10 to 14 adults per class. Our small class sizes allow students to have engaging conversations with one another while dining on their creations as they sip complimentary wine," claimed Katherine Cardoso, the chef assistant of the Adult Cooking Classes at the Biltmore Culinary Academy.
Meeting new people and working together as a team added more enjoyment to the evening.
I then look forward to repeating another eventful night at the Biltmore Culinary Academy.
I noticed an upcoming sushi-making class taught by Chef Victor on the schedule. I will be returning very soon.
The Biltmore Culinary Academy is its own entity within the National Landmark hotel. It is located in the Conference Center of America building on the second floor.
The Biltmore Culinary Academy is ideally situated for tourists to visit. It is approximately a 20-minute drive from Miami International Airport and Downtown Miami. The bustling center of Coral Gables and the iconic Miracle Mile are also located nearby.
If You Go
Address: 1200 Anastasia Ave., Coral Gables, FL 33134.
Phone: 305-913-3131.
Hours of Operation: 9 a.m-7 p.m. seven days a week.
Rates: Each class is $114 per adult; Private lessons for adults are $500 per class consisting of one to two students, $700 per class with a group of three to four students, and $900 per class for a party of five to six students; Every Children's Class is $25 per child; Kids Birthday Cooking Parties are $660 for up to 10 children and $55 per additional child up to a maximum of 15 children; Kids Camp is $580 per child in total for a full summer. *Rates are pricey but likely worthwhile.
Parking: Guests and visitors can find complimentary parking in the west parking lot of the hotel near the golf course; Valet services are $18 for the day and $32 overnight.
Website: https://www.biltmorehotel.com/bca/.