Posted November 9, 2015
By VIVIAN BRAGA
Restaurants, bars and events open and happen everyday in Miami. Testing new concepts, introducing a new culture and celebrating a new beginning, here's something you don't see everyday in South Florida's big city: a historical food market from Madrid, inaugurating its first branch in Miami's Bayfront Park.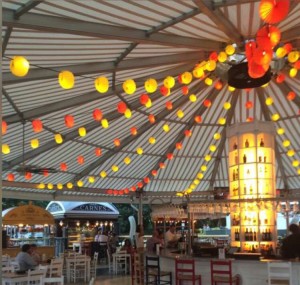 "No other American city would be a better location for our market than Miami," said Monteserrat Valle, owner of Mercado de San Miguel. "The Spanish-American cross culture is huge here."
Upon arrival, guests can encounter food and drink kiosks selling all kinds of traditional Spanish tapas and delicacies: from the famous jamon to paella, montaditos and gin and tonics there's more than 20 different varieties of Spanish culinary to be enjoyed, as well as live music and dancing.
"I've come to the market at least three times ever since it opened a few weeks ago," said Angelo Sobraz, an entrepreneur from Spain residing in Miami. "It gives me a sense of home away from home, everything is 100 percent Spanish."
The space itself was carefully designed to resemble the atmosphere of the original Mercado as closely as possible. With a mix of tented interior areas as well as an outdoor seating, there are four main food stations and a circular bar known as "La Feria's focal points" as well as smaller stands and carts spaced throughout the venue.
"I want people to visit the market in Miami and almost feel like they're in Madrid's one," said Valle. "I want to make the experience as true as possible to the real one, so I kept the Mercado's ambiance and design pretty much the same."
Valle also carefully selected the Spanish chefs and sellers who run La Feria. He also chose to bring local producers such as Zak the Baker, Miami Smokers and Mimmo's Mozzarella to help bring a little bit of a "Miami-feeling" to the market.
"I am honored to work and be part of the market here in Miami," said Eliseo Teto Gil, chef of the jamon kiosk at Mercado de San Miguel. "My family is from Spain but I grew up in Miami so it's an immense pride to represent my country in such an event."
The market's gourmet selection was carefully selected and consists of both traditional and contemporary cuisine. The original Mercado de San Miguel in Madrid, is visited by more than 75,000 people a week and is considered to be an Asset of Cultural Interest in the Monuments category. Such importance pressured the Mercados' standards in Miami to be kept high while costs still kept at an affordable price.
"My favorite thing about the market is that you get that fancy and edgy European vibe, but you're spending less than $15 on your meal." said Cristina Lopez, local tourist from Puerto Rico who visited the Market.
Entrance and admission are free and food prices range from $2 for small tapas to $10 and up for the larger plates like grilled meats and paella. La Feria's hours are 10 a.m. to 10 p.m. from Sunday to Thursday and 10 a.m. to midnight on Fridays and Saturdays.
Public parking lots are available along Biscayne Boulevard. For $7 an hour and parking meters for $1.25 per hour. Another option is the Metro Mover, which is not only free but offers the Bayfront Park station, located just a couple of steps from the market.
"It's a little piece of Spain at the center of Miami," said Valle. "La Feria is very accessible whether your driving, walking or taking public transportation, we just want people to have a good time since their way here up until their way home."
If You Go
Where: 301 Biscayne Blvd., Miami.
Directions: Right next to Bayside Mall
When: 10 a.m.-10 p.m. Sundays- Thursdays, 10 a.m. -midnight Fridays-Saturdays.
Contact: 786-443-7129 – Laferia@rockwaypr.com