Posted November 5, 2019
BY PAM GIGANTI-BUNGE
Patti Galea and her husband Chuck have been visiting Fairchild Tropical Botanic Garden for nearly 25 years.
"It's different every time I come, something different is blooming, the volunteers on the train are so informative and I learn something new every time. It's just a peaceful relaxing place," she mused.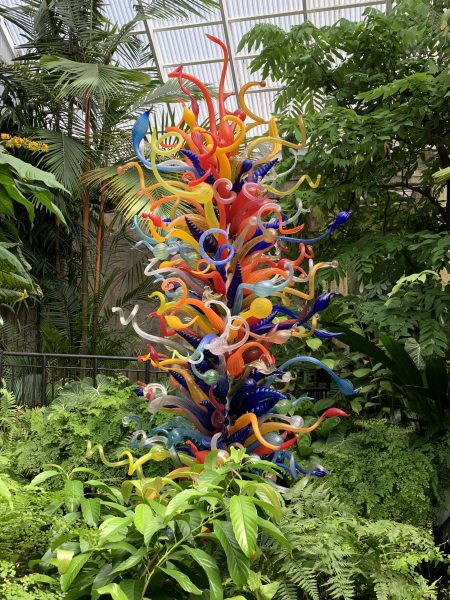 The couple loves it so much, they became members. They say it's a must stop when giving friends and family a tour of South Florida.
"It's a great place to bring out of town guests who come down from up north to thaw out in the winter and to show our European guests what tropical foliage is like," said Chuck.
That was the idea back in 1938 when the garden opened to the public for the first time, to create a botanical garden where tropical and sub-tropical plants could grow year-round. Thanks to the vision of retired businessman and plant enthusiast, Col. Robert H. Montgomery, who deeded the land to the county, the garden became a reality and was named in honor of his friend, horticulturist Dr. David Fairchild.
Tucked between Matheson Hammock Park to the east along Biscayne Bay and Old Cutler Road to the west in lower Coral Gables, Fairchild encompasses 85 acres of rare tropical plants. Fairchild traveled the world in search of seeds and exotic specimens he could bring back — some still seen in the garden today, including the giant African baobab tree by the Gate House.
"When we think of the tropics, we think of rain forests, jungles and walking through thickets of plants and we have that at Fairchild with the only tropical rain forest in the continental United States," said Nanette Zapata, chief operating officer at Fairchild. She says the garden is considered one of the most beautiful botanical gardens in the world, often ranking first or second among the best every year.
Lindsay Alma found Fairchild on Google and knew she had to visit on her second trip to Miami from Seattle.
"The first time around, I did the whole South Beach thing with my ex-boyfriend," she said. Alma loves house plants and walked around Fairchild for two hours enjoying the enormity of the plants in the garden.
"Now I'm thinking about moving here," she said.
Because of its rich history, there is so much to do and explore. One of the best ways to start a visit is aboard the free narrated tram ride that takes guests on a comprehensive, educational skim around the property.
The volunteer tour guides delight riders with the garden's rich history, while pointing out unique features such as the Madagascar spiny forest, the kaleidoscope colored trunks of the eucalyptus trees, the historic structures and sprawling vistas. One of the highlights is a slow glide through the tropical rain forest with its lush foliage and babbling water holes. Guests can feel the temperature drop just a few degrees under its splendid canopy.
Children and kids at heart must spend some time in one of the most delightful exhibits on the property, the Wings of the Tropics.
"I bring my five-year-old grandson to come look at the turtles and butterflies," said Galea.
She and her husband agree that the garden is a wonderland for children.
Visitors are delighted as hundreds of colorful, exotic butterflies flutter and flap right before their eyes in a massive screened enclosure. Guests follow a winding path past rich green ivy and orchids covering the walls and walkways as 40 different species, such as heliconids, morphos and owl butterflies from Central and South America put on a mesmerizing performance.
A glass wall allows guests a glimpse inside the Vollmer Metamorphosis Lab where they can observe the different states of chrysalis in the butterfly life-cycle. Daily releases mid-morning and mid-afternoon allow visitors to get even closer. Trained volunteers operate the Butterfly Bonanza Discovery Cart and allow guests to interact with the winged creatures, even putting them right in people's hands.
Upon leaving the butterfly exhibit, guests walk into the Tropical Plant Conservatory and Rare Plant House. It's a bit more humid in this 1968 building which houses spotted African Cichlids, rare philodendrons, anthuriums, pentagonias and orchids.
Perhaps the most striking and mesmerizing feature is the glorious multi-colored Dale Chihuly, End of Day Tower glass sculpture nestled in the middle of the pond, twisting and arching its way upward as if mimicking the surrounding palms. Petrified logs lie on the ground and the "Pride of Burma" tree with its orchid-like pink flowers blooms between January and March.
Speaking of orchids, beautiful specimens are all over the garden. In 2012, the American Orchid Society moved its international headquarters to Fairchild from Massachusetts, bringing with it a massive collection of rare beauties. Fairchild is currently in the midst of a major initiative, the Million Orchid Project.
The plan is to propagate millions of native orchids from seedlings and restore them back into South Florida's urban landscape. Many species were decimated when they were pulled from trees in the 1800s, packed into train cars on the Flagler railroad and sold up north. So far, some 250,000 plants have been re-introduced to the local area. Conservation and education are at the heart of Fairchild's mission.
"We have the most robust citizen science program in the world," Zapata proudly points out. "The only botany high school in the world and the only botany elementary school in the world. We have four laboratories and we have the best native plant program in the nation," she said.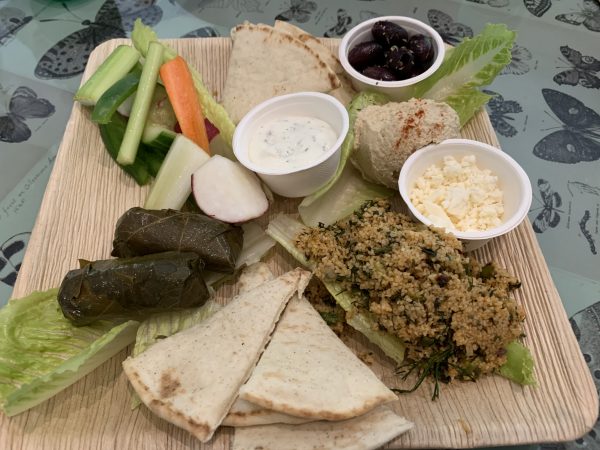 When hunger pangs attack, one of the best places to catch a bite is at The Glasshouse Café.  Centrally located in the Upland area of the garden, this quaint eatery is nestled next to the Wings of the Tropics exhibit and makes for a delightful dining experience.  Guests order food at a window outside and can sit either on the outside patio or at tables inside under a striking Dale Chihuly chandelier. 
Menu choices include, organic and locally grown fare, including soups, quiches, and charcuterie plates with hummus and pita bread, along with smoothies, desserts and a variety of juices and waters.
Culinary pursuits are one of the elements at the root of what might be called a renaissance for Fairchild. The garden recently hired Heidi Lidell, a long-time caterer and culinary, hospitality planner as its new chief experience officer. Lidell, who has worked for Bravo TV and the South Beach Food and Wine Festival among others, wants to breathe new life into the way people interact with Fairchild.
"I've worked with different areas of the garden to form a collaboration. So, I'm working with education, I'm working with horticulture, I'm working with food and beverage and I'm creating annual programming that involves culture and arts, bringing in a lot of activity that centers around families and children," she said. "I want to bring a different demographic, young a more diverse crowd." She says families who love coming the garden can in-turn become great ambassadors.
Projects soon set to launch include a re-boot of last winter's wildly successful Night Garden event, where the grounds are illuminated with spectacular multi-colored displays and sensational delights surprise guests as they walk along delineated paths.  In May, a new monster dinosaur exhibit will open and a new children's garden and play area will be erected within the next 12 months.  Certain Sundays will feature jazz in the garden as part of a new jazz, art and music series with entertainment for the whole family, including delicious bites and games for the kids.
But perhaps the initiative Lidell is most excited about is the launch of a culinary division. She's creating a new brand called "Fresh from Fairchild" where fruits, vegetables and seeds from a 20-acre farm Fairchild owns in Homestead will be packaged and made for sale on site and used in dishes served at garden restaurants.
A new kitchen and food lab is in the works located along the tram path. An existing building is being gutted and outfitted with state-of-the-art Viking appliances to create a space for teaching adults and kids how to make healthy, tasty dishes. An old storage shed is set to be transformed into The Shed at Fairchild. Retro-fitted with new, glass garage doors, this will be an inviting eatery that literally opens its doors to guests and serves items like coffee, wine and salads.
"I have support to test things," said Lidell. "When you go to the garden, you're going to feel fulfilled. It should deliver to you experiences that you never associated with the garden," she said.
"Our first time here was for the Mango Festival and that's how we got hooked," said Alejandra Arriaga who recently became a member and believes Fairchild just makes you feel good. "During the week you're at work, on the phone, computer, cell phone and all that. So, it's like to disconnect and relax."
Zapata agrees and is excited about the way the garden is expanding its outreach to the community. "I believe empirically that when you're at Fairchild, somewhere in the tropics or somewhere in nature, something evolutionary unlocks in all of us and there's this sense of place, of being home."
If You Go
Fairchild Tropical Botanic Garden: 10901 Old Cutler Road, Coral Gables, FL 33156, 305-667-1651, http://www.fairchildgarden.org.
Hours: Open daily from 9:30 a.m. – 4:30 p.m.
Admission: Members are free, adults $25, students with ID. $12, seniors 65 and over $18, children 6-17 $12, children 5 and under are free.
Tram Tours: Weekdays on the hour from 10 a.m. to 3 p.m. Weekends on the hour from 10 a.m. to 4 p.m.
Wings of the Tropic Exhibit: Daily from 9:30 a.m. to 4:30 p.m.
Glasshouse Café: Daily from 9:30 a.m. to 4:30 p.m. Affordable. Salads $10-12, sandwiches $6-14, quiche $10, hummus platter $10, drinks $1.50-6
Wear comfortable shoes, pack a hat and sunscreen, stay hydrated.