Posted October 1, 2019
By ANYI ZHANG
Known for its gorgeous beaches and vibrant nightlife, South Beach is one of the most popular destinations in Florida. It's wild and calm at the same time and it has a great mixture of culture and diversity of Latin, Caribbean and American. South Beach represents the real Miami. From the stunning scenery to the loud Spanish music and the crazy nightlife, South Beach is a fantastic destination for both locals and travelers. Make a sunny escape to Miami to enjoy the tropical paradise, and to South Beach, where all the magic happens. 
Friday
2 p.m. Dream Home
1 Hotel South Beach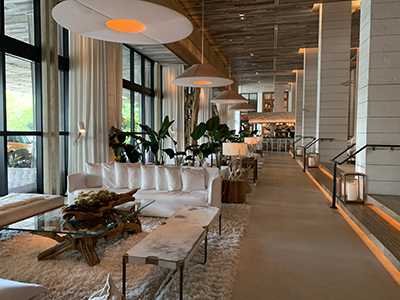 Begin the trip with checking into one of the most gorgeous hotels in Miami. Located on 2341 Collins Avenue, 1 Hotel is at the heart of South Beach and it offers unparalleled views of the Atlantic Ocean and downtown Miami. 1 Hotel is designed for comfort, and famous for using reclaimed materials, being sustainable and being eco-friendly. Tourists love it because 1 Hotel promotes recycling and protecting the ocean. 1 Hotel is also known for its breathtaking pool views and great staff services. Tourists who are staying in the hotel said 1 Hotel is "a beautiful hotel with incredible facilities, and unmatched customer service." There are seven restaurants including Habitat, Plnthouse, Watr at the 1 Hotel, with three main outdoor swimming pools, and a spa and a fitness center. It's all within easy walking distance to Miami's nightclubs, shopping malls and restaurants.
4 p.m. Retail Therapy on Lincoln Road Mall
Lincoln Road Mall is a world-renowned shopping and dining destination in the center of South Beach that features more than 200 national brands and popular clothing stores including Zara, Forever 21, Nike, Anthropologie, and Beach Bunny Swimwear. It is a perfect entertainment destination for tourists to shop, relax, and tour at the same time. The best thing about Lincoln Road is that, no matter if it's day or night, there's always something exciting happening. Every Sunday, for example, there will be a Farmers Market on Lincoln Road, where vendors sell fresh fruit, veggies and juice. Or expect to see the Antique Market, where tourists can find vintage fashion and hand-made jewelries. After a busy shopping day, sit down at one of the Lincoln Road sidewalk cafes, enjoy a happy hour cocktail, or a cup of coffee, take a break, and with a little wind breeze, life can't get any better. If it rains, catch a movie at the Regal Cinema Center. It would be a great idea to stop by at Rosetta Bakery, the Italian bakery that offers great coffee and delicious pastries.
8 p.m. Fresh From The Sea: Dining at Estiatorio Milos by Costas Spiliadis
Considered as one of the nicest Mediterranean seafood restaurants in the world, Milos was founded in 1979 by chef Costas Spiliadis. Milos Miami, located in the South of Fifth district, opened in 2012. As an elegant and classy restaurant with Greek preparations of seafood flown in from the Mediterranean, Milos has quickly become a favorite for locals and tourists alike. The most special part of eating at Milos is that, customers get to select the seafood at the fish market inside the restaurant, and the seafood is fresh from Greece, Spain and Portugal, and customers can choose the way to cook it. The waiters are well-versed on the variety of seafoods and are very passionate about introducing them, just for the customers to get a fresh taste of it. The most popular dishes at Milos are Maryland crab cake and Milos special which includes Lightly fried zucchini, eggplant, tzatziki and kefalograviera cheese. 
11 p.m. A drink with dazzling views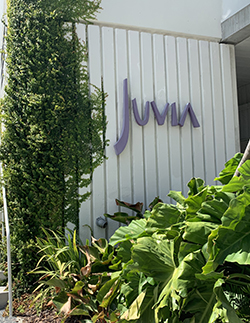 Juvia is rated the best rooftop bars in Miami by Thrillist. Juvia is a high-quality restaurant which consists of South American, Peruvian and Japanese cuisines. This romantic restaurant has the most stunning views of Miami Beach, and it's the perfect place for all celebrations. Customers say the restaurant tends to be a little pricey, so it will be a good idea to order a few entrees to share. Now celebrate the first night in Miami at Juvia, with a glass of Champagne or a beautiful, innovative cocktail, relax, and enjoy the breathtaking views.
1 a.m. The Miami Beach Night
Located in the heart of Miami Beach, STORY is one of the most popular clubs in Miami. Founded by David Grutman, STORY is famous for featuring various famous artists/DJ every week including DJ Khalid, Cardi B, and for its hip-hop and Spanish music. Story has the strictest dress code, and visitors will have to dress to impress to get into the club. Be sure to pack some fancy clothes before hitting the club! Get excited to drink, dance and for the confetti falling from the ceiling.
Saturday
11 a.m. Rise, Shine and Breakfast at Orange Blossom
Orange Blossom is one of the most popular restaurants for breakfast and weekend brunch on South Beach. It perfectly combines both traditional Florida and New York taste in its innovative and flavorful dishes. Orange Blossom is famous for its fresh ingredients and delicious dishes including Poached Avocado Toast, Summer Blossom Salad, and the Signature Waffles. There's a story behind the name, which is written on the wall inside the restaurant. Now, enjoy the food, have a glass of mimosas, feel the orange blossom under the Miami sun.
2 p.m. Getting That Golden Tan at Nikki Beach
Nikki Beach is the first and original luxury beach club concept that combines the elements of music, dining, entertainment, fashion, film and art into one destination. Work on the perfect tan while enjoying some cocktails on the luxurious daybed, feel the sand between your toes, take some Instagram-worthy pictures under a signature Nikki Beach teepee.
6 p.m. Cotton Candy Sky along Ocean Drive
Ocean Drive is the most iconic and popular street in Miami, it's also usually the first place people think of when they hear Miami Beach, most likely because of all the movies it's been featured in. On Ocean Drive, it's likely to see fancy cars, people filming, models taking pictures on Ocean Drive, and it's always packed, especially on the weekends. Stop by one of the restaurants, order an over-priced huge cocktail, and watch the beautiful sunset, this can be the most romantic Miami night. Take a walk along Ocean Drive after dinner, see the colorful night lights and all the artsy buildings.
9 p.m. Get a Real Taste of Peru at CVI.CHE 105
Known for its large portion and vast selection of creative and unique ceviche, CVI.CHE 105 is an eight-year award-winning Peruvian restaurant located on South Beach. Locals and tourists love this restaurant due to its great quality and service. Some locals said CVI.CHE105 is the "best deal you can have in Miami Beach." CVI.CHE105 offers traditional Peruvian dishes, and the best recommended dishes to get are Lomo Saltado, and the Special Ceviche Tower.
Sunday
11 a.m. Spanish Style Street along Espanola Way
This street on South Beach is filled with Spanish colonial architecture and open-air European streets, with cute small restaurants and cafes along the street, it's a wonderful place to have brunch under the warm Miami sunshine, or to grab a coffee with friends and to enjoy the view.
Expect to see friendly waiters standing outside the restaurants smiling, greeting the customers and introducing the menus to them. One of the best restaurants to get a traditional taste of Cuban food, is the Havana 1957 Cuban Cuisine, which is located at the beginning of the street.
If You Go
It's a great idea to Uber around South Beach, that way it saves more time, tourists don't have to pay for valet parking because it's relatively more expensive. It's also convenient to grab a Citibike and tour south beach, it's fun and healthy. 
It's a good idea to make reservations for restaurants beforehand because they usually get packed. Make reservations on OpenTable or to call the restaurants.
Most restaurants offer valet parking and it's usually $15-$20.
 When shopping at Lincoln Road Mall, park at the Lincoln Road garage because it's walking distance to the mall. 
STORY Nightclub 136 Collins Ave, Miami Beach; 305-479-4426; Opens Thursday to Saturday 11 p.m. to 5 a.m. To purchase tickets, visit http://www.STORYmiami.com
Restaurants on Ocean Drive are mostly pricey. Make sure to check the price before going into the restaurants.
1 Hotel South Beach 2341 Collins Avenue, Miami, Florida. 833-625-3111; https://www.1hotels.com/south-beach
Estiatorio Milos by Costas Spiliadis averages between $24-$48 on entrees and $10-$12 on dessert at Milos. 730 1st St, Miami Beach; 305-604-6800; https://www.estiatoriomilos.com
Juvia's specialty cocktails averages between$16-$18, brunch fix menu is $65 per person including appetizers, mains, and desserts.1111 Lincoln Road, Miami Beach. http://www.juviamiami.com; 305-763-8272
Orange Blossom is located at 2000 Collins Ave., #7, Miami Beach. Brunch is available from Friday to Sunday, from 11 a.m. to 3 p.m. Brunch averages from $12-$18.  http://orangeblossommiami.com; 305-763-8983
Nikki Beach is located on1 Ocean Drive, Miami Beach; 305-538-1111; Visit the upcoming events and make reservations on https://miami-beach.nikkibeach.com; Beach opens daily from 10 a.m. to 5 p.m., and Sunday's brunch opens from 11 a.m. to 4 p.m.
CVI.CHE 105 averages between $14 to $50 on entrees and $7-$9 on dessert; 1245 Lincoln Road, Miami Beach. 786-534-8651; http://www.ceviche105.com/site/