Posted September 19, 2013
By RIANNA HIDALGO
STUART, Fla. — Jeff Hinkley lives in Stuart not because it was his dream home, nor because he wanted to be close to relatives or follow the trail of a promising career. He lives in Stuart because one day in March 1989, his truck overheated driving up the coast of Florida.
But what he found in Stuart — roughly two hours north of Miami in Martin County — was more than an unfortunate rest stop. He found a quaint, coastal town with easy access to water and sunny beaches. He found officials dedicated to keeping growth in check and high-rises off the shore. He found green parks and a friendly, laid back vibe.
He also found his new home.
Hinkley is still here 24 years later, selling shimmering copper art at the weekly Green Market downtown.
"Call it coincidence or call it fate," he said as reggae music pulsed from the corner booth. "We weren't really considering living in Stuart at all. We were just lucky."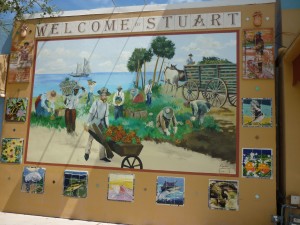 Residents aren't the only ones who can take advantage of Stuart's old-town charm.
While it might not be the first place that comes to mind for a weekend getaway, anyone looking to escape the fast-paced, honk-ridden life of Miami might findthat visiting Stuart is like taking a deep breath.
"When you've lived in a big city your whole life and you come here, it's almost like Nirvana," said Karen Sandler, a resident of Stuart. "It's just beautiful. It's easy living."
A town of roughly 16,000, Stuart is known as "The Sailfish Capital of the World," which is reflected in an 18-foot bronze statue of a sailfish leaping toward the sky.
A slogan or a statue, however, doesn't quite capture the essence of Stuart. For visitors to really get a feel for it, taking a stroll through the streets of historic downtown is vital.
An ideal time to go is during the weekly Sunday morning Green Market, where people can stock up on produce, artwork and food from friendly vendors.
October through May, they can head straight to the live local bands performing on the RiverWalk Stage, an outdoor concert venue that sits on St. Lucie River.
From there, a slew of restaurants are just steps away, including Spoto's Oyster Bar.
"We are blessed with wonderful restaurants right on the water," said Joe Catrambone, president of the Stuart Chamber of Commerce. "People love to dine out and see the boats and the river."
Just a couple blocks inland, Osceola Street is lined with locally owned shops that embody Stuart's homey character. There are upscale art galleries and chic boutiques, but there are also quirky, popular stops like Earthtones, described by employee Rose Ingolia as a "really cool eclectic hippie store."
The familiar reds, greens and yellows of Bob Marley paraphernalia deck the walls, while chair hammocks and alarmingly large wind chimes descend from the ceiling.
For entertainment, The Lyric Theatre on Flagler Avenue was once a silent movie house that now offers an eclectic array of live theater, concerts and movie screenings.
LuAnn Bolnick, who has lived in Stuart for 30 years, also suggested walking through downtown in the evening.
"It's a nice place to people watch," she said.
At night along the river, the Roosevelt Bridge and boardwalk are lit up with a soft, golden glow.
Live music from restaurants and bars like Sailor's Return waft to the river, a convenient accompaniment to a romantic walk.
Another night spot is Terra Fermata, a fairly new Tiki bar and beer garden reminiscent of a backyard party, only with more creative lighting and a live band almost every night.
For those who've grown acclimated to South Beach, seeing such a diverse mix of ages and people might be surprising. On one recent Saturday night, older couples got groovy on the dance floor, young adults hung out by the bar and children played bean bag toss in the corner.
"Even if you don't drink, go to Terra Fermata and check it out," Ingolia said. "It's just a really fun place to hang out."
One could easily spend a whole day downtown, but with two rivers and the Atlantic Ocean nearby, visitors itching to get off the land and into the water have a surplus of opportunities. Catrambone said Stuart is a "haven" for anyone who likes diving, sailing, fishing or boating.
A traditional wooden schooner named Lily sets sail from the Riverwalk Pier downtown three times a day, and there are plenty of places to rent kayaks and other outdoor gear. Bicycling and golfing are also very popular.
To venture beyond Stuart for a taste of celebrity history — and seafood — visitors can go to Dolphin Bar and Shrimp House on Jensen Beach, which was once the famed resort owned by movie star Frances Langford.
To take an additional step back in time, there's the House of Refuge, the oldest building in Martin County, where shipwrecked sailors found safety.
The Elliot Museum is worth visiting whether one is interested in Stuart history or not. It has everything from an expansive collection of signed baseball items to 55 Model A trucks that move from a three-story stacking system onto a viewing turntable when the visitor selects one.
The idea of robotically stacked vintage cars might get a few hearts racing, but all in all, Stuart is a place of relaxation and escape from the modern, fast-paced world of fast food and tall buildings. You won't find either in Stuart.
"Its serenity," Catrambone said. "If you want to just chill out, this is the place."
Hinkley, for his part, may have stumbled across Stuart by chance, but staying here is no accident.
"I've done just enough traveling around that I've realized, Stuart is a really nice place to come back to."
IF YOU GO
Where to stay
Restaurants and Bars
Attractions
Helpful Websites