Posted September 26, 2019
By PAM GIGANTI-BUNGE
NEW YORK — At the base of Manhattan sits a thriving community in the middle of a renaissance. What's old is new again in the birthplace of New York City. It's 17th century cobblestone streets and majestic views over the Hudson River are the setting for new energy in an area devastated and damaged after the Sept. 11 attacks. Anchoring new eclectic retail space, restaurants, museums and parks is the new, gleaming One World Trade Center visible from nearly every area of this community. Beyond the hustle, bustle and noise of midtown, Tribeca and its surrounding communities take a slower more family friendly approach, especially on weekends. There, you'll see plenty of baby strollers, scooters and pups out for a walk. This is a place where tourists can also feel like locals when checking out some of these great spots.
Friday
Noon – A Room with a View: One World Observatory
A good place to start in Lower Manhattan is with incredible views like no other of sprawling New York City and its five boroughs. The One World Observatory sits atop the new, majestic One World Trade Center on the 100th, 101st and 102nd floors. This new building is a testament to the American spirit after Sept. 11. Its soaring spiral antenna brings this skyscraper to a total of 1,776 feet high into the sky, an ode to the year of U.S. independence, and makes it the tallest building in the Western Hemisphere. The journey begins with a fast ride to the top aboard the Skypod elevator, climbing 102 stories in just 47 seconds. During the trip up, a fast-paced video history of New York from it's humble start in the late 1600s to present day plays on the walls. Once at the top, guests linger while enjoying the 360-degree views of the city skyline, the water and famous sights. This is also a great spot to grab a late lunch at One Mix bar, where they offer burgers, sandwiches, salads and sharing plates, plus a variety of cocktails, wine and beer.
3:30 p.m. – Stroll Through Rockefeller Park
This park along the water's edge at the west end of Lower Manhattan in Battery Park City is one of the city's best outdoor spaces. Named after former U. S. vice president and governor of New York, Nelson Rockefeller, the park has great views of the Hudson River and the Statue of Liberty. It also boasts a wide, inviting green lawn. When the weather is nice, you'll find plenty of locals soaking up the sun on big blankets, picnicking, tossing Frisbees and playing with their kids. Flowers and greenery line the linear boardwalk perfect for jogging or walking. There is a pavilion, a whimsical sculpture garden, large playground, swings, basketball and handball courts, plus permanent ping pong and billiard tables. There is also a lovely fountain and lily pond toward the south end of the park filled with fish, ducks and migratory birds – a great spot for selfies or self-reflection.
6 p.m. – Happy Hour at the Loopy Doopy Rooftop Bar
Take a rooftop terrace, throw in a cool cocktail and voila, you have the Loopy Doopy Rooftop Bar at the Conrad Hotel. This is a great place to relax and hang out in Lower Manhattan, especially at sunset. Lounge in comfy sofa seating that wraps around the perimeter of the bar or choose a high-top table for a great view of the city skyline. Here it's a must to order the famous Prosecco & Ice Pop cocktail made with an alcohol-filled People's Pop. The colorful drink is a wide mouthed glass of bubbly Prosecco with an iced cold pop, such as the gin filled Blackberry Gimlet dropped inside. Choose from Blueberry Peach, Strawberry Lemongrass and Empire Apple combos. Other handcrafted cocktails are available, plus small sharing plates such as Roasted Spiced Mixed Nuts or Homemade Pickled Chips.
8 p.m. – Dinner at Mr. Chow's Tribeca
Not too far from Chinatown, but perhaps a world away from takeout is Mr. Chow's Tribeca. This is the second location to open in New York and one of seven in the country, including Los Angeles and Miami. Servers are decked in white jackets and are eager to please at this upscale dining establishment. When not focused on the next bite of noodles, it's possible to spot some celebs known to pop in for dinner. But the real star of the show here is the food. Mr. Chow's is proud of its Asian fusion mix of old world Beijing cooking with newer original recipes. Some of the must try dishes include the Chicken Satay, Mr. Chow Noodles, and their Beijing Duck, considered by some as the best in the world.
Saturday
9 a.m. – Stroll through Tribeca's Farmers Market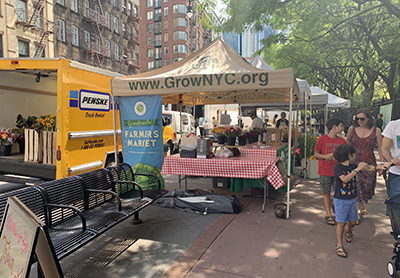 There's nothing more inviting that says small town than fresh produce and flowers at a farmers' market. The Greenmarket: Farmers Market on Greenwich Street in Tribeca is open every Saturday year-round. This market features growers and farmers from upstate New York and as far away as Lancaster, Pa., with a variety of goods to tantalize the taste buds, eyes and nose. Goat cheese lovers will want to stop by the booth from Miracle Springs Farm from Gallatin, N.Y. They've been making different varieties of cheese for 30 years and raise around 160 goats at a time. Jamie and Shaunessy are happy to give out free samples. The selection of unique flowers is also a must see. The unusual pink and red coxcomb from Tucker Farms in Allentown, N.J., look similar to hydrangea but are furry and soft to the touch. There is also plenty of fresh fruit, nectarines and apples, plus delicious looking bread and pies to sample and buy.
11:30 a.m. – Lunch at Gigino Trattoria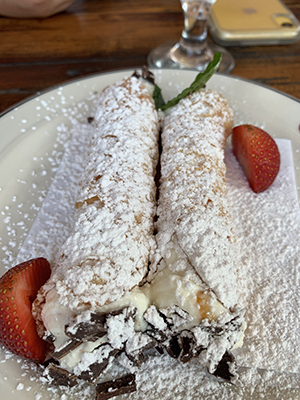 Directly across the street from the farmers market, Gigino Trattoria is inviting with its outdoor seating and delicious Italian fare. The restaurant was the setting for a 90s mobster movie called "Dinner Rush," starring Danny Aiello and Sandra Bernhard. Gigino boasts a large brick pizza oven and lists a variety of unique pies to choose from. The Funghi, Carciofi e Salsicci is a table favorite. Its tomato sauce, mushrooms, artichokes, sausage and mozzarella hit all the food groups. A popular starter is the La Saporosa salad, replete with roasted beets, butternut squash, goat cheese and toasted almonds. Not on the menu, but available as a special dessert and upon request are the cannolis. Homemade with rich, sweet ricotta, stuffed in a crispy deep-fried shell and topped with chocolate chunks and sprinkled powdered sugar, this southern Italian dessert is worth the extra calories.
1:30 p.m. – Coffee at Hugh Jackman's Laughing Man Coffee Company
After a big lunch, it's time for shot of coffee.  Just around the corner, tucked inside a space the size of a walk-in closet is Laughing Man Coffee Company founded by Australian actor and Academy Award winner, Hugh Jackman.  With its motto, "All Be Happy," this coffee shop sells fair trade beans from developing countries and sends its profits to help farmers through the Laughing Man Foundation.   From a shot of espresso to a cold brew, they'll serve up whatever a caffeinated heart desires anytime of the day. This is the original of two locations in New York. Customers are invited to sit outside and enjoy a few sips in the quaint mini park out front, replete with outdoor benches and artificial turf.
2 p.m. – Head to the High Line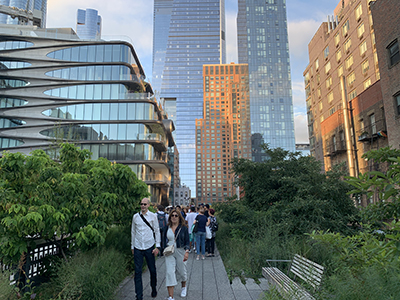 This is what vision and innovation can do for an unused blighted area of town. Open since 2009, the High Line is a 1.45-mile linear park that runs along the old, elevated freight rail line tracks on Manhattan's west side near Hudson Yards. Enjoy a leisurely stroll and soak in the juxtaposition of nature, art and cool building design. Take a selfie by Robert Indiana's newly installed The LOVE Sculpture statues in front of the funky Zaha Hahid condo building. Horticulturists at heart can literally stop and smell the flowers while they soak in the more than 100,000 varieties of greenery and flowers grown and cared for here. Find one of the unique resting spots, such as the 10th Avenue Square and Overlook, to rest and soak in the scenery.
3:30 p.m. – Climb the Vessel
Time to climb! The Vessel is New York's newest attraction and it won't disappoint. It opened to much fanfare this year in March and anchors the Related Group's latest neighborhood project, Hudson Yards. What looks like a rose colored, upside-down vase, fans out from the bottom up and boasts 2,500 steps and 80 landings. The higher the climb, the better the views of the city and the river. This a Thomas Heatherwick design and is meant to be appreciated as an interactive piece of art. For those who don't want to climb, the Vessel is also a great backdrop for selfies!
6:30 p.m. – Dinner at Mercado Little Spain
This is famous chef Jose Andres' latest creation and is quickly becoming a New York sensation. Similar to EATALY, this is a Spanish food hall on steroids! Located in the heart of Hudson Yards, no passport is needed to roam through Spain's unique corners of culinary delights. The energy here is intoxicating and the choices of food and drink are a bit overwhelming. Diners can choose between a sit-down meal, restaurant style or sample food from the myriad kiosks, serving up typical dishes from paella to pasteles. Little Spain offers three full restaurants, Leña, Mar and Spanish Diner. Leña offers meat dishes over a typical Spanish grill, Mar features coastal Spanish seafood dishes, and the diner serves up plates such as gazpacho andaluz, bacalao frito or one of Chef Andres' favorite, huevos fritos con pisto manchego. For drinks or cocktails, BARcelona on the bottom floor offers a variety to choose from with a lively ambience.
9 p.m. – After Dinner Drinks and Music at the TAK Room bar
Step into a scene from the Great Gatsby at the TAK Room bar on the top floor of the Shops and Restaurants at Hudson Yards for an after-dinner drink and live music. This is Chef Thomas A. Keller's latest iteration after recently opening a restaurant at the Shore Club in Miami Beach. It's a throwback to old world charm, when dining out was a white coat affair and champagne was poured in wide mouth glasses. Dinner is fancy and pricey, however the bar is cozy and worth having a cocktail or two while listening to the live band. The service is impeccable. If you can't decide what you'd like to drink, a knowledgeable server will help concoct a beverage featuring your favorite flavor profiles.
Sunday
9:30 a.m.-Noon – Brunch at Sarabeth's
Ease into Sunday with a yummy brunch at Sarabeth's in Tribeca. This well-known eatery boasts five locations around the city and is best known for its beefy-sized brunch options, as well as its muffins and homemade preserves. Start with a coffee made to order or a mimosa. From savory to sweet, there is a nice variety of plates to choose from. The eggs benedict dishes, either original or salmon are quite popular and won't disappoint. Sometimes offered as a specialty brunch item are the crab cake eggs Benedict, a fan favorite and worth trying. Also, quite popular and always on the menu are the lemon ricotta pancakes with blackberries and the fat and fluffy French toast with strawberries – both delicious and satisfying.
If You Go
One World Observatory: Hours are seasonal, 8 a.m.-9 p.m. (May 1- Sept. 2) Tickets: $35-$55, available for purchase online or at the box office, 117 West St. Phone orders can be made for an extra $5. Special deals available for Mastercard holders. One Mix is open daily from 11:30 a.m.-10 p.m. No reservations needed. https://oneworldobservatory.com/en-US/buy-tickets
Rockefeller Park: Open 7 days a week. Ping pong and billiard equipment is loaned out at the Parkhouse from May-October. Dogs are not allowed on the lawn and feeding the fish or ducks is discouraged.
Loopy Doopy Rooftop Bar: Conrad Hotel, 102 North End Ave. Open Friday-Saturday from 2 p.m.-midnight. Ice pop cocktail $22.
Mr. Chow Tribeca: 121 Hudson St., 6 p.m.-11:30 p.m. Pricey, Appetizers, $5.50-$25. Entrees, $26-36 Reservations recommended.
Farmer's Market: – Saturday from 8 a.m.–2 p.m. year-round.
Laughing Man Coffee Company: Open from 6 a.m.-6 p.m. on 184 Duane St.
High Line: Hours vary slightly year-round. In the summer, June 1-Sept. 30, the High Line is open from 7 a.m.-11 p.m.
The Vessel: 530 W. 33Street. Monday-Sunday 10 a.m.-9 p.m. Same day tickets are free and available on a first come, first serve basis starting at 9:30 a.m. and can be obtained at kiosks located inside the Shops and Restaurants at Hudson Yards and on the Public Square and Gardens. A limited quantity of free tickets are available 14 days ahead of a visit and Flex Pass tickets at a fee of $10 can be purchased six months in advance online. https://tickets.hudsonyardsnewyork.com/webstore/shop/viewitems.aspx?cg=VesselTix&C=VesselAdm
Mercado Little Spain: 10 Hudson Yards, Sunday-Thursday 7 a.m.-11 p.m. Friday-Saturday 7 a.m.-midnight.
Sarabeth's Tribeca: 339 Greenwich St. Brunch, Saturday and Sunday 8 a.m.– 4 p.m. Eggs Benedict, $22 pancakes, $20. Reservations recommended.