Posted March 25, 2021
By CAROLENE KURIEN
DAVIE, Fla. — John Burgos pulls out his phone to take pictures of red flowers blooming on the branches of a formidably large tree.
"This is a Mexican flame tree. I think it's the most beautiful tree ever. Look at the flowers on 'em. Isn't it amazing?" said Burgos.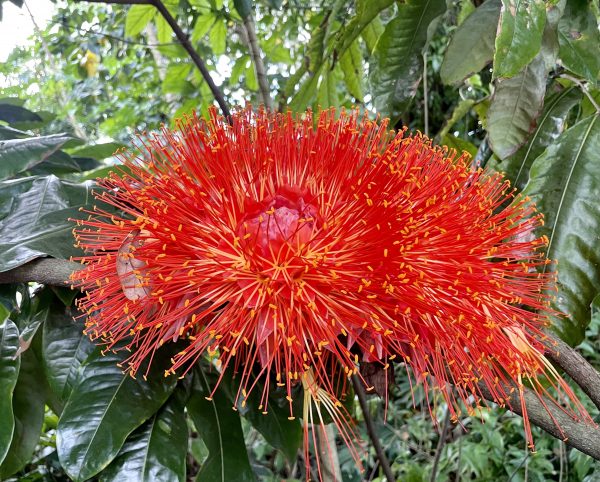 For the past nine years, Burgos has been working as the Group Sales manager for Flamingo Gardens, a 60-acre botanical garden and wildlife sanctuary in South Florida.
Located in Davie, a western suburb in Fort Lauderdale, Flamingo Gardens draws tourists and locals alike, with visitors coming in from as far as Russia and as close as 15 minutes away.
Sampath John, longtime South Florida resident, only recently visited the facility with his wife and toddler and expressed his surprise at how "beautiful" and "pleasant" it was.
"It was unexpected. We always roll[ed] through Flamingo Gardens but we never [saw] the inside of it 'cause the outside looks sort of dingy," said John.
Though the exterior of the facility may look unassuming to some, the interior garden and sanctuary is anything but. Upon first step into the grounds, visitors are immersed in a sea of green, with lush orchid trees, slender palms and other flowering trees surrounding them.
Contrary to what the name might suggest, flamingos are not the main attraction at Flamingo Gardens. It boasts 83 species of animal life, including blue-and-yellow macaws, panthers, otters, alligators, and koi fish.
Some of these animals roam free throughout the park. Peacocks unfurl their vibrant green and blue feathers as they walk under trees and on walkways, cats take leisurely strolls through the garden, and iguanas sunbathe wherever they can catch the light.
For those who want more traditional, enclosed animal attractions, there are also wildlife-specific exhibits, such as the Birds of Prey center that features various hawks, owls and eagles, and Flamingo Pond, where visitors can catch flamingos preening themselves and ibises rooting for food.
All the animals at Flamingo Gardens are rescues, hence its designation as a wildlife sanctuary.
"Here at Flamingo Gardens, we are an animal sanctuary, so what that means is that we have animals here that are either imprinted to humans like our panther or injured and unrehabilitatable.
"Neither of those type of animals can be released into the wild safely, as they would not survive," said Lori Alwin, a tram driver at Flamingo Gardens.
The 25-minute, narrated tram tour through 42 remote acres of the facility is a great option for visitors who want to give their feet a break and learn more about the 3,000 species of trees and plants at Flamingo Gardens.
The tram ride gives visitors the opportunity to observe flora like the silvery branches of the pink desert rose and the cacao pods hanging amidst the rosy leaves of the cacao tree.
The ride showcases various areas like the wildflower garden, mango grove and Pioneer Walkway, which solely features trees and plants native to Florida.
One such native tree that Alwin points out is the gumbo limbo tree, whose thin bark peels to reveal red underneath.
"Now the gumbo limbo is also known as the tourist tree, and that's because when tourists come here to South Florida, they get a sunburn, and then they start to peel," said Alwin.
The tram ride also gives visitors a look at Wray Home Museum, an integral part of Flamingo Gardens.
The Wray Home was built in the early 1930s and was home to Jane and Floyd Wray, the couple who originally founded Flamingo Gardens.
"Now the home was actually built for Mr. and Mrs. Wray to use as their weekend home, as they did many big events over the weekends late into the night," said Alwin.
Visitors to Flamingo Gardens can actually go inside and walk through the living, dining and front rooms of this home-turned-museum and will find they have entered a time machine of sorts.
Though a lot of the furniture are replicas of pieces that would have been contained in a typical 1930s home, there are original pieces from the Wrays' time living there as well, like the wooden chairs and table of the dining room.
Pictures of the Wrays are displayed throughout the home as visitors go from room to room. A snapshot of a large outdoor party, a wedding portrait and a photo of Floyd Wray as a teen in a cigar store gives visitors a glimpse into the lives of the iconic couple.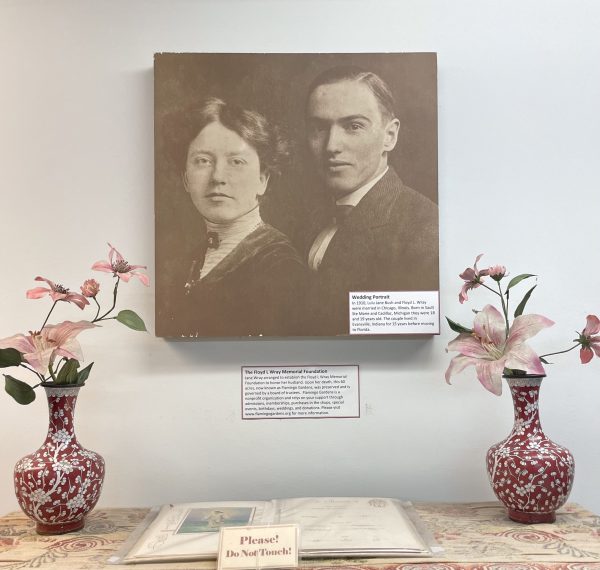 Even the material of the home is a blast from the past; it is made up of Dade County pine, a type of hardwood that was known to grow only in South Florida.
It was heavily popular at the time due to its sturdiness, but unfortunately, as Alwin stated, this material is practically extinct; most of the Dade County pines in the state have since been cut down.
The Wray Home Museum and the Wrays themselves are critical to the history of Flamingo Gardens, so much so that even the natural environment knows it.
"This is a yellow poinciana, and it comes to life and blooms the first week of June," said Burgos as he points to a tall flowering tree.
"Mr. Wray that founded this, it was his favorite tree in the park. The year he died? Only year it never bloomed."
The Wrays are not the only people that give this place history—history is everywhere, from the 200-year-old oaks, to the stump of a large Champion tree destroyed by Hurricane Irma, to the plaque on the ground memorializing one Pamela Monaco Slade (1954-95), "a dedicated employee and volunteer who aspired to and achieved her goal of 1,000 service hours."
For vacationers and spring breakers who have already flocked to the Miami-Fort Lauderdale area for its various attractions, Flamingo Gardens provides a nice respite from the hustle and bustle of South Florida city life and gives visitors a glimpse into the natural beauty of the state.
For locals, Flamingo Gardens is great place to visit with their families to remind them of South Florida's beauty, history and natural charm.
John attested to this, saying that Flamingo Gardens is "definitely family friendly." In fact, John's toddler loved the place so much that he asks to visit it again and again.
""Every time he gets in the car, he's like 'Flamingo Gardens?'" said John.
No matter who comes to visit or why, Burgos hinted that Flamingo Gardens is not just a quick stop.
"You can spend the entire day here, just exploring and walking and doing everything. Just walk, explore, discover. You'll see an awful lot."
If You Go
Address: 3750 S. Flamingo Road, Davie, Fla. 33330
Hours: Mondays-Sundays from 9:30 a.m. to 5 p.m.
Tickets: $21.95 for adults, $15.95 for children aged 3-11, and free for children aged 2 and under.
Tram tours leave every 30 minutes, starting from 11 a.m. and lasting until 4 p.m.
Wheelchair and stroller accessible.
Contains plenty of seating areas scattered throughout as well as restrooms, a picnic area, and a café.