Posted November 18, 2014
By VALERIE LOPEZ
The black combat boots sitting in the corner of my closet where staring at me, it was like they knew the humidity dropped and a cold front was here. I grabbed a pair of blue socks and took my boots for a ride. It was a beautiful day for walking and there are not many days you can walk around Miami without feeling like you are going to melt.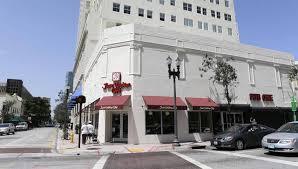 I headed Downtown to find a place where I could have a hot cup of strong coffee and read a book.
That's what I miss the most about Bogota, the coffee shops, but not like Starbucks that have poor quality and overpriced coffee. I miss the coffee shops where you can lounge, see people, read and enjoy the simple pleasures of life, not just stare at your phone.  The weather got me feeling saudade for the gloomy Bogota days, where there was nothing else to do in the everyday cold weather but to sit, have a coffee and read.
I thought of how many places I found like that in Bogota, probably one or two every four to five blocks. Juan Valdez Café was my favorite.  I also wondered why we don't have places like this in Miami, apart from Panthers Coffee and Starbucks. It may be the audience, or the weather or the culture, maybe a mix of all of it.  However, I still had hope that maybe I could find a place apart from a Cuban window counter, I mean, there are plenty of places to have a drink for Happy Hour but none for what I wanted.
I remembered a coffee spot I had seen about three months ago called Urban Oxy, which had the particular feeling I was seeking for. The place was right in the direction I was headed and I didn't mind the walk, the wind was hitting my face –drying my contact lenses – but the Magic City looked and felt beautiful regardless.
Half a block from where I stood, on the corner of East Flagler Street right next to the Olympia Theater, I saw a bright red logo of a coffee grower with a mustache and wide-brimmed hat and a donkey, underneath the graphic said "Juan Valdez Café."
I couldn't see my face but I knew my eyes were shining. I just couldn't believe it, Why didn't I know of this before?  I had asked for it and there it was, my favorite spot in Bogota, right in front of my eyes in the same place Urban Oxy use to be.
I keep walking down the street and stood in front of the place and gazed at it until a lady wearing a brown pattern sweater said to me in Spanish "Me podrías dar permiso por favor"  ("Could you please let me in") I opened the door and I felt the caramel, coffee, baked pan de bono mix of smells. I knew I was home. It was traveling back to my days in Bogota, where that smell was so familiar and regular I had not realized I would miss it someday.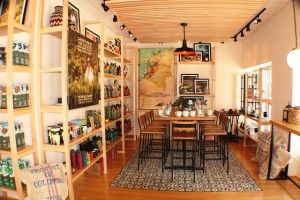 The decoration was the same as in Colombia, all red and beige; red, green and black packs of coffee displayed for sale; pictures of Colombian coffee growers and the medium size Colombian pastry fridge.
There were two tall tables and one spacious comfy sofa that waiting for me.
The line was short, no more than three people ahead and I could hear them all speak Spanish with a Colombian accent. The lady in front was sharing how happy she was Juan Valdez finally opened in Miami.
"It was about time because I was tired of Cuban and American coffee, we have the best coffee in the world," she said.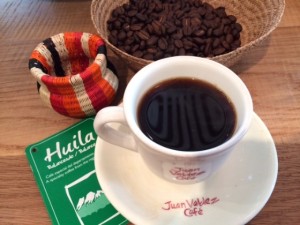 Camilo, one of the baristas, took my order, he spoke in Spanish as well. Before ordering I asked him when they had opened and how was people's reaction to the place.
He explained it opened in July hoping to re-establish the brand in the high-end U.S. coffee market. They plan to open 50 to 60 stores in Florida now that all of the stores in New York City, Seattle and Philadelphia were closed in 2010. Camilo seem very optimistic with the opening since he says people have been welcoming to the product.
"I believe this time Juan Valdez is doing things right in their unique way, before they were just following Starbucks and didn't focus on their products and service," he offered.
I finally ordered a medium size cappuccino with arequipe, this is sugary additive somewhat like caramel or dulce de leche, and a palito de queso (cheese stick) to balance out the coffee's strong and sweet flavor.  After receiving my order I sat down on the couch, opened my new book by Mario Vargas Llosa, "La Tía Julia y el Escribidor" and enjoyed the rest of my afternoon.
It was amazing to feel home just by being here.
If You Go
Juan Valdez
364 SE 1st St., Miami Fla. 33131
Opening hours: Daily, 6 a.m. to 9 p.m.
Parking only available on the street