Posted September 22, 2020
By ISABELLA VACCARO
KENNEBUNKPORT, Maine — On any other July 4th holiday weekend, the short strip of souvenir shops and lobster shacks located here would have been unwalkable. But, on July 4 this year, amidst the coronavirus pandemic, it might as well have been January. Hailed as the "Maine Hamptons," Kennebunk and Kennebunkport, their only real difference lying in a five-mile stretch between the locals' stomping grounds and the port, which is the real tourist destination, naturally attract throngs of Northeasterners each summer. While Kennebunk is home to the big beaches, Kennebunkport boasts charming waterfront inns and resorts and a craggy seaside lined with society's most notable mansions, including the Bush Estate.
Unless you're a heavy surfer or you've just sailed your lobster boat up from Florida for a summer of Maine fishing, the everyday tourist need not spend more than 48 hours in this small, but quaint New England town. And it is also not for the weak of heart. Outdoor activities like biking, kayaking, sailing and surfing, usually amidst windy conditions, are as standard as the amount of seafood you'll consume in your time on the port.
My July weekend on the "Long Sandbar," which didn't budge in terms of a shred of sunlight for the whole 48 hours, was nevertheless filled with adventure and lobster rolls. The food, namely the lobster fried rice from the restaurant at my resort and the famed blackberry goat cheese ice cream at Rococo's in Dock Square, were some of my fondest memories of the vacation. But I'd be remiss if I didn't mention the ramifications of the pandemic on this otherwise bustling beachside town—mask-wearing was strictly enforced in every gift shop, gallery and restaurant until you were safely seated at your table. Some restaurants had transitioned into completely outdoor venues, which, if you dined at night, warranted sweaters or even a light fleece. But no virus can stifle the amount of stunning nature you'll bear witness to, from the choppy North Atlantic waters to the serene salt marshes, home to the migratory birds that call Kennebunkport their home each summer.
Friday 12 p.m., Exploring Nonantum Resort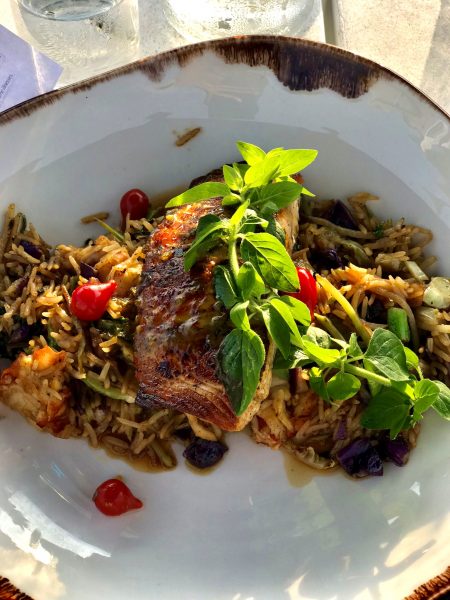 If you're traveling with family, the Nonantum Resort is a no-brainer. This riverside locale is a charming microcosm of Kennebunk. A sprawling green awaits you on the backside of the resort, complete with lawn games for the kids like hackey sack, a little basketball court and large white lawn chairs surrounding personal fire pits, which you can reserve for bonfires and s'mores on any given night. The marina at the resort is home to the majestic, black Pineapple Ketch, which offers tourists daytime and sunset sail boat rides at mid-range prices. The pool, open for use by reservation only, overlooks the newly transitioned outdoor restaurant, 95 Ocean, which was among the higher-end, more expensive joints in K'port. And, perhaps the most overlooked aspect of this humming resort was the free breakfast buffet. Homemade donuts, bagels and egg sandwiches were probably the best I've tried in my life, served safely by masked and shielded employees.
Friday 4 p.m., The Shops at Dock Square
One need not be a shopaholic to hit all the shops in Dock Square in the heart of Downtown Kennebunkport. Best of Everything is hailed by yearly tourists as the best shop on the port—I bought a very unique bedazzled baseball cap there, and my sister went to town on the massive selection of low-priced jewelry. For K'port specific souvenirs, Dock Square Clothiers is the spot; determined to grab good-quality Kennebunkport sweatshirts, my sister and I both lucked out with the huge selection of Champion and other name brands. There are also a number of higher-end boutiques carrying everything from clothing, jewelry, gifts and all your Lily Pulitzer needs. But it doesn't take long before the smells from the outdoor Clam Shack—it's literally a shack—penetrate your face covering and remind you it's time for dinner.
Friday 7 p.m., Dinner at The Boathouse Restaurant
Being that my family aren't exactly clam-lovers, we moseyed our way over to the Boathouse Waterfront Hotel and Restaurant for a meal. This stunning spot is hard to miss—it has huge letters spelling 'KPORT' on its deck overlooking the river. My sister was the first to fall prey to the delicious lobster fried rice that seemed to be a staple pretty much anywhere you eat in K'port, and my mom and I got lobster rolls—surprise, surprise. No complaints there—just a tasty meal with an upscale interior anda view!
Saturday 10 a.m., Breakfast at Mike's All Day Breakfast
Apparently, there's only one breakfast place in Kennebunk, and this is it. Mike's All Day Breakfast is a local spot with old-school charm and sizzling bites. It's probably best to call in a reservation, though, because when my family and I arrived at around 10 a.m., there was a line around the building just to put your name in. The eggs, hash browns and spirited local waiters were certainly worth it, but for an impatient, and, worse off, hungry crew, it's best to call ahead.
Saturday 1 p.m., Bike Riding to the Beach
The Nonantum Resort had about five or six beach cruisers onsite for guests to rent—and, if you're thrown off by the name, beach cruisers aren't your typical 21-speed road bike. These cuties go one speed and one speed only—however fast your legs pedal—and don't have those ever-convenient hand brakes. I definitely learned my lesson on how to back pedal to stop, but only after I fell a couple times in the hotel parking lot. My sister and I rented two bikes for $10 each at the front desk and took them through town and towards the beach. Though my legs were screaming going up a rogue hill here and there, the view was totally worth it. Our route took us through some beautiful Kennebunk neighborhoods all the way to Goose Rocks Beach, where we noticed every single person in the ocean on the cool, cloudy day was in a full wetsuit on a surf board.
Saturday 4 p.m., Quick Ice Cream Pitstop
On our way back to the hotel from the beach, my sister reminded me that we hadn't yet tried the famous blackberry ice cream the locals had been raving about. So, we braved the traffic in Dock Square and parked our bikes right outside of Rococo's Ice Cream Shop—a Maine staple, with locations in Ogunquit and Wells, too. If Blackberry and Goat Cheese doesn't sound like an appealing flavor, then you probably haven't tried it, because it was one of the fastest cones I've lapped up in my life.
Saturday 7 p.m., Sunset Cruise on the Pineapple Ketch
On another night, the captain of the Pineapple Ketch sailboat we boarded at the Nonantum Marina told us, a sunset cruise would have been just that—a serene sailing experience with the warmth of the sinking sun on your skin. But, in true K'port fashion, and with 360-degree fog surrounding us, we set out for a less than relaxing boat ride. Nevertheless, our first mate, Daniel, a rising senior at Kennebunkport High, doubled as our tour guide, pointing out the different mansions along the coastline. The most notable of which was the Bush Estate, which Daniel told us was currently hosting the Bush Family, as signified by the black SUVs parked outside. Despite the educational value of the trip, the water was so choppy that I wasn't quite sure whether or not I would slip right into the ocean every time the boat tacked in another direction. My recommendation would be to make sure there is sun on the day of your sunset cruise, otherwise reschedule.
Sunday 9 a.m., Rachel Carson Trail
About 10 minutes away from the Nonantum Resort lies the Rachel Carson Trail, a tribute to the famed environmentalist and author of Silent Spring, Located amongst the preserved salt marshes and estuaries, this one-mile trail has various stops along its scenic route with information about the wildlife. It's a quick, but breathtaking walk and was the perfect way to start off the last day in Kennebunk.
Sunday 10 a.m., Day trip to Marginal Way, Ogunquit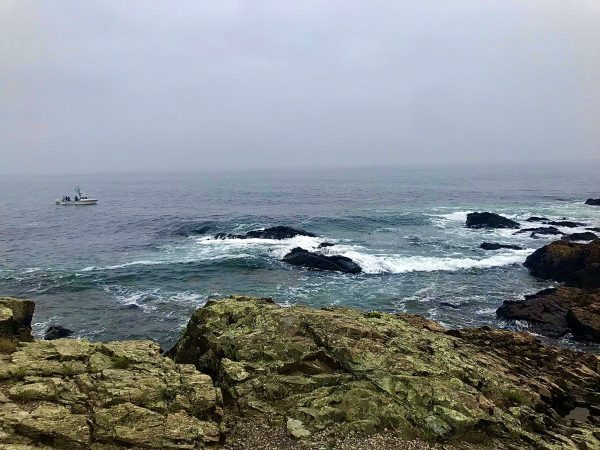 In keeping with the theme of the day, Marginal Way in Ogunquit, a gorgeous mile-long footpath along the seaside, is a quick 20-minute drive from Kennebunk. You can either choose to start from Perkins Cove, an area similar to Dock Square, but with even more shops and restaurants, and work your way towards Beach Street, or vice-versa. The historic homes along the walk are almost as stunning as the crashing waves on the rocky Maine Coast. There was no signage as to whether or not masks were required on this sea-breezy walk, but most passersby chose to wear them, and some even got frisky if they came across a non-masker. Regardless, this walk is not to be missed, considering how close it is to Kennebunkport!
Sunday 12 p.m., Lunch at Hurricane Restaurant
Upon entry into this elevated riverside restaurant back at Dock Square, the lavish, old-timey décor and formally-dressed wait staff are reminiscent of a night on the Titanic. From the main dining room windows, there is nothing to see but water, and once or twice I almost thought I felt a phantom rock of a ship. I decided to ease out of the seafood feast I'd been sustaining since Friday and order a filet mignon. All I have to say is, not one meal in Kennebunkport disappointed, especially not this fine cut of steak. Hurricane provided the perfect meal to finish off a surprisingly adventurous New England weekend trip.
If You Go
Nonantum Resort: Rooms starting at $236.88 a night. 95 Ocean Ave., Kennebunkport, ME 04046. https://nonantumresort.com.
Best of Everything: 9 Western Ave., Kennebunk, ME 04043. http://www.bestofeverything.com.
Boathouse Restaurant: Expect to pay around $30-60 per person. 21 Ocean Ave., Kennebunkport, Maine 04046. https://boathouseme.com/menus/.
Mike's All Day Breakfast: Expect to pay between $12-20 a person. 55 Western Ave., Kennebunk, ME 04043.
Goose Rocks Beach, ME: https://www.mapquest.com/directions/to/us/me/goose-rocks-beach-282900487.
Rococo Ice Cream: 6 Spring St., Kennebunkport, ME 04046. http://www.rococoicecream.com.
Pineapple Ketch Sunset Cruise: $55 a person. 95 Ocean Avenue, Kennebunkport, Maine. https://www.pineappleketch.com.
Rachel Carson Trail: Free. 321 Port Rd, Wells, ME 04090.https://myhikes.org/trails/rachel-carson-wildlife-refuge-carson-trail.
Marginal Way: Free. Ogunquit, ME. https://www.tripadvisor.com/Attraction_Review-g40790-d104969-Reviews-Marginal_Way-Ogunquit_Maine.html.
Hurricane Restaurant: Expect to pay $40 to 70 a person. 29 Dock Square, Kennebunkport, ME 04046. https://www.hurricanerestaurant.com.