Posted November 7, 2015
By MELISSA SOTO
ORLANDO — I had waited all night for this moment.
As I started walking into the iconic "Jack Presents 25 Years of Monsters & Mayhem" haunted house hosted by the one and only Jack the Clown, my heart began to beat faster with each step.
The entrance accentuated by the two twisting totem poles showcased the most famous characters. The Usher, The Caretaker, and The Director were all waiting inside to pump terror through my veins.
I made my way into the gigantic clown mouth into the dark unknown and faced my fate. What happened next was nothing for which I was prepared.
This was the 25th anniversary celebration for Halloween Horror Nights at Universal Studios Orlando here, so expectations were high.
Walking into the park as the Florida sun set, smoke filled the air and rock music rattled my brain awakening my senses for a night filled with scares.
Scarezones, also known as the places visitors must walk through to get around the park, consisted of fairy tale characters frantically pacing about to deliver a fright.
The sounds of the chainsaws in the distance heightened the terror.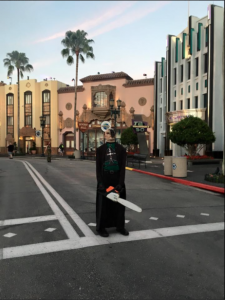 Michelle Saco, a Halloween Horror Nights veteran, said she looks forward to this event every year.
"This is my 15th year. I yearn to hear the sounds of the chainsaws. Universal outdoes this event every year. The details in every house are perfect," said Saco.
Cinderella, Belle, the Beast and others populated the street of the Scary-Tales Screampunk scarezone while blood dripped down their faces.
Veteran strategies include making your way to the back of the park and working forward to avoid crowds. This is a good tip for those who have the express pass.
The express pass costs a pretty penny, around $100, but minimizes wait times tremendously. With nine houses, seven scarezones and a handful of rides, my time was very precious and had to be used efficiently with the assistance of the express pass.
The first house of the night was The Walking Dead: The Living And The Dead. I'm not a huge fan of this AMC television show, but I'm always up for a scare.
Entering the house, each room smelled of toxic chemicals and had an eerie coldness accompanying it. Zombies flooded the halls while sound effects of gun shots kept me on edge.
As zombies popped out of every crevice, all I could do was stay focused and walk as quickly as possible to the exit.
The last room of the house was covered with mattresses, flashing strobe lights and blaring techno music, which was a nice treat.
Although this was not the scariest house of the night, it was a nice warm up for what lurked ahead.
The next few houses were all a blur due to my excitement. The Purge, a modern horror film, was as terrifying as expected.
People with doll-like masks roamed through each room waiting to add to their annual kill count.
Insidious, another blockbuster film, had some good scares but not enough to be a true contender.
Elizabeth Hick, a tourist from Mississippi, has been attending this event for three years.
"I love being scared, it's always a fun time," she said.
When asked what her favorite house was Hick said Insidious went above and beyond her expectations.
"I have never been so scared in my life."
I needed a bit of a break after these hours to regenerate so I purchased my first "blood bag". This red rum see-through bag did not taste as good as it looked.
Jess Stone, a dead nurse selling the blood bag, was from London.
"I've been working at Halloween Horror Nights for eight years and have yet to get bored," Stone said.
Next up was "RUN: Blood, Sweat and Fears" a house based off a fake game show where you must figure a way out or you die. This house had its scares, but won't be remembered for very long.
House five: Body Collectors: Recollection. This house was hands down the most gut-wrenching.
Body Collectors, as the name would suggest, are men dressed in black trench coats with ghoul like white faces who come around and take bodies to do what they please with.
Similar to some of the other houses, smoke and a cold winter touch filled the entrance as people naturally formed a single filed line.
Body Collectors emerged out of the walls slicing their victims with knives or even ripping out their spines.
After being utterly terrified, I walked over to what I considered the coolest house.
Asylum in Wonderland 3D was a trippy, vibrant colored house with iconic characters like white rabbit waiting to scare me. House six was worth every delusional second.
The last three houses were the ones I was looking forward to most. House seven was a horror classic.
Freddy versus Jason was filled with monsters jumping out from left and right while taking visitors to Camp Crystal Lake and Nightmare on Elm street.
House eight: An American Werewolf in London was full of gory wolf animatronics and poachers throughout on the hunt.
With heads the size of a small car, these fake wolves truly petrified me. The set design in each room was incredible as each detail staying true to the movie.
As I walked out of this wolf killing zone, I had finally reached my last destination. Jack Presents 25 Years of Monsters & Mayhem. As I entered the fake clown mouth I was exhausted and exhilarated at the same time.
The Caretaker, Frankenstein, vampires, and warlocks alike played and executed their roles in the most hair-raising fashion. Every room in this house was shockingly differently and equally as frightening.
The final room of the house was a bit daunting. As I made my way through the fog dozens of Jacks stood in a circle. Walking past them, I had no idea which were real or fake.
As I clenched my fists and partly closed my eyes, the orange haired clowns ran all around me waiting for my screams and that is what they got.
Once I safely made it out of the house, my heartbeat returned back to normal and I was able to process everything I just saw.
Halloween Horror Nights yet again lived up to all I had been anticipating and more. I cannot wait to see what frights are in store for next year.
If You Go
Visit halloweenhorrornights.com for more information and/or to purchase your tickets.
Ticket price varies by date and range between $50 and up. Each date has different hours
Located at 6000 Universal Blvd, Orlando, Fla., 32819
Florida residents get discounts
Buy the express pass! It may cost over $100 but is worth it
Costumes are not allowed
There are no special rates for children
The park requires all individuals buying alcohol to show an ID.