Posted October 14, 2017
By SHELLIE FRAI
Walking around the downtown Washington, D.C., area you will not just find busybody lobbyists and eager young professionals. You will find exploring tourists from all over the world, trying to soak up the history and culture of America's capital. From free art and science museums to a delicious international culinary scene and an engaging nightlife, one should always take time to discover what the core of Washington has to offer.
Noon Friday — Library of Congress
When President John Adams signed a bill on April 24, 1800, establishing the Library of Congress, he did not realize he was creating the largest library in the world. Discover the institution that holds an unparalleled world resource of books, photographs and manuscripts, as well as age-old, beautiful architecture and design. Check out interesting documents and Congressional bill drafts, or take a tour and learn about all the library's secret nooks and crannies.
2 p.m. Friday — Lunch at Le Bon Cafe
You will know when you found this discreet neighborhood cafe when you reach the French blue-and-white striped awnings and white marble tables. Located just a few blocks from Capitol Hill, you will find soups and quiches, as well as, classic Parisian paninis and pastries. All homemade by owner, Sandra McCluskey who, after quitting her job on Capitol Hill, decided to open her dream cafe. With an undisturbed view of the historic Capitol Building, Le Bon is a favorite of Congressional staffers and local Hill residents.
4 p.m. Friday — Botanical Garden
First established in 1816 and just a few steps away from the Capitol, the botanical garden is just as lush as it is historic. The indoor and outdoor garden covers every floral aspect of mother nature. Step inside the conservatory to find out what it's like inside every ecosystem; go to the desert, the jungle and a primeval land. Don't forget to take pictures of the Venus Fly Traps and the award-winning Spider Orchids.
6 p.m. Friday — Tidal Basin
Either take a relaxing sunset walk, or rent bicycles and bike around the Tidal Basin, which gives you a spectacular view of the iconic Washington Monument. The basin is situated adjacent from the Jefferson Memorial, the Martin Luther King, Jr. National Memorial, the FDR Memorial and the George Mason Memorial, so you can visit each one. The most popular time to explore the basin is in spring, when the Japanese cherry trees, which were given to the city as a gift from Tokyo Mayor Yukio Ozaki in 1912, are in full bloom.
8 p.m. Friday — Dinner at District Wharf
Along the Potomac River is a mile-long stretch of restaurants, retailers and residences. The Wharf is a long-time project that has been in the works since President George Washington's city planner Pierre Charles L'Enfant, designed a street layout of a major inland seaport and fish market. Dine at Hank's Oyster Bar, as chef Jamie Leeds, who has been nominated for "Restaurateur of the Year" award by the Restaurant Association of Metropolitan Washington in 2016 and 2017, and enjoy classic New England fare with an enchanting waterfront view.
10 p.m. Friday — Nightcap on Pearl Street
After you are done eating, take a stroll down Pearl Street in District Wharf, where many street performers line up the path, along with many bars and taverns, as well as unique music venues. Peek into The Anthem, which has a stage to host intimate local band performances, or take a seat at the Cantina Marina, a bar perched right on the water that serves creative cocktails and gulf coast-inspired small bites. I recommend their margaritas, for a sweet and salty end to the night.
10 a.m. Saturday — Founding Farmers
Owned by the members of the North Dakota Farmers Union, you will be able to taste the fresh flavors at this farm-to-table restaurant. Even the flour they use in their biscuits, pancakes and pastries comes from North Dakota's flour mill. The North Dakota hospitality is not lost on the staff, that greets you as if you are part of the family. For brunch try their "Peanut Butter Banana Toast" if you are in the mood for something buttery and sweet. If you are looking for a savory dish, look no further than their "Hangover Hash," a poached egg dish with a ton of cheese and chili.
Noon Saturday — National African American History & Culture Museum
The newest 85,000 square-foot Smithsonian museum in Washington, D.C., is devoted entirely to the documentation of African American life, history and culture. It includes 12 exhibitions and more than 36,000 artifacts. Because of its popularity, you need to reserve the day you want to attend and download the free e-ticket. There are no guided tours, however, so download the museum's mobile app so you can listen to audio stories on the exhibitions and learn about highlighted objects from each collection.
3 p.m. Saturday – Smithsonian Castle
Just a few blocks from the NAAHM, take a walk around the beautiful castle, that was completed in the 19th-century. The architecture is perfect for an Instagram picture, you will feel like you were instantly transported to Europe as you find the secret fountains and gargoyles. Inside the castle you will find highlights from each of the 19 Smithsonian museums in D.C., so you don't have to wonder what you missed out on. Stop by the cafe for a little coffee and sweet treat before you head to the next museum.
5 p.m. Saturday — Hirshhorn Museum & Sculpture Garden
The United States' Museum of Contemporary and Modern Art is not only cool because of its exhibitions, but the building itself is an attraction. Architect Gordon Bunshaft designed the building as an open cylinder on four legs with a large fountain in the center. Once inside, you have to go down a floor and start exploring the museum from the basement to the top, fourth floor. The four exhibitions change every so often, however, their basement level exhibition is permanent. Artist Barbara Kruger Podcast painted every inch of the floor and ceiling black, white and red. She then covered the overwhelming walls in big bold sayings and quotes.
7 p.m. Saturday —  China Chilcano
Created by the world-renowned chef and restaurateur, Jose Andres, his latest multicultural restaurant fuses two strong tastes: Peruvian and Chinese. The fusion is called Criollo and is seen in every dish on the menu; from Asian style shrimp dim sum to Peruvian pureed potatoes and fried bananas. The cocktail menu does not shy away from the Criollo fusion either. Try a "Peru Libre" with Black Peruvian rum, Mexican coke, vanilla and lime, or a "Ma Collins" with Bourbon, yuzu, ginger, anise and soa.
9 p.m. Saturday — Shakespeare Theatre Company at Lansburg Theatre
Not just Shakespeare fanatics will find this entertaining. This Shakespeare Theatre Company takes his most popular works and displays them through a contemporary lens. Highlighting relevant themes and complex characters, while keeping the traditional language. Most notably seen in the company's hit play, "Mock Trial: Romeo & Juliet: Wrongful Deaths?" Surprise actor in the company is Maulik Pancholy, known for playing Jonathan in Tina Fey's hit show, "30 Rock."
9 a.m. Sunday — Breakfast at Kramerbooks & Afterwords Cafe
Opened in 1976, as the first combination bookstore/cafe in Washington, D.C., the famous bookstore is regarded as "one of the city's most beloved independent booksellers," said the online food critic Fearless Critic. After perusing the two floors of contemporary and classic books, have a hearty breakfast of eggs benedict or brioche French toast, at their tucked away cafe that carries the musty aroma of old books and strong coffee.
11 a.m. Sunday — Dupont Underground
In 1962 the city decided to close off the streetcar system created in the 1940s that ran beneath the bustling neighborhood of Dupont Circle. Nearly 30 years later, the underground subway was converted into a creative art space that kept the old tracks on the floors but used artists' creative freedom to paint the walls in colorful shapes and murals. The space now holds theatrical, musical and art events and exhibitions. Right now, Helen Berg's "Loops of Light" is being exhibited until the end of October.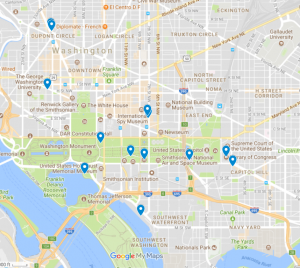 View the interactive map here: https://drive.google.com/open?id=1UZf193v2QzAzZh9Ffr293-_eWgg&usp=sharing
Lodging
The Hay-Adams is an expensive, boutique hotel rich in history and surrounded by the most historic landmarks of our nation. Its 1920s Italian Renaissance-style architecture contrasts its modern luxuries, giving you the best of both worlds. The best part is the hotel is situated just across from the White House, St. John's Church and Lafayette Park. No matter what room you reserve, you will always be looking out at breathtaking views.
For a more historic and exciting stay, enjoy the one and only Watergate Hotel, where the notorious Watergate scandal took place. The landmark hotel is situated by the Potomac River and is located just a mile from the iconic Lincoln Memorial. You can even go up to where the scandal actually happened.
Don't Want to Walk?
The Washington Metro runs weekdays from 9:30 a.m. – 7 p.m. Fares are $2 both ways, or you can buy a SmartTrip card, if you plan to use it more often. Learn more at www.wmata.com/
If You Go…
Library of Congress
Botanical Gardens
Hank's Oyster Bar
Founding Farmers
National African American History & Culture Museum
Hirshhorn Museum & Sculpture Garden
China Chilcano
Shakespeare Theatre Company at Lansburg Theatre
Kramerbooks & Afterwords Cafe
Dupont Underground