Posted November 20, 2019
By CLAUDIA SAFAVI
Both locals and tourists are encouraged to head on down to the American tropical paradise of South Florida for a unique holiday experience.
South Florida's typical holiday scene is not made up of snowy landscapes and cozy fireplaces but offers balmy weather, palm trees and sandy beaches.
It is the perfect spot for those seeking a refreshing spin on the traditional holiday celebrations.
South Florida has an array of fun-filled festivities ranging from annual tree lightings to winter boat parades and holiday-themed amusement parks.
The following list is arranged alphabetically. Here are some of the favorite activities and locations to experience the most wonderful time of the year.
Breakfast with Santa at Neiman Marcus in Coral Gables
Get into the holiday spirit by visiting Neiman Marcus in Coral Gables, where families can have a sumptuous breakfast with Santa Claus. During breakfast, families are presented with opportunities to take photos with Santa. After breakfast is served, children can participate in cookie decorating and arts and crafts activities. It is a winter wonderland extravaganza that no parent or young one would want to miss.
Gasparilla Inn & Club's Twelve Days of Christmas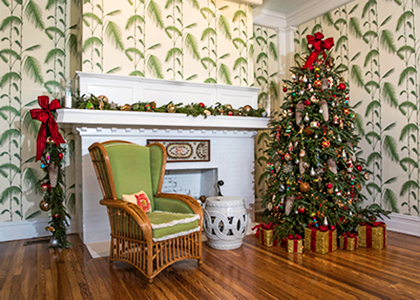 'Tis the season at Gasparilla Inn & Club, where visitors can experience the Twelve Days of Christmas. The Twelve Days of Christmas hotel package includes one deluxe room along with a different unique theme of activities for each of the days. A myriad of holiday events offered include Christmas caroling, holiday bingo, gingerbread house decorating and more. The Twelve Days of Christmas is an unforgettable holiday celebration designed for those of all age groups.
Key West's "HarborWalk of Lights" at HarborWalk Plaza
Stroll along Elizabeth St. & Greene St. in Key West to see the iconic "HarborWalk of Lights." Dazzling holiday-oriented light displays will capture the eyes of visitors with attractions from flamingos to dolphins and sea turtles. The "HarborWalk of Lights" is also a magnificent spot to do some seasonal shopping, while listening to live Holiday tunes. There will even be a tree lighting ceremony where the Key West Lobster Trap Tree, a Nautical Christmas Tree and the Fishing Buoy Tree are going to be ignited to pay tribute to the "Maritime History of Key West."
Miami City Ballet's "The Nutcracker"
This holiday season, Miami City Ballet transports visitors to a mystical winter fantasyland in George Balanchine's rendition of "The Nutcracker." During the performance, guests are acquainted with traditional holiday characters from dancing Sugarplum Fairies to Toy Soldiers. Miami City Ballet's "The Nutcracker" features Cuban inspired costumes, giving the show a distinctive geographic touch. Live orchestras are also set to play at each performance. The showing of "The Nutcracker" is a classic holiday tradition made for the entire family to enjoy.
NightGarden at Fairchild Tropical Botanical Garden
Explore one of Miami's most beautiful gardens after daylight. Come and watch a festive light show with animated live effects such as holographic butterflies and floating orchids permeate throughout the landscape of the garden. With talking trees and illuminated mazes, guests are sent to a make-believe dream world. Some of the finest food trucks in South Florida are also invited to heighten the show.
The Polar Express Train Ride in Fort Lauderdale and Miami
All aboard the Polar Express, where the movie comes to life as the experience takes visitors on a whimsical journey to meet Santa Claus. Once guests are seated, dancing hosts will scan their golden tickets. Passengers' will be served hot cocoa and delicious desserts. As visitors are enjoying their pastries and beverages, Santa and his elves will be wishing everyone on board a Merry Christmas. By the end of the train ride, guests will be given sleigh bells by Santa to keep as mementos of the trip.
Holiday Sand Tree Lighting at Downtown West Palm Beach Waterfront
Have a holiday in paradise by paying a visit to the tropical land of West Palm Beach, where visitors can find the planets only 35-foot,700-ton sand tree, "Sandi." At "Sandi Land," visitors are greeted by a capella carolers who perform live music weekly throughout the holiday season. Guests can participate in activities such as glow in the dark mini golf and photo taking with Santa. Holiday Gift Boutiques and Flea Market vendors are on-site, allowing visitors to make some highly unique purchases for their loved ones. "Sandi Land" is a memorable, authentic South Florida experience.
Santa's Enchanted Forest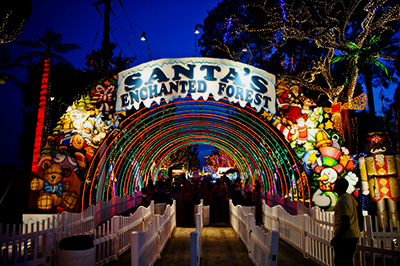 Visit the World's Largest Holiday-Themed Amusement Park located right in Miami. At Santa's Enchanted Forest, guests have the opportunity to see South Florida's tallest Christmas tree, while experiencing more than 100 various rides, games and attractions. Visitors are advised to come on an empty stomach so they can get a taste of the traditional carnival food available from churros to candied apples and fried Oreos. As visitors eat their way through the park, they will come across Instagram-worthy winter wonderland themed displays. Some photo opportunities include attending a meet and greet with Santa Claus, which is accessible nightly with a visitor's ticket purchase.
The Tree Lighting Ceremony at the Shops at Merrick Park
Watch the Shops at Merrick Park morph into a magical Winter Wonderland at the 16th annual Tree Lighting Ceremony. Live performances will be delivered from the Miami Royal Ballet and the Coral Gables High School Choir and Band, along with a remarkable appearance from Santa Claus. Pastries and beverages will be available for purchase by the mall's Farmer's Market Food Vendors. Guests also have an opportunity to become involved in a great cause by donating a toy to the Nicklaus Children's Hospital in Coral Terrace.
Winterfest Boat Parade
Experience one of the most significant South Florida holiday attractions by attending the Winterfest Boat Parade. Residents and tourists from around the world gather to watch more than 100 stunningly decorated boats sail across the New River and Intracoastal Waterway in Fort Lauderdale and Pompano Beach. The Grandstand Viewing Area in Fort Lauderdale is the most popular location for parade viewing. Guests will be entertained by celebrities and live performers making special appearances by the boat as well.
If You Go
Breakfast with Santa at Mariposa Restaurant, Neiman Marcus in Coral Gables
Gasparilla Inn's Twelve Days of Christmas
Key West's "HarborWalk of Lights" at HarborWalk Plaza
Miami City Ballet's "The Nutcracker"
NightGarden at Fairchild Tropical Botanical Gardens
The Polar Express Train Ride in Fort Lauderdale and Miami,
Holiday Sand Tree Lighting at Downtown West Palm Beach Waterfront
Santa's Enchanted Forest
The Tree Lighting Ceremony at the Shops at Merrick Park
Winterfest Boat Parade