Posted October 8, 2019
By CLAUDIA SAFAVI
Tania Morariu, director of Marketing at The Palms Hotel & Spa in Mid-Beach Miami Beach, takes a stroll by the natural style pool to make sure there is no disposable plastic in sight.
To strengthen their efforts, Morariu and the rest of the hotel staff are providing acrylic glasses and melamine plates to visitors' poolside.
"Our ideal goal is to have all the disposable plastic removed by 2020. So far, it looks like we are on the right path," said Morariu.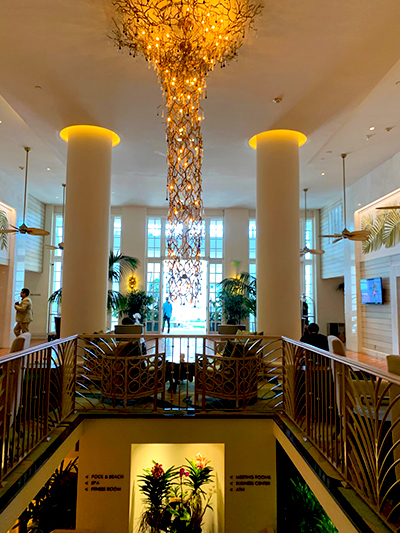 A luxurious tropical vacation to South Florida may sound difficult for eco-conscious travelers to take, but it does not have to be.
There are ways for individuals to travel to an American tropical paradise sustainably. South Florida offers a wide selection of sustainable options from resorts to restaurants, shops and tourist attractions.
Sustainable Lodging
If eco-conscious travelers are looking to book a hotel online for their trip to Miami, chances are they will be directed to The Palms Hotel & Spa.
The Palms Hotel & Spa is a nature-centric oceanfront resort that puts green practices at the core of each visitor's experience.
The Palms Hotel & Spa is inspired by the beauty and health benefits of nature.
"I would say I am the most eco-conscious traveler around. I have been to many eco-friendly resorts. From my experience, the Palms has succeeded in being the most sustainable. When checking in, employees assured me about how all rooms contained LED light bulbs. I also saw the rooms came with low-flow showerheads, which reduce excessive water usage. Not only was the hotel eco-conscious when it came to the showers, but they even provided their guests with bathrobes made from sustainable microfiber materials. It was refreshing to see," stated Mark Kudla, a recent guest at the Palms Hotel & Spa.
Booking a standard room at the Palms Hotel & Spa comes with a single king-size bed, one bathroom with a shower, and a flat-screen tv.
Guests at the Palms also have direct access to the AVEDA Spa located in the lower lobby of the hotel.
Being a customer at the spa means enduring an experience that stimulates the mind, body, and soul.
Spa professionals perform rituals inspired by medieval Ayurvedic holistic philosophy.
The AVEDA Spa combines all-natural organic products with ancient rituals to create rejuvenating experiences for guests.
Sustainable Dining
The organic eatery DIRT-Eat Clean located at Sunset Harbor in Miami Beach and at Mary Brickell Village in the Brickell area near downtown Miami.
"Dirt is where clean eating and great taste coexist. We are a "counter casual," all-day dining experience combining fresh, healthy-ish food with convenience and simplicity. We believe in high-quality, nutritious food, served quickly and affordably," explained Aaron Licardo, regional director of Operations at DIRT. "We know where our food comes from, and we think you should too. We highlight food artisans and local farmers plus purveyors on the farm and friends map at each DIRT location."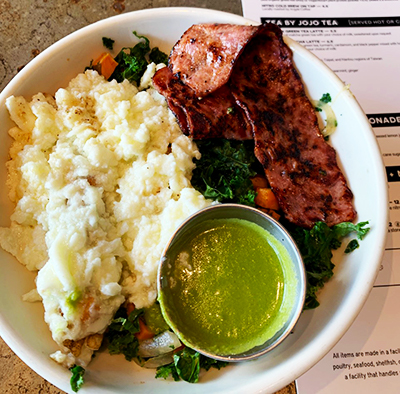 DIRT is a place where friends can enjoy a healthy and delicious meal together.
The Clean Bowl, which consists of 12 cage-free egg whites, turkey bacon, avocado mash, sautéed peppers and onions, sautéed kale, roasted sweet potato, and house-made salsa verde is a staple at DIRT.
Another ideal sustainable dining option for eco-conscious travelers is KYU.
KYU is a contemporary Asian eatery located in Wynwood that is committed to utilizing green and sustainable practices.
"We are sustainable in many ways. We have an option for guests, where they can purchase a $5 donation that goes towards the Maryland-based non-profit organization "trees for the future." Our restaurant also tries to be sustainable by recycling our menus and having no plastic straws. We work with local farms as well to keep our food as fresh as possible", stated Jen, the reservation reception supervisor at KYU.
KYU shows how an eatery can be trendy and sustainable at the same time.
Sustainable Activities
If visitors are looking to engage in sustainable activities in South Florida, The Miami Beach Botanical Garden is the perfect destination.
"We are big advocates of sustainable, organic gardening — creating as much habitat for wildlife and people in our otherwise very urban environment. One of our large sustainability efforts is our Community Compost Program — we accept food scraps from the public and turn them into very fertile, organic soil we use in our garden and sell to others for them to do so as well, decreasing the need for chemicals in landscaping and increasing the health of our thriving city. We have diverted and processed tens of thousands of pounds of waste from landfills into gardens since 2016," stated Sanna O'Sullivan, head gardener at the Miami Beach Botanical Garden.
Tourists can visit this free public garden to experience how easing the green space is.
The garden showcases different types of plants from all around the world. Each of the plants signifies the importance of culture and diversity.
The Miami Beach Botanical Garden's landscape is then part of their environmental footprint.
The Miami Beach Botanical Garden is not the only eco-friendly tourist attraction that South Florida has to offer.
Biscayne National Park is a Florida landmark that contains coral reefs, islands, and shoreline mangrove forests within the attraction.
Travelers can fish in the Biscayne Bay, partly located within Biscayne National Park, which can be an excellent bonding activity for the family or among friends.
Biscayne National Park has partnered with Florida to make sure that fisheries resources are sustainable.
Fishing in the bay is an activity that is both safe and enjoyable for eco-conscious travelers looking for things to do.
Sustainable Shopping
South Florida has cities that have contributed to saving the planet as they have launched eco-friendly boutiques, which are available to locals and visitors.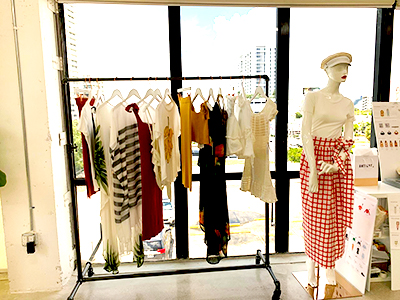 ANTIDOTE is a showroom located in the Miami Design District that believes fashion and sustainability can be the same.
ANTIDOTE searches the globe to deliver top-notch sustainable fashion brands to its showroom in Miami
"I created ANTIDOTE with the vision of showing sustainable fashion in a positive and aesthetically pleasing way. For me, sustainable fashion should be creative, affordable, and attractive, while the sustainable aspect is a plus," claimed Sophie Zembra, CEO and founder of ANTIDOTE.
ANTIDOTE is committed to keeping eco-conscious fashion alive by showcasing trends from various parts of the world and incorporating them into their own company.
Malls in the Miami area are also valuing the concept of sustainability as they have upgraded their facilities to give eco-friendly shoppers a better experience indoors.
"The Dadeland Mall has made progress in being as sustainable in several ways. For example, we provide electric vehicle (EV) charging stations in multiple locations throughout the property. The mall also partakes in local community engagement activities such as the Simon Youth Foundation. Lastly, we operate the property with innovative solutions that lower operational costs and reduce environmental footprint, i.e., in the area of energy, water, and waste management," exclaimed Lourdes M. Rodriguez, director of Marketing & Business Development at Dadeland Mall.
Dadeland Mall's awareness and efforts on sustainability make it an ideal destination for eco-conscious travelers to pay a visit.
More Information