Posted October 22, 2019
By CLAUDIA SAFAVI
John R. Allen, executive director at the Coral Gables Museum, sips on his morning coffee while sitting at the front desk of his office. Allen reminisces about the most innovative exhibition ever featured at the Coral Gables Museum.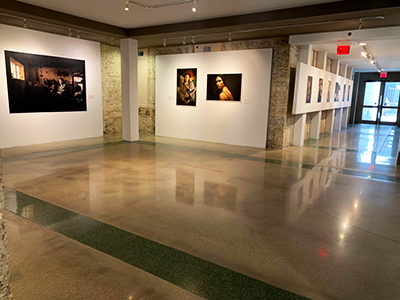 "I would say the most innovative exhibition we held at the museum was 'Sacred Ground: The Rise, Fall, and Revival of Lincoln Memorial Park Cemetery,'" stated Allen. "Sacred Ground showed the rise and fall of Lincoln Memorial Park Cemetery, which was a historically black cemetery located in Overtown. We spent months researching the history and had documents and objects on display from the grounds of the cemetery. We even brought in Carl Juste, who is a photographer for the Miami Herald, to help us capture this historically important moment that had been neglected in the past."
When stepping foot in the museum, visitors can get a sense of how African-American history, women's history, and architectural history are of high value. Coral Gables Museum is a tiny and quiet museum that is dedicated to researching the untold stories and geographical patterns that pertain to Miami.
"Our museum strives to track Miami's urban development. We try to recount the history that was not told, such as women's history, African-American history, and architectural history in Miami. We are taking a revisionist approach as history has been very white-washed," explained Malcolm Lauredo, director of historical research and lead historian at Coral Gables Museum. "To gain exposure to such topics, we publish three to five articles a month. Our museum distributes over 600 copies a month to various businesses, municipal buildings around the gables, cafes, the Biltmore, and Venetian Pool."
When taking a tour of the museum, guests will find articles published by the museum on display.
The writing pieces are designed to have a newspaper aesthetic that consists of elegant, hand-drawn borders.
The museum committee believes the presentation should be aesthetically pleasing as it should reflect important cultural topics that are discussed.
Not only does Coral Gables Museum have exhibits, but it also hosts an array of private events, corporate events and weddings.
With Halloween just around the corner, fall-oriented events are currently being offered to the public.
"One of my all-time favorite events we host is the doggie costume contest," expressed Ashley Magluta, director of Events at Coral Gables Museum. "The doggie costume contest is an annual Halloween event in collaboration with Coral Gables business improvement district on the mile. It is a fun and interactive experience for pets and their owners. It is also a very festive and welcoming environment that is open to members of the community. The doggie costume contest is for a good cause as all of our proceeds go toward the humane society."
Visitors will find pamphlets on almost every corner of the museum that features a series of upcoming events designed for charitable purposes.
When strolling through the exhibitions on weekday afternoons, it is guaranteed that guests will run into young students and chaperones who are there on school visits.
"At the museum, students are exposed to career paths in the civic arts. Children can learn the history and gain knowledge of how to become an architect, engineer, or politician at a very young age. Taking field trips to the museum is an excellent way for me to teach my students how they can positively contribute to the community," claimed Lily Villalba, a grade school art teacher at Emerson Elementary School.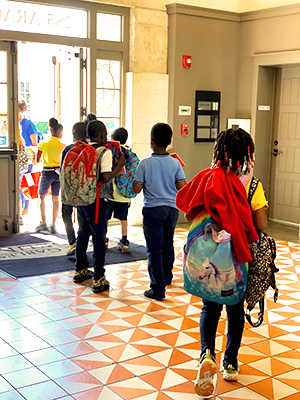 The Coral Gables Museum also offers summer, winter and spring camps for children in grades K-12.
"Summer camps are the most popular among the camps we have," stated Luis Valenzuela, director of Education at Coral Gables Museum. "We base our camps around critical thinking and activities. During camp, we send the children off to class, where they are taught to explore virtual reality, make paper, and paint with natural resources. They also learn how to use photography with natural light."
The Coral Gables Museum's goal is to turn their visitors into innovators, who can discover and create things while enjoying themselves.
If You Go
Address: 285 Aragon Ave., Coral Gables, FL 33134
Phone: 305-603-8067
Hours of Operation: Tuesday-Thursday 12 p.m. – 6 p.m.; Friday 12 p.m. – 6 p.m. (Later on, Gallery Nights); Saturday 11 a.m. – 5 p.m.; Sunday 12 p.m. – 5 p.m.; Monday is Closed.
Admission: Regular general admission tickets, $10 per person; Museum Members, free; Children under six years old, free; Children between ages 12–18, $8 each; Student discounts, $8 per person.
Tours: Walking and Biking tours are $10 each for non-members; Members, $5 per-person; Exhibition tours are $5 per student; City tours, $10 per student; 1 chaperone for every 10 students is required; Chaperones are free.
Public Transportation: The following transit lines have routes that pass by the Coral Gables Museum- Bus: Bus-24, Bus-42, Bus- CGABLE; Subway: Subway-GREEN, Subway- ORANGE; https://moovitapp.com/index/en/public_transit-Coral_Gables_Museum-Miami_FL-efsite_4c48c4119f2ad13a18576452-742
Parking: Visitors park in the municipal parking lot; Parking in the municipal parking garage costs $2 an hour.
Website: https://coralgablesmuseum.org/