Posted October 12, 2019
By SHANIKA ISAACS
KINGSTON, Jamaica – Kingston, the capital city of Jamaica, is known to be one of the busiest cities in the island. People from all over the world travel to this part of the island for tourist attracted activities, business endeavors, music festivals or even sporting events. It can be identified as one of the country's gem locations, which many travelers overlook for a more touristy vibe of Ocho Rios or Montego Bay (MoBay). A city where locals bask in its wide range of activities — from cheaper dining options to spots filled with many places to explore. If one is really interested in enjoying themselves in this breath of fresh air, where the food and culture is so vitalizing, you would first need to consider the local highlights of the island. With that said, these surprises and lost treasures would be 48 hours of moments to remember.
Friday
12 p.m., Devon House "I Scream"
When you arrive, you are sure to feel the climate of a nice cool breeze and the evening sun on your skin. Run on over to Devon House "I Scream," known as one of the world's favorite, to cool down with for the day. Do not be disappointed by the wait line extending to the outside of the store, but engulf yourself into the natural environment through the eyes of a bird watcher and plant explorer. Once you are inside use the few minutes you have left to enjoy the light music and browse over the chart to see what you might be interested in. Popular flavors range from the famous Rum-and-Raisin, Fruit & Nut, Pistachio and Cookie and Cream. One scoop cost around US$4.50 which will be more than enough to satisfy any ice-cream fanatic's cravings. Yum Yum!
3 p.m., Aspen Luxury Suite: Paradise Ridge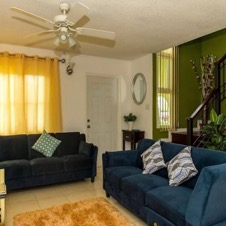 Check into Paradise Ridge, hosted by Aspen Luxury Suite, to begin the trip living like any other local would. This apartment complex sits atop a hill with one of the best Kingston views any vacationer would die to see. The inside is decked out with modernized amenities and fixtures that gives the feeling of 'home away from home', but with a Jamaican twist. At just US$140 per night, this one bedroom and bathroom Airbnb comes with WiFi, AC, cable and so much more. Without a doubt, this place is a steal.
6 p.m. – Chillin' Restaurant & Bar
At dinner time, make the drive to Chillin' Restaurant & Bar to enjoy the taste of true Jamaican cooking. The outside vibes of the restaurant, nestled in Kingston's historic Hope Zoo, enrich the atmosphere of giving off a true sensation of living on this island. Reggae music plays in the background whilst the first face you see beckons you to a table of your party's choice. The menu introduces some of the main course meals like Jerk Chicken from the grill, Murray's Curry Goat and if your heart is feeling heavy, Sweet Scotch Bonnet Smoked Pork Chops. A dish could range from US$1.50 – US$26. Bon appetite!
Saturday
9 a.m. – Morning jog
No time to hit the gym when your reservations are on top a hill. Many locals skip the monthly fees for gym membership and instead use nature's readily free resources. On the trail downhill take in the beautiful view against the fresh morning air. The sounds of birds chirping by, bees buzzing and possibly rosters crowing. At this time the temperature is hot enough for a good morning sweat, with a racing heart from a full body warm-up. Be sure to take your water bottle with you and a phone in case of emergencies. Get ready for the journey uphill and unleash the beast within you.
12 p.m. – Bob Marley Museum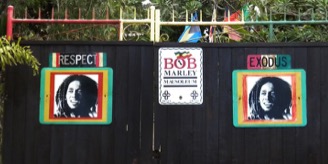 Now take in a history lesson at the Bob Marley Museum that is open to all locals and tourists. This historic site is the house of the island's legendary Bob Marley, who elevated the world re-known reggae music. Come and see how the legend lived from a tour of his property, ending with a quick stop at his gift shop. The calm and soothing atmosphere will truly top off your evening by the outdoor patios with some of his popular songs playing in the background. Tours will range from US$12 – $40 depending on age and the type of tour. "Feel Good" translated patios "Feel Irie" artist Lucky Dube would say.
3 p.m. – Tastee Patty
You are in luck when you drive pass any of these small food joints because of its island wide location reach. Always take advantage of this small bakery franchise, that sells some of the most scrumptious patties most local rave about. Popular flavors vary from Beef, Chicken, Cheese or Vegetarian Patty, many of which can be sandwich with a Coco-Bread. The patty is basically a baked outer crust with the flavor of choice inside. Special combinations are features like the Full-House Patty that has beef, cheese, lettuce and tomatoes inside. This well season delight of goodness comes at the affordable price of US$1.19 for a beef patty and increase in prices for other flavors. Do not bite in so quickly, be cautious of cooling it first. Your welcome!
6 p.m. – Pepperwood Jerk Center
Pepperwood Jerk Center serves authentic jerk flavoring foods from the likes of their famous jerk pork and chicken. Now with the new store rebranding itself as its own trademark from Scotches Jerk, they are now allowed to be more creative in what they serve to their people. Hamburgers at US$6 and hot dogs at US$2 are some of the newly introduced cuisines since the change. Take a seat under the heavily shaded outside dining area and enjoy the highlights of the outdoors. Be ready to hear music in the background as your neighboring guests laugh the night away. It is a nice area to chill and relax with your friends and families. The perfect place to be that is cheap enough to unwind for the day. #LivingOnaBudget
Sunday
9 a.m. – Emancipation Park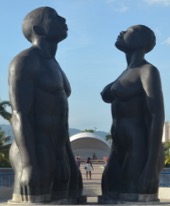 This park, opened by former Prime Minister P.J Patterson, is a commemoration for the end of slavery in Jamaica. At the front of the park stands the 11 feet tall 'Redemption Song' statue, sculpted by the Jamaican artist Laura Facey. Take your camera for this trip, to time stamp the moment and date it in your history book. Have your yoga mats ready and get in your morning session on the park's lawn, then take a short jog along the running trail. Cool down on any one of the many benches along that trail and make sure to find one under the trees for shade. Take in your surroundings and the peaceful environment around you. This moment is perfect for a morning journal or a prayer or two. This park is free.
If You Go
Devon House 'I Scream' – 5 Kingsway, Kingston, Jamaica. Opens all week from 10 a.m. – 10 p.m.
Aspen Luxury Suite: Paradise Ridge – Kingston, St. Andrew, Jamaica. Facebook Page @aspenluxurysuite for more information.
Chillin' Restaurant & Bar – 1 Gibson Close, Hope Pastures/ UTECH, Kingston 6, Jamaica. Website: https://chillinrestaurant.com/, Telephone: 876-630-7183.
Bob Marley Museum – 56 Hope Road, Kingston, Jamaica. Website: https://www.bobmarleymuseum.com/combo-one-love-tour/.
Tastee Patty – Washington Boulevard, Kingston, Jamaica. Opens from Mondays to Thursdays from 7 a.m. to 10 p.m., Fridays and Saturdays from 7 a.m. to 11 p.m. and on Sundays from 9 a.m. to 7 p.m. Website: https://www.tasteejamaica.com/, Telephone: 876-968-6634.
Pepperwood Jerk Center – 2 Chelsea Avenue, New Kingston, St. Andrew, Jamaica. Telephone: 876- 627-6792.
Emancipation Park – Oxford Road and, Knutsford Boulevard, Kingston, Jamaica. Opens from Mondays to Wednesdays from 5 a.m. to 11 p.m. and Thursdays to Sundays at 5 a.m. to 12 p.m. Website: http://www.emancipationpark.org.jm/, Telephone: 876-926-6312.