Posted October 24, 2020
By ESSIE DUKE
BROOKLYN, N.Y. — The eponymous park, built on 407 acres of former landfills, is dedicated to Shirley Chisholm, a Brooklynite who was the first African-American woman elected to U.S. Congress and also to run for U.S. president.
Alongside the noisy Belt Parkway that loops around Brooklyn and Queens lies Shirley Chisholm State Park, one of New York City's greatest hidden gems, quietly tucked away and concealed behind tall grass and wire fencing.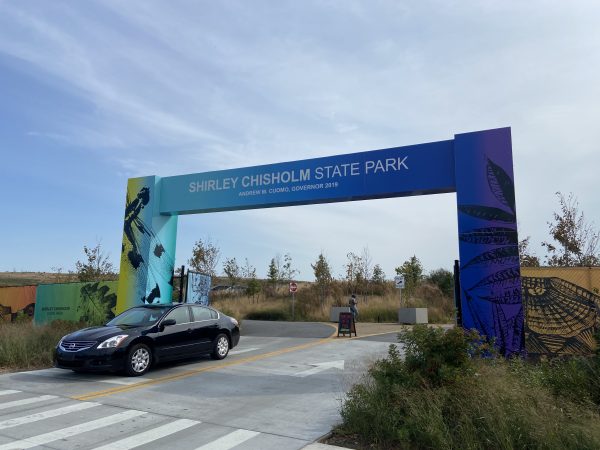 The park, which opened in July 2019, spans across 3.5 miles of the Jamaica Bay coastline, which connects its two sides.
It is 407 acres wide, making it New York City's largest state park and the third largest in Brooklyn (after Marine Park and Prospect Park), built on the former Pennsylvania Avenue and Fountain Avenue landfills, which closed roughly 40 years ago.
Stepping inside the park, however, feels nothing like walking through a former toxic dump. Walking along the winding gravel trails and peeping over the grasslands for a view of the bay, it is easy to feel like being transported out of the city.
"I love just being outdoors," Arif Subhan, a Maintenance and Operations worker at the park, said. "Once you get into the trails, you don't feel like you're in New York City anymore. It's a great escape."
In the summer months, minute yet striking yellow goldfinches and other unfamiliar avian species can be seen perching on wild bushes, concealed by the leaves. Others shrill, caw and sing somewhere distant, piercing the quietness of solitude along the trails, or through the bustle at the park's fishing piers.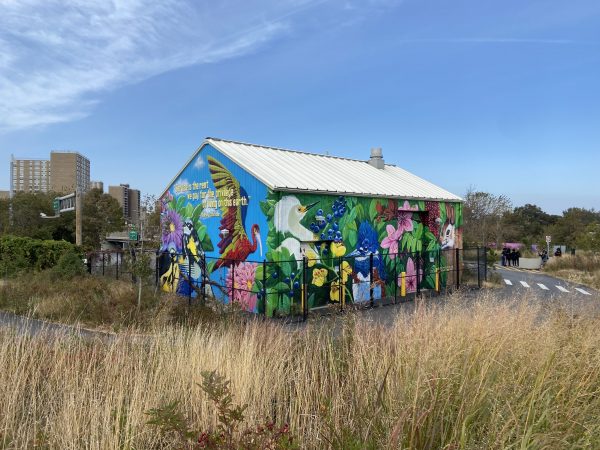 The park is currently developing an environmental education program, to teach park visitors about the kinds of wildlife that can be found on the grounds.
Tiffany Yeung, an environmental educator at the park, said there are many species of wild animals that often roam through the park's tall grass and trails, of which many are not usually found in the city.
"There are a lot of various insects, garter snakes and cottontail rabbits here, which only come out early morning or late evening," she said.
Yeung said there are different species of birds which pass through the park during various migration seasons, such as Savannah sparrows, grasshopper sparrows and American goldfinches.
"All these birds she used to think were exotic that she didn't normally get to see before, because they usually only see pigeons," she said. "There's a chance to see a lot of wildlife we don't usually come across."
The park has 10 miles of low-incline trails for walking, hiking or biking, picnic tables with umbrellas, and even hidden beaches. Refurbished bikes are also available to "rent" for free through the Bike Library Program, which loans adult and children's bikes to ride on the trails. On Thursdays, the park hosts free lessons for anyone who would like to learn how to ride, free of charge.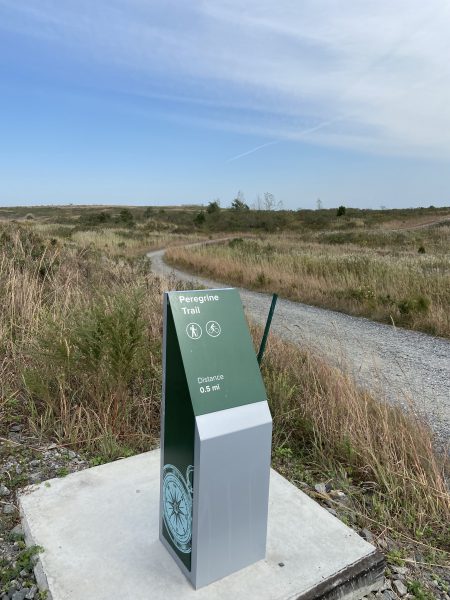 Karen Overton, director of Recycle-A-Bicycle and who helps operate the park's bicycle rental center, said the program has been especially important as a way to encourage people to ride and be more active.
"I think it's critical to have this as a program, because it gets people out doing something healthy," she said. "Many people are sitting at home, and physical activity is important to everyone's health, but especially during [the pandemic]. For me this is an important offering, an important public program."
Overton said her favorite part of her job operating the library is seeing the smiles of park-goers as they return from their rides. "When people come back and they haven't ridden a bike for many years, that rediscovery of the freedom that you feel when riding a bike, and the fun that people have, is amazing to see," she said.
In 2019, the park's two portions, which are separated by water, were developed within a few months of opening, under a $20 million plan by the city. According to the website for Gov. Andrew Cuomo, there is a second $20 million phase of the park to be completed sometime next year. This will include a grand entrance on Fountain Avenue, environmental education facilities and lawn patios large enough for "open-air community gatherings and performances."
"They have definitely made a lot of improvements; this park is constantly changing in its many phases," Subhan, 21, said. "Last year, the fountain side of the park wasn't even open, it was under construction. Now that whole side is done, and we have a sky wall with an amazing view of all of New York."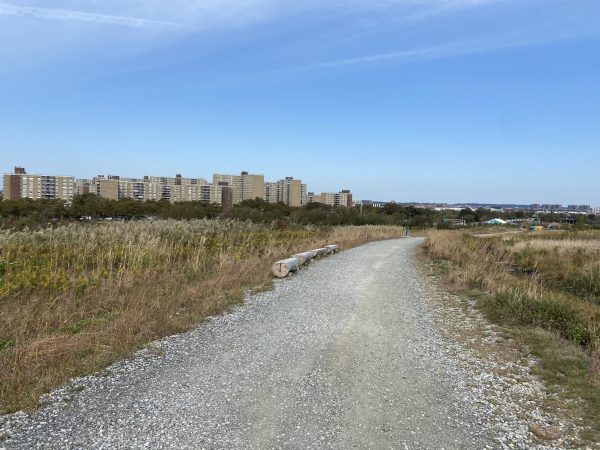 He said the second-phase developments for the park are just "rumors" for now, but he hopes the park will see those changes implemented.
Park goers also have the option to bring lunch to enjoy at the park's picnic tables — which are all equipped with built-in umbrellas — or head down to the beach for a quick dip. While some visitors pursue more physical activity, others use it as a place to escape the bustle of the city.
"When I first came here, I fell in love, so I started coming more often," visitor Karla Vera, 44, said. "I like to take walks on the trails and get next to the water and stand around it to take in the breeze. It's like a form of meditation for me."
Vera, who lives near Rockaway Parkway in Brooklyn, said she previously worked as an office administrator in a mental health clinic before being let go due to the COVID-19 pandemic. A few months after losing her brother to the virus in April of this year, she said, she discovered the park and has been going two to three times during the week and on weekends.
"Coming here was a source of really needing to connect with something different. In my experience, it has helped me a lot to connect with nature, and it's created a lot of peace for me," she said. "I think this is a place where you can find a lot of that."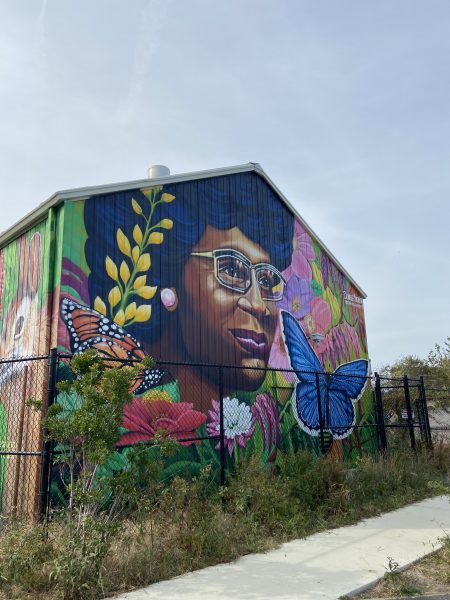 Shirley Chisholm State Park provides an unlikely yet quiet escape for visitors who seek respite from the boisterous city. After 40 years of dormancy in the landfills, the park's recent developments transformed the overgrown marshlands into a recreational haven.
There is a lot of promise for the park's future developments, and for the completion of the magnificent project.
"I am old enough to remember coming down that Belt Parkway and all you saw was a mountain, a mountain of seagulls," Cuomo said at the opening event in 2019. "And you closed the windows. I'll leave that to your imagination. But that's what it was. Nobody had an idea of what was on the other side of that mountain. Nobody knew that you had this beautiful waterfront right here in Brooklyn and how desperately it was needed."
If You Go
The park is open 8 a.m. to dusk, all year round. There are no park entry fees, vehicle parking fees or bike rental fees, and there are free parking spaces available in the lot, accessed through the Pennsylvania Avenue entrance. Wear weather-appropriate attire and prepare for strong winds from the bay. No need to wear long clothes; the grasslands are well-maintained and out of the way of walking paths.
When planning a day trip, bring to-go lunches and enjoy a picnic meal by the tables with umbrellas along the trails. Pack swimsuits and extra towels if visiting the beach or borrow a bicycle for a two-hour ride; the rental program is open between July 30 – Nov. 1 every year. Shirley Chisholm State Park; 1750 Pennsylvania Ave. (main entrance); 718-277-2420.