Posted May 5, 2021
By BRIANNA OARD
LOS ANGELES — For many natives and visitors in the know, the phrase "Meet me at Third and Fairfax" points to one of this city's most historic destinations: The Original Farmers Market.
This open-air, outdoor market is one of those rare tourist attractions that captures the City of Angels' eclecticism, multiculturalism, star power, and vibrancy. It's deep and rich history not only sets it apart as an iconic Los Angeles landmark, but also as a destination for foodies in search of an out-of-this-world culinary experience.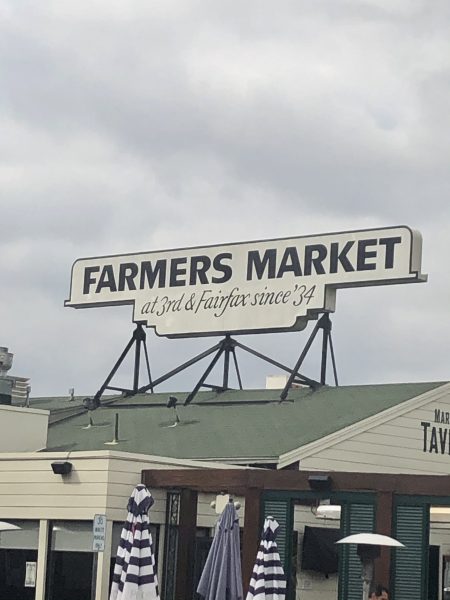 "Where can you go in one location and watch somebody make chocolate by hand, two rows over see someone hand-piping pickles, and [you] can sample all the pickles and eat an empanada or gumbo in the back? And then buy all the vegetables that you need and produce and meat and seafood," said Scott Kaylin, the owner of Kaylin & Hobbs Pickles.
Since 1934, The Original Farmers Market has become a hotspot for locals and tourists to eat breakfast, lunch, and dinner or to buy groceries and other specialty food items.
At The Original Farmers Market, an information board at one of the entry points details its history and the origins of how this iconic landmark came to be.
In 1880, when Arthur Fremont Gilmore and his business partner purchased two dairy farms. When the partners parted ways a decade later, they agreed to split their holdings, with Gilmore gaining control of the 256-acre plot of land.
This large property included the dairy farm, but at the turn of the 20th century, oil was discovered at the site and the dairy farm was quickly replaced by oil derricks. Then, the Great Depression hit, and Gilmore vacated the land after city officials told him that drilling oil from the derricks would no longer be permitted. This paved the way for the property to become today's world-famous Original Farmers Market.
The concept for the market began in 1934 when Earl Bell "E.B." Gilmore, the son of Arthur Fremont Gilmore, approved of businessmen Fred Beck's and Roger Dahlhjelm's idea of building a "village" on the vacant plot of land at the corner of Third and Fairfax where local farmers could sell their fresh produce.
In July 1934, a dozen farmers parked their produced-filled trucks on the vacant 256-acre plot of land and began selling their fresh goods to the public. The cost to rent space to park their produce-filled trucks on the Gilmore property was 50 cents per day. By October, a few months after its debut, merchants had erected and moved into permanent stalls, with more eager merchants joining their ranks. Within its first 14 years of operations, The Original Farmers Market officially became a historic Los Angeles landmark in 1948 after construction for the famed clock tower was completed.
Katy Strouk, the owner of Monsieur Marcel Gourmet Market & Bistro, Monsieur Marcel Seafood Market, and Roxy & Jo's Seafood Grill & Oyster Bar, has been a merchant at The Original Farmers Market for almost 30 years. She finds the market to be "old-school and original." Calling herself a "big time food nerd," Strouk stated that she does a lot of research to keep the shelves of Monsieur Marcel Gourmet Market inspiring, curated and original.
"If you are a food person, it takes a good hour to really look at every product that we have on the shelves. [There are] many products [at Monsieur Marcel Gourmet Market] that you cannot find anywhere else," Strouk said.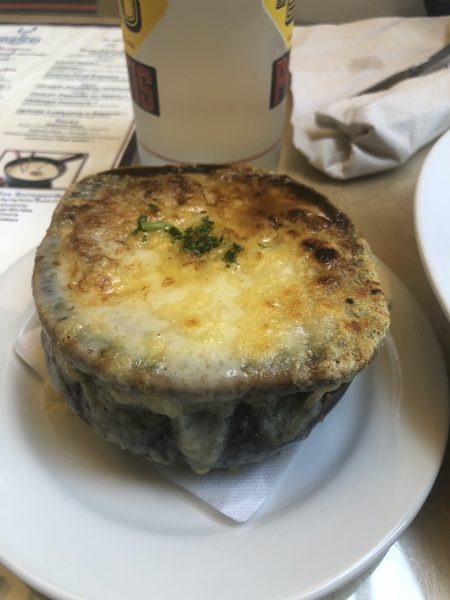 Adjacent to The Original Farmers Market is The Grove, a large, outdoor entertainment complex whose design mimics an old-fashioned downtown shopping area. Despite now being surrounded by this complex, scads of restaurants, and retail stores, the look of The Original Farmers Market has not changed much since the 1930s.
The outdoor market provides a laid-back atmosphere with a vintage charm that's made the destination a "must-see" for nonresidents of Los Angeles. Locals and tourists alike will be taken aback by as they enter The Original Farmers Market.
Unlike traditional farmer's markets, which are temporary outdoor markets with rows of stalls selling produce and held one to two times per week, The Original Farmers Market is a collection of stalls with origins in a traditional farmer's market. Some of these businesses are almost as old as the actual market itself.
"The Original Farmers Market is home to more than 100 specialty shops, gourmet, grocers, and world-class eateries in a historic al-fresco setting. Open seven days a week," the directory map of the venue reads.
While walking around the complex, visitors and shoppers will take in the sights of everything that each stall offers. These sights include the fried chicken sizzling in the deep fryers for Fritzi Coop's famous fried chicken sandwiches, the fresh groceries offered by various grocers scattered across the venue, the confectioners of Littlejohn's English Toffee House making their famous English Toffee and chocolate by hand.
Visitors will hear some merchants encouraging passersby to come over to their stalls to purchase their specialty products, like the merchants of Zia Valentina did by offering samples with samples of their famous granitas and waffleshots, the latter of which are edible cups made of waffle cones and coated with Belgian chocolate.
The specialty foods, groceries, and cooked food from the restaurants and food stalls at The Original Farmers Market come from a diverse selection of cuisines, including American, Latin-American, French, Asian, Brazilian, Cajun, Middle Eastern, etc. Besides offering traditional cuts of meat like beef, lamb, pork, and sausage, Huntington Meats and Sausage also sells exotic meats such as alligator, buffalo, elk, venison, and wild boar at their stall.
However, their specialty, according to Master Butcher Jon Escobedo, is Japanese wagyu beef. As customers scan the Huntington Meats and Sausage stall, they will find five different cuts of Japanese wagyu available: Hokkaido, Kagoshima, Miyazaki, Sanuki Olive, and Takamori.
"[Huntington Meats] just became the biggest retailer of Japanese wagyu in Southern California. So there's some unique things here why people come out this way. Everybody's got their specialty…they got their culture, like in the different food shops you can get different foods from different cultures here." Escobedo said.
During its 87-year history, The Original Farmers Market has developed a close relationship with Hollywood, which grew significantly in 1952 after CBS Television City opened.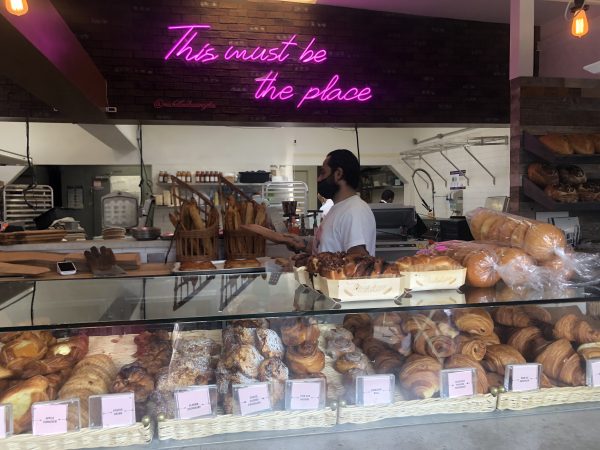 The Original Farmers Market, situated just south of CBS Television City, has become a place for the stars to shop and dine, free of the paparazzi. Besides attracting celebrities, the market has truly evolved as its own community, which is Strouk's favorite part of The Original Farmer's Market.
"I think Los Angeles is really spread out and you never really get a neighborhood feeling. [At] The Original Farmers Market, I see the same faces every morning, say "hello," [and] it feels like a little neighborhood in a huge city. It's a true community, from the vendors to the customers. Especially during the quarantine, the pandemic, we've become a neighborhood gathering place." Strouk said.
The Original Farmers Market remained open every day throughout the coronavirus pandemic, with safety protocols in accordance with the Los Angeles County Department of Public Health and the Centers for Disease Control set in place. Merchants had their own set of additional protocols as well.
For example, Kaylin, who only opened his pickle stall in February 2020, opted not to shut down due to how relatively new his business was at the market. Kaylin stated that this decision was "Probably the best decision he ever made" as he was able to grow the customer base for Kaylin & Hobbs Pickles.
"People were so supportive locally, that I got multiple phone calls from people asking how many pickles they had to buy that week to make sure that we didn't close. It was amazing." Kaylin said.
Given the fact that there are so many iconic places in Los Angeles, there's always those who have not heard of or been to The Original Farmers Market. This was the case for Karen Tsai, a Ph.D. student at the University of California, Santa Barbara (UCSB), who first visited the Original Farmer's Market in February 2019.
Although Tsai lived in the Hollywood area from 2012-14 and had heard of the market, she never visited until years later when she happened to be sightseeing nearby. Tsai enjoyed her experience at The Original Farmers Market and wished that she had discovered it when she lived in the area, attending the University of California, Los Angeles (UCLA). She still remembers her favorite stall Michelina Artisan Boulanger, a French artisan bakery that sells fresh baked bread and pastries.
"Their little cakes are incredibly cute and delicious, but their bread was incredible! I think I bought a baguette and finished the whole thing before I got home. If it wasn't so far, I would have gone back for more bread. I would go back to The Original Farmers Market just to have that bread again. It was just a simple sourdough baguette, but it was perfect," Tsai recalled.
If You Go
The Original Farmers Market
Address: 6333 W. 3rd St., Los Angeles, CA, 90036
Phone: 323-933-9211, 866-933-9211 (toll free)
Current Hours: Mondays-Sundays 10 a.m. – 6 p.m.
Note: Many Merchants have extended hours. Please call individual businesses for details.
Parking: Ninety minutes free validation with purchase from a Farmers Market merchant or two hours free with validation from select grocers.
Online: https://farmermarketla.com