Posted November 8, 2016
By KATY VIDAURRETA
After years of traveling to Europe and waiting in long lines at both security and immigration/customs, I decided it was finally time to apply for the Global Entry and TSA Pre Check programs. In June 2016, just in time for my summer trip to Spain, I was accepted into both programs and it changed my travel life.
I was traveling with a friend who is not a member of either and our experiences getting back into the United States could not be more different. With my Global Entry status, I had cleared customs, picked up my bag, gotten a cab home and fed by dog by the time that my friend picked up his bag at baggage claim.
WHAT IS GLOBAL ENTRY?
If you travel out of the U.S. more than once a year, you need to consider applying for Global Entry. According to the U.S. Customs and Border Protection office, "Global Entry is a U.S. Customs and Border Protection (CBP) program that allows expedited clearance for pre-approved, low-risk travelers upon arrival in the United States. Members enter the United States through automatic kiosks at select airports."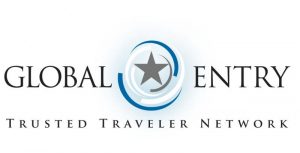 Basically, applicants who have been determined to be "safe travelers" are granted membership to the program and have an easier time getting in and out of the country by plane. International travel as a Global Entry member is considered "easier" mainly because the customs process is much faster.
In December 2014, the CBP announced that Global Entry is available at 42 US airports. At the time, there were 1.8 million people given Global Entry and this number is quickly growing as the CBP receives approximately 50,000 applications monthly.
REASONS YOU SHOULD APPLY
The U.S. Customs and Border Patrol know that your time is valuable and its solution to the almost eternal customs lines was the Global Entry Program. It was established with the intention to make travel easier and faster for people who frequently travel internationally.
Benefits given to Global Entry members are as follows:
No processing lines
No paperwork
Access to expedited entry benefits in other countries
Reduced wait times
TSA Pre✓® Eligibility

Note that applying does not insure that you will be accepted into the program.
All applicants are subject to an intense background check and must visit an airport with a Global Entry office for an in- person interview. The program does not accept applicants with criminal records.
AM I ELIGIBLE?
Are you a U.S. citizen or a U.S. lawful permanent resident? If you answered yes to that question, then you are eligible for the Global Entry program. You are also eligible if you are a citizen of: Colombia, the United Kingdom, Germany, the Netherlands, Panama, Singapore, South Korea or Mexico.
You are deemed ineligible if you:
Falsify your application
Have warrants out for your arrest
Have been convicted of any criminal offenses or have pending criminal charges
Are subject of an ongoing federal, state, or local investigation
Are illegal residing in the U.S.
Are not determined to be "low risk" by a CBP officer
THE APPLICATION PROCESS
The online application costs $100, but pay with an American Express card and American Express will refund you the payment. If you are denied membership to the Global Entry program, you will not get your application fee refunded. This is important to note because if you do not fit the eligibility guidelines mentioned earlier, don't apply. The application is relatively simple and consists of straight forward questions regarding employment history and countries you've visited in the past five years.
Once you've submitted your application, you must wait for an email from the CBP with your application status. If accepted, the next step is an interview. You can schedule your interview at the Global Entry office of your choice. Most offices are in airports so, if you're traveling soon, you can schedule your appointment for before your flight since the interview only takes 15 minutes.
For the interview, make sure to bring your passport or a resident card, another form of ID and a print out of the approval email. During the interview, a CBP officer confirms the information on the applicant's online application with the applicant. A photo of the applicant is then taken to be printed on their Global Entry card and then the interview ends and the applicant is officially a member of the program.
ONCE YOU'RE A MEMBER
Members of the program are directed to Global Entry kiosks, which usually have very short lines, after exiting their flight. At the kiosk, members are asked to scan their Global Entry card or passport to ensure their membership. Then they are asked to place their fingers on the finger- print scanner to ensure their identity.
A few short questions are asked, regarding the contents of the member's luggage. These questions are easily answered on the touch screen kiosk and are displayed in a multiple-choice format. The last step is to take a literal step backward and smile toward the camera located at the top of the kiosk. This photo, along with your name and birthday, is printed out of the side of the machine. This print out is then collected by a CBP Officer, at the customs area exit, who matches the printed photo to the member's passport and clears their entry to the country.