Posted September 24, 2020
By JABRIA ROSCOE
VIRGINIA BEACH, Va. — This coastal city is located on the southeast border of Virginia and North Carolina. When people hear the word "Virginia," they may only think of historical sites, but the city of Virginia Beach has so much more to show. Incorporated in 1952, this town offers scenic sites, restaurants and shopping for singles and families that are sure to keep you entertained.
Virginia Beach is unique in its ability to offer a small-town ambience with big city amenities. There is a relaxing beach bordered with several hotels and small shops with lots of character. One stroll down the board walk of Virginia Beach is bound to create new memories. At the heart of the city is the town center that has several upscale shops and dining options. The area has a waterfall that many use to take professional photos or to simply capture the moment. All locations mentioned currently have a mandatory mask mandate in compliance with COVID-19 regulations.
Friday
2 p.m. Visit Mount Trashmore Park
Mount Trashmore Park is a popular site in Virginia Beach that features a large mountain made from trash particles. It is health safe and environmentally clean, so many visitors find joy in flying their kites or just simply rolling down the mountain for fun. Adjacent to the mountain are several children's playgrounds that are a great energy release for people with little ones. It is an amazing place to start your visit and ease into the culture of Virginia Beach. Along with the playground is a large lake that is open for fishing. In addition, there is a walking track surrounding the lake. Some like to walk their dog, run or go on a leisurely walk while they bask in the ambience of the surrounding nature. Along the track is built in work out equipment where you have the option to exercise your core, abs and legs.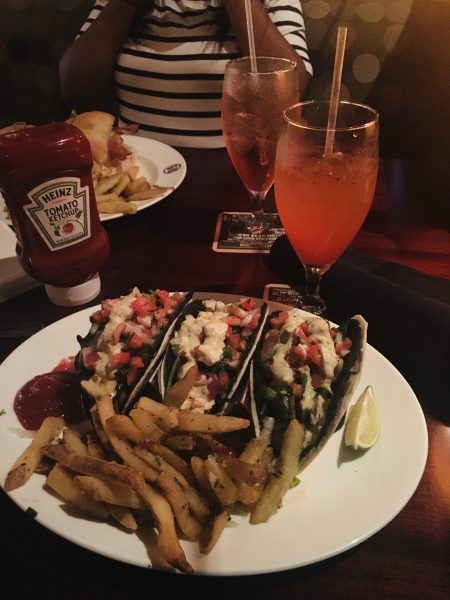 7p.m. Dinner at Cantina Laredo
Cantina Laredo is located in the heart of the city's town center and offers a diverse array of modern Mexican food. Cantina Laredo has a plant-based menu for those who are vegan and vegetarian. The food is filled with flavor and the staff are very warm and attentive to their customers. Arguably, the best part about this restaurant is the roof top seating. It's a great place to unwind while appreciating the beautiful surrounding scenery of the city.
10 p.m. Dessert
After dinner, you can head to It's Sugar, which is a gold mine of various candy brands from Hershey to skittles. Also located in town center, this candy store is special because all of the treats are over-sized. They also offer apparel and accessories. If candy isn't your thing you may want to head to Macaron Tart, a French style bakery which has baked goods like pies, croissants and of course macarons.
Saturday
9 a.m. Breakfast at Town Center Cold pressed
For your second day in Virginia Beach you should head down to cold pressed. This is a great dining option for health nuts and coffee lovers. But of course anybody can find something they enjoy here. Cold pressed serves acai-bowls, breakfast sandwiches, avocado toast, and more. Many people come here to order "Wellness Kits" that consist of a variety of juices for gut health, beauty, and detoxing.
12 p.m. Virginia Beach Oceanfront
Next, it's time to head to the beach which is only a 15-20-minute drive from Cold pressed. Don't forget to bring a towel and plenty of sunscreen. This beach has plenty of culture and has a boardwalk that stretches three miles. some use the boardwalk, but it is mostly an area of socialization for locals. While your there you may want to take pictures with the giant green mermaid statue located at the entrance to stamp your arrival. You can visit the surrounding souvenir shops to pick up a key chain or a t-shirt that has the local area code '757' on it. There are a plethora of restaurants and bars to stop by if you have time. This time on the beach is perfect to soak up the sun, swim in the water, or even do some day drinking if you're above 21.
4 p.m. Shopping at Mac Arthur Center
After some fun at the beach, it's time to go shopping! Mac Arthur Center, commonly referred to Mac Arthur Mall, is the largest shopping center in the area and is less than 30 minutes from the oceanfront. With three stories it is home to shops like Forever 21, Apple, and more. Mac Arthur hosts a food court and the beloved Starbucks coffee. Don't forget to stop by the M&M spa to unwind after your long day of shopping and being in the sun.
8 p.m. Dinner at Bahama Breeze
For dinner, Bahama Breeze is a great option for laid-back dining. It resides right outside of Town Center which is a 30-minute drive from the mall. This restaurant serves Caribbean cuisine such as empanadas, coconut shrimp and Jamaican jerk wings. Their frozen tropical cocktails are delicious, and some have a non-alcoholic option. Overall Bahama Breeze has an intoxicating atmosphere that is appropriate for any family or single person looking for a tasty meal. Bahama Breeze is normally busy, but wait times are now shorter due to the ongoing pandemic.
Sunday
11 a.m. Brunch at Tupelo Honey
After a busy Saturday, Tupelo Honey is a good spot for a quiet brunch. Founded in 2000, this modern dining spot strives to capture the essence of Southern dining through their food. Their Southwestern omelet and avocado toast and eggs offer the most flavor.
1 p.m. Tour at Botanical Gardens
The final destination is Botanical Gardens. One could spend hours exploring the nature that is offered at this location. From the butterfly house to the enchanted forest, there are so many things to see here. The botanical gardens offers yoga classes and informative essential oils sessions. When you go to the park you will see kids playing on one of their many playgrounds as well groups of people meditating in the grass. If you need a drink or to cool down the front of the park has a quaint café called the Marigold and Honey Café. They have quick service and the perfect pick me up snacks. Make sure you bring water along with you and prepare to sweat as there as much to see at the Botanical Gardens.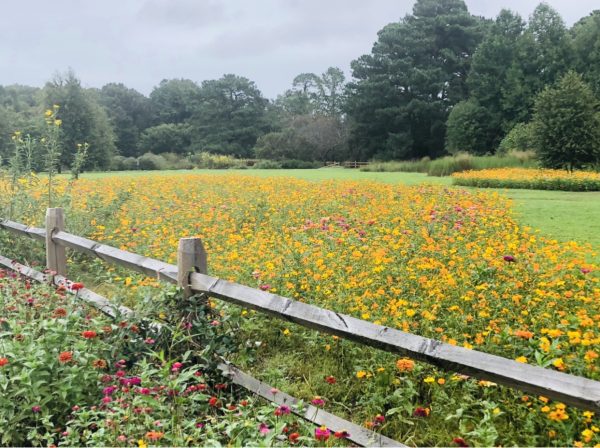 If You Go
It is recommended that you reside in a hotel near the beach while you visit as it will give you easy access to the most vibrant parts of Virginia Beach. The Cavalier has hosted prominent figures like Pharrell but is on the pricier side. There are plenty of well rated hotels located right by the beach at better rate such as The Westin or the Crowne Plaza.
The Cavalier: https://bit.ly/2ZAwPJp
Phone: 757-425-8555
$859/night
The Westin: https://bit.ly/3mlU4AH
Phone: 757-557-0550
$187/night
Crowne Plaza: https://bit.ly/3mkSSxp
Phone: 757-473-1700
$132/night
Addresses
Mount Trashmore: https://bit.ly/2ZYH4Yo
Phone: 757-385-2995
Admission to the garden is $12 for children 3-17 years old, $14 for adults and anyone below the age of 2 is free.
310 Edwin Dr, Virginia Beach, VA 23462
Cantina Laredo: https://bit.ly/2ZYH4Yo
Phone: 757-648-1300
4505 Commerce St, Virginia Beach, VA 23462
It's Sugar: https://bit.ly/3mQN53h
Phone: 757-490-2726
209 Central Park Ave, Virginia Beach, VA 23462
Macaron Tart: https://bit.ly/2FTPQQz
Phone: 757-524-6528
235 Central Park Ave, Virginia Beach, VA 23462
Cold pressed: https://bit.ly/33P9Fk3
Phone: 757-228-3907
168 Central Park Ave Virginia Beach, VA 23462
Virginia Beach Oceanfront: https://bit.ly/32SmyKR
Phone: 757-385-4700
1700 Atlantic Ave, Virginia Beach, VA 23451
Mac Arthur Mall: https://bit.ly/3kCodtY
Phone: 757-627-6000
300 Monticello Ave, Norfolk, VA 23510
Bahama Breeze: https://bit.ly/3clPZb4
Phone: 757-473-3284
4554 Virginia Beach Blvd, Virginia Beach, VA 23462
Tupelo Honey: https://bit.ly/3iWXVlJ
Phone: 757-264-4808
4501 Main St., Virginia Beach, VA 23462
Botanical Gardens: https://bit.ly/3624W0X
Phone: 757-441-5830
6700 Azalea Garden Road, Norfolk, VA 23518