Posted October 8, 2020
By ESSIE DUKE
BROOKLYN, N.Y. — Waterfront views under the Brooklyn Bridge, Chinese fusion garden dining and a 16-building hub for entertainment, arts and food: this borough of New York City has returned stronger than ever.
Brooklyn is hailed by some as a suburbia for escapism after the worst of the COVID-19 pandemic, as it offers live outdoor entertainment, stress-free dining, and is home to expansive parks lush with greenery. The borough has a notably different feel than Manhattan and it is best to explore different neighborhoods a little at a time, stopping for something to eat throughout the day. Frequently visited tourist spots like Brooklyn Museum and Brooklyn Botanic Gardens are open with limited admission to those who made ticket reservations in advance. Most restaurants offer outdoor dining and/or takeout options; a day can easily be made out of a picnic on the grass in any of the city parks. If possible, clear two hours in the itinerary and head towards Brooklyn Heights for an unmissable view of the Brooklyn Bridge at dusk.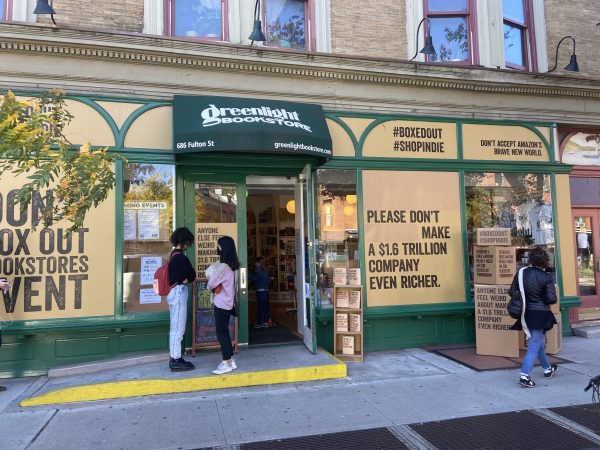 Friday
5 p.m. Green-Wood walk and no-frill tacos
In a crowded borough where neighbors share apartment walls, Green-Wood Cemetery is often considered a backyard refuge to many Brooklynites. Trolley tours have been suspended indefinitely, so arrive prepared with appropriate walking shoes for a self-directed walkthrough of the 1838 historic landmark. Grab a map of the cemetery on the way in and look for Green-Wood's most notable residents: Jean-Michel Basquiat, Leonard Bernstein and Horace Greeley. For a quick bite, exit through the cemetery's Sunset Park entrance and stop by Tacos El Bronco food truck on Fifth Avenue, a neighborhood staple for cheap Mexican fare. Tacos start at $1.50 for small size and $2.50 for a regular size, so there's no going wrong with trying two or three at a time. Steak, chicken and roast pork are succulent favorites; if ambitious, go for the beef tongue or tripe.
7 p.m. Dinner and live music
Not too far from the cemetery lies Industry City, a mammoth 16-building warehousing and manufacturing complex situated on the Gowanus Bay. It's also a one-stop-shop for arts, entertainment, food and drink (Brooklyn Kura in Building 6 serves American Craft sake by the glass; it is one of only two sake distilleries in the borough). Explore one building at a time, perhaps browsing a few vintage clothing stores along the way. Alternatively, grab takeout and a drink of choice from any of the 25 food and drink stands scattered across the complex, then find a place to relax in the courtyard for two hours of live music (every Friday between 7 – 9 p.m.)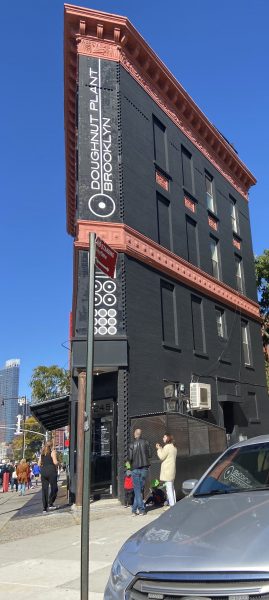 Saturday
9 a.m. Downtown, morning to midday
On the first floor of an awkwardly shaped, Flatiron-style building in the middle of busy Downtown is Doughnut Plant, an artisan doughnut store. These doughnuts are not for the faint of heart; Frankensteinian creations such as the peach sourdoughnut, black sesame cake doughnut, and peanut butter and blackberry jam doughnut will surely awaken a dormant palette. Across the way on St. Marks Avenue is The Bagel Store if a traditional, New York style breakfast of hand-rolled bagels with artisan cream cheese is preferred.
Walk around the shops at Atlantic Terminal Mall as the city begins to awaken, or head north and walk alongside Mark Morris Dance Group and Brooklyn Academy of Music. Flip through top-shelf titles at independent Greenlight Bookstore in Fort Greene. Continue onto Fulton Street and what appears is a cultural mosaic of international gastronomy: Bati Ethiopian, Deniz Turkish Mediterranean, Black Forest Brooklyn (modern-German), and Habana Outpost (Cuban) restaurants are all within a half-mile radius of each other. Can't choose one? Luckily, there is DeKalb Market Hall, a 27,000-square-foot food hall with over 40 vendors which span most international cuisines. Indoor seating is unavailable, so feel free to carry the takeout on a three-minute walk to spacious Fort Greene Park and enjoy as a picnic lunch.
3 p.m. Micro-tour of Brooklyn Brewery
Williamsburg is an up-and-coming, gentrified neighborhood in the uppermost northwest point of the borough. Known for its vintage stores, artisan coffee shops and out-of-state millennials, it is also home to Brooklyn Brewery, a young brewery along the East River that dates back only to 1988. Brooklyn Brewery offers small-group, 45-minute tours where resident experts discuss the history and science of beer and the beer-making process. Lounge in their Tasting Room to try different brews after the tour, or feel free to hang around the bar for a couple of rounds.
5:30 p.m. Chinese fusion and waterfront views
Also, in the hipster neighborhood are restaurants that reimagine traditional cuisines. Kings Co Imperial is no exception; it is a hodgepodge of American, Chinese and American Chinese food, with nuances of Philadelphia and Southeast Asia sprinkled somewhere in between. Kings Co has an all-day menu of dim sum, noodles, fried rice and wok items, and it is best to share a few items between two or more people. The standalone "Harvest Pork" with spring onions and trumpet mushrooms is a good accompaniment to "copper wells" street noodles with chili oil, shrimp and Chinese greens, but the mix-and-match opportunities are endless. The restaurant also offers Chinese and southeast Asian cocktails, and a brief list of wines, beers on tap and hard liquors.
Try not to miss the view — before sunset, hail a taxi or take the train to Brooklyn Heights, and walk along the Brooklyn Heights Promenade towards the Fulton Ferry Landing for a spectacular waterfront view of the Brooklyn Bridge at dusk.
On a special occasion, skip early dinner and make reservations for upscale outdoor dining at The River Café, situated on the waterfront beneath the Brooklyn Bridge. A three-course menu of appetizer, main course and dessert carries hefty prix fixe of $125 per person, but the excellent waitstaff service, ambience and food outweigh the price.
Sunday
10 a.m. Sunday in the park
A Sunday in Brooklyn isn't complete without a visit to one of its five Greenmarkets, where small family farms and local grocers sell their produce and goods at stands with awnings. The Cortelyou Greenmarket in Flatbush welcomes a rotation of local merchants every season. Pick a to-go breakfast of baked goods, hot apple cider in the fall, or a piece of sourdough bread with aged goat cheese. Afterward, stroll through Ditmas Park Historic District, a sliver of residential Flatbush characterized by early 20th-century Victorian homes. Take a leisurely walk north to Prospect Park and, if lucky, catch a glimpse of the 270 resident bird species that nest in the trees. Between fall and winter seasons, find a bench by Prospect Park Lake to view white swans gliding on the water.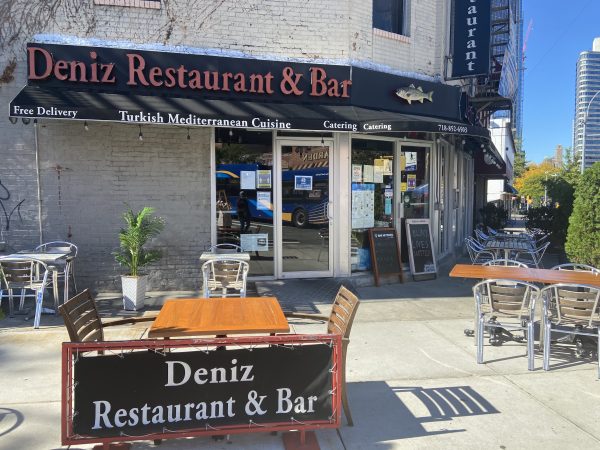 1 p.m. Brooklyn Museum, botanical garden, banh mi
Make reservations in advance for limited and timed admission to Brooklyn Botanic Garden and Brooklyn Museum. For those with children, Prospect Park Zoo offers timed tickets to exhibits with daily rotations, to maintain routine disinfection. Take a detour westward through Prospect Park and eat outdoors at Hanco's on Seventh Avenue for a classic banh mi, or bowl of beef broth pho during the colder months. Always pair with milk bubble tea, all year round.
If You Go
There is a cluster of three and four-star hotels in the center of the Downtown neighborhood. Rooms in hotel chains like Sheraton Brooklyn (222 Duffield St.) start at $135 a night, Holiday Inn (300 Schermerhorn St.) for $152, and Hilton (140 Schermerhorn St.) for $117. To escape the hustle and bustle, opt for independent hotels in Williamsburg. Williamsburg Hotel (96 Wythe Ave.) opened in 2017 has a steep room rate starting at $251 a night, but provides loaner bikes for travelers preferring to explore the city by other means. Also in the neighborhood, three-star Hotel Le Jolie (235 Meeker Ave.) is a cheaper option with room rates starting at $139 and has special accommodations for COVID-19 healthcare responders. Alternatively, rent a private room or apartment in a building near Prospect Park or a Park Slope brownstone for public transportation access to other parts of the borough. Expect to pay between $40 – $80 a night in the off-season and around $100 during the holiday season.
Green-Wood Cemetery; 500 25th St.; 718-768-7300; www.green-wood.com. Tacos el Bronco, 860 Fifth Ave.; 917-504-5759.
Industry City is open in general 8 a.m. – 9 p.m. daily, but the Food Hall is open daily between 8 a.m. – 7 p.m.; 220 36th Street, Suite 2-A; 718-965-6450; www.industrycity.com.
Due to COVID-19, Doughnut Plant Brooklyn is closed in-store and only accepts online orders; 245 Flatbush Ave.; 212-505-3700; www.doughnutplant.com/location/brooklyn.
The Bagel Store; 69 Fifth Ave.; 347-529-4301; www.thebagelstoreonline.com.
Atlantic Terminal Mall; 139 Flatbush Ave.
Greenlight Bookstore; 686 Fulton St.; 718-246-0200; www.greenlightbookstore.com.
DeKalb Market Hall; 445 Albee Square West; 929-359-6555; www.dekalbmarkethall.com.
Guests under 21 years of age must be accompanied by an adult or guardian and will be given non-alcoholic soda in place of beer during the tastings. Group tours start at $18 and are 45 minutes in length; 79 N. 11th St.; 718-486-7422; www.brooklynbrewery.com.
Kings Co Imperial; 20 Skillman Ave.; 718-610-2000; www.kingscoimperial.com; currently open for outdoor dining every night between 5:30 – 10 p.m. "Harvest Pork" with spring onions and trumpet mushrooms ($23); "Copper Wells" street noodles with chili oil, shrimp and Chinese greens ($14). Alcoholic drinks range in price, around $6 – 14 per single serving.
The River Café; 1 Water St.; 718-522-5200; www.rivercafe.com; currently open for outdoor dining by reservation only, Tuesday – Sunday, 5:30 – 8:30 p.m. The prix-fixe three-course dinner is $125 per person. Dress code: jackets are mandatory attire for men, and ties are preferred.
Cortelyou Greenmarket; Cortelyou Road between Argyle Road and Rugby Road; open Sundays, 9 a.m. – 2 p.m.
Brooklyn Museum; 200 Eastern Parkway; 718-638-5000; www.brooklynmuseum.org. The museum is currently open Wednesday – Sunday, 11 a.m. – 6 p.m., ticket reservations required. Tickets are $20 for adults under 65, $12 for students and seniors and free admission for healthcare workers and children three and under.
Brooklyn Botanic Garden; 990 Washington Ave.; 718-623-7200; www.bbg.org. The garden is currently open Tuesday, Wednesday and Sunday, 10 a.m. – 6 p.m.; Thursday, Friday, Saturday 10 a.m. – 8 p.m. Tickets are $12 for students and seniors, $18 for adults; reservations are required.
Prospect Park Zoo; 450 Flatbush Ave.; 718-399-7339; www. prospectparkzoo.com; currently open 10 a.m. to 5:30 p.m. until November 2020; until 4:30 p.m. thereafter. Tickets are $9.95 for adults, $7.95 for seniors, $6.95 for children. Reservations are required
Hanco's; 350 Seventh Ave.; 718-499-8081; www.hancos.com. Banh mi ($8.50), beef broth pho ($11.50); milk bubble tea ($4).