Posted September 27, 2023
By JINGYI HAO
BANGKOK — This Asian wonderland located in central Thailand, is the capital and largest city of the country, as well as a vibrant and charming urban center. It boasts a rich history while also being a modern metropolis that blends traditional and contemporary cultural elements, offering visitors a diverse range of experiences. Tourists can immerse themselves in Thailand's religious and cultural traditions in Bangkok and marvel at its breathtaking architecture. The city's cuisine is also incredibly diverse, with a wide range of options including street food, authentic Thai dishes, and international cuisine to satisfy various tastes. In recent years, tourism in Bangkok has been booming, with the city's nightlife and Michelin-starred restaurants becoming a new trend in Bangkok tourism, attracting many tourists seeking these experiences.
Friday
12 p.m., Visit the famous Bangkok Grand Palace in Thailand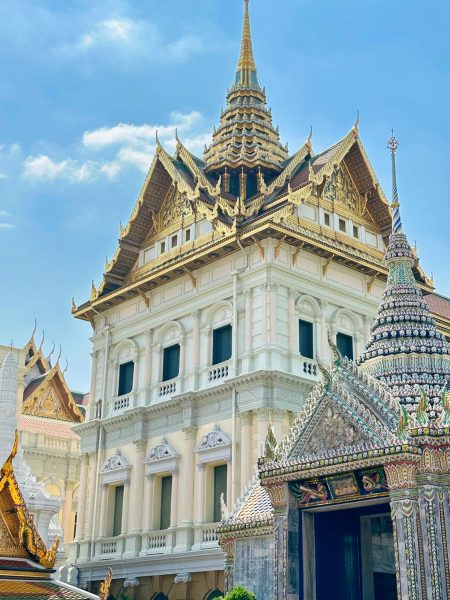 The Bangkok Grand Palace is one of the most popular attractions in Bangkok, located in the city center. It is the most well-preserved, largest, and culturally significant palace in Thailand's history.
The Grand Palace serves as a royal site in Thailand, and there is a strict dress code for visitors. It is recommended to wear long pants and long sleeves.
The Grand Palace closes daily at 3:30 p.m., and the entrance fee is 500 Thai Baht (13.75 USD). The history and culture of the Grand Palace are rich, and hiring a local guide can help you better understand the stories behind each of its landmarks.
4 p.m., Visit Wat Arun
Wat Arun was originally constructed during the Ayutthaya period in Thailand and boasts a long and significant history, making it an important cultural heritage site. Its main prang (tower) is adorned with mosaic-style decorations made from ceramic tiles, glass, and other materials, creating a stunning display of light and colors at sunrise and sunset. Visitors are also advised to wear long pants and long sleeves when entering Wat Arun. If you wish to experience traditional Thai attire, you can rent clothing at shops near the temple entrance for approximately 300 Thai Baht per hour. The entrance fee to Wat Arun is 100 Thai Baht, and it includes a complimentary bottle of mineral water.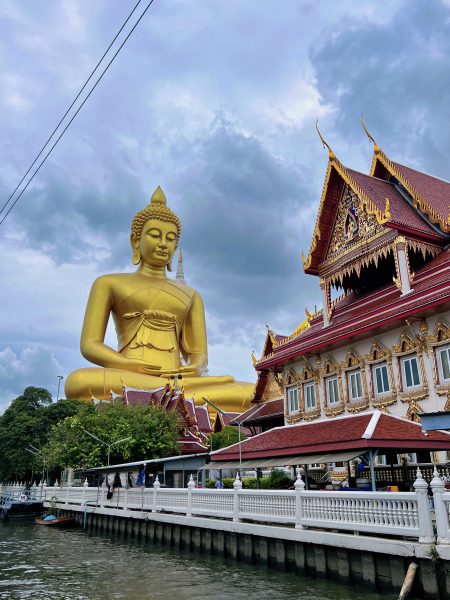 6 p.m., Enjoy dinner at the Sala Rattanakosin Eatery and Bar
Sala Rattanakosin Eatery and Bar is located opposite Wat Arun, offering a stunning view of Wat Arun in the center of the Chao Phraya River.
Sitting by the window, you can watch boats go by as you dine. Order a serving of Tom Yum soup, some river fish, and a cocktail to complement your meal. With the sun setting and Wat Arun lit up, it's a truly romantic setting to experience in this world.
10 a.m., Dine at Jeh O Chula
When in Bangkok, you can't miss this popular restaurant that has been recommended by the Michelin Guide for four consecutive years. Jeh O Chula is located near the center of Siam Square in Bangkok, and while it may not be in the touristy area, its charm attracts visitors from far and wide. Jeh O Chula opens every day at 4:30 p.m. and specializes in Thai stir-fried dishes. The signature enhanced version of Thai spicy and sour MAMA noodles is only available from 11 p.m. for a limited two-hour window. Enjoy a bowl of hot MAMA noodles at Jeh O Chula to end your day of traveling; it's definitely a great choice.
Saturday
10 a.m., Visit the new landmark in Bangkok, the Great Buddha at Wat Paknam
The golden Great Buddha at Wat Paknam has been under construction since March 2017 and was completed in June 2021. Standing at a height of 69 meters, it is the tallest Buddha statue in Bangkok. The enormous Buddha can be seen from afar, and besides exploring the temple up close, you can also take a boat ride to admire it from the water or view it from a distance along the river. There is no entrance fee to enter Wat Paknam, and you can visit the temple directly.
12 p.m., Have lunch at the indoor floating market at Iconsiam
The indoor floating market is located on the F1 floor of Iconsiam. Due to the hot weather in Thailand, they have brought the traditional floating market indoors, where vendors sell a variety of Thai specialty snacks along the indoor riverbank in boat-shaped stalls. Recommended dishes include Thai milk tea (50 Thai Baht), Thai-style pickled crab (500 Thai Baht), mango sticky rice (100 Thai Baht), and pork leg rice (110 Thai Baht). Even in the cool air-conditioned environment, you can still experience the lively atmosphere of a traditional Thai floating market.
3 p.m., Shop at Iconsiam
Iconsiam is a massive shopping center that is a paradise for shopping enthusiasts. Located along the banks of the Chao Phraya River in Bangkok, it boasts seven floors with over 500 shops and restaurants. Whether you're looking for luxury goods or souvenirs, there are plenty of shopping options here. The cinema at Iconsiam is also highly popular, offering luxurious seating and beverage services. If you arrive in the evening, you can enjoy the beautiful night views of Thailand from the observation area. It promises to provide you with a unique shopping experience.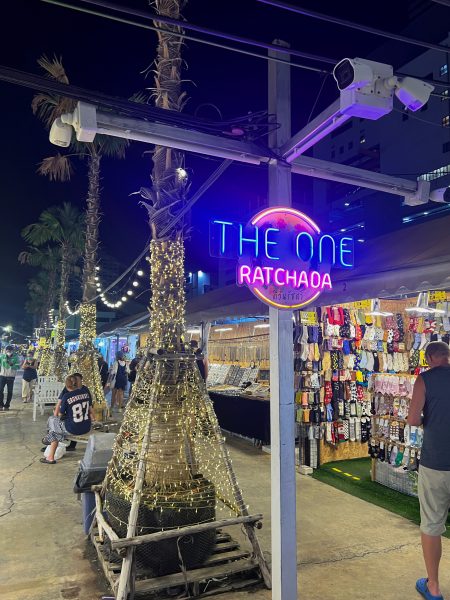 5 p.m., Dine at the Michelin-recommended restaurant, Rung Rueang Pork Noodle
Rung Rueang Pork Noodle is a 50-year-old establishment that has received Michelin awards for five consecutive years. It offers affordable prices, with an average cost per person of less than 100 Thai Baht.
The signature pork noodles attract countless tourists to taste. The noodles come in three sizes: large, medium, and small, priced at 80 Thai Baht, 70 Thai Baht, and 60 Thai Baht, respectively. Getting the Michelin quality at such reasonable prices makes it an excellent choice for dining.
9 p.m., Experience Bangkok's Train Night Market Ratchada.
The Train Night Market Ratchada is located behind The Esplanade shopping mall and is one of the most famous night markets in Bangkok. It has gained popularity among tourists for its wide array of street food stalls.
The market is divided into three sections: a food street, a bar street, and a flea market. Here, you can savor renowned dishes such as volcano ribs, seafood, and fruits. It's a vibrant and lively place to enjoy the nightlife in Bangkok.
Sunday
9 a.m., Have breakfast at the long-established On Lok Yun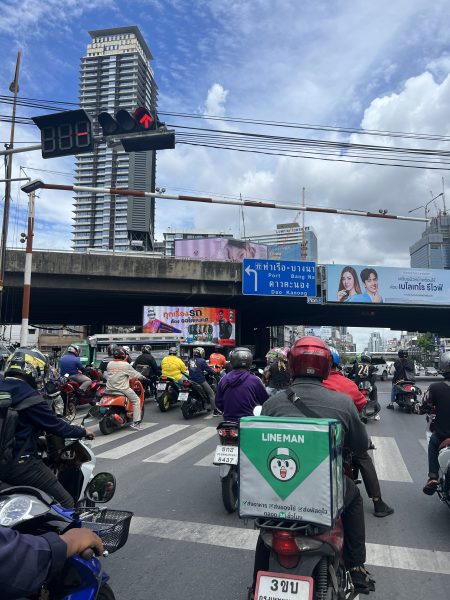 On Lok Yun has been in business since 1933 and has nearly 90 years of history. The interior of the restaurant has maintained its original appearance, creating a vintage and comfortable ambiance.
The signature "big breakfast" is undoubtedly an excellent choice, featuring sausages, ham, bacon, and eggs.
This hearty breakfast will quickly replenish your energy for the rest of your journey in Bangkok.
12 p.m., Lunch at Here Hai Bangkok
Bangkok is never short of delicious restaurants, but if you're looking to tantalize your taste buds, Here Hai Bangkok Seafood Restaurant is the place to go. A must-try dish is the river prawn, which is as thick as an arm! With visibly plump and juicy orange-yellow roe and milky-white shrimp meat, it's a testament to how tender and flavorful it is. You can enjoy its natural succulence without dipping it in sauce. This dish alone showcases the incredible freshness and tenderness of the seafood at Here Hai Bangkok.
2 p.m., Indulge in a traditional Thai massage at Let's Relax
Let's Relax has 13 spa centers in Bangkok, all conveniently located near major tourist destinations. No matter where you are, you can easily find a Let's Relax spa nearby. A traditional Thai massage is a must-try experience for foreign travelers. It combines techniques influenced by Chinese and Indian healing arts, involving a combination of stretching and acupressure techniques. Let's Relax also offers other therapeutic services such as aromatherapy massages, foot massages, and facial treatments. Ending your tiring journey in Thailand with a visit to Let's Relax is definitely a great choice.
If You Go
Bangkok Grand Palace, Where: Phra Borom Maha Ratchawang, Phra Nakhon, Bangkok 10200, Open: 8:30 a.m. – 3:30 p.m.
Wat Arun, Where: 158 Thanon Wang Doem, Khwaeng Wat Arun, Khet Bangkok Yai, Krung Thep Maha Nakhon 10600, Open: 8:30 a.m. – 5:30 p.m.
Sala Rattanakosin Eatery and Bar, Where: 39 Tha Tian Aly, Phra Borom Maha Ratchawang, Phra Nakhon, Bangkok 10200, Phone +66 2 622 1388, Open: 7 a.m. – 10:30 p.m.
Jeh O Chula, Where: 113/1 Thanon Charat Mueang, Rong Mueang, Pathum Wan, Bangkok 10330, Phone: +66-64-118-5888, Open: 4:30 p.m. – 12 a.m.
Wat Paknam, Where: 300 Ratchamongkhon Prasat Alley, Pak Khlong Phasi Charon, Phasi Charoen,Bangkok 10160, Open: 8 a.m. – 6 p.m.
Iconsiam, Where: 299 Soi Charoen Nakhon 5, Charoen Nakhon Road, Khlong Ton Sai, Khlong San 10600 Bangkok, Phone: +66 2 495 7080, Open: 10 a.m. – 10 p.m.
Rung Rueang Pork Noodle, Where: 10/3 Soi Sukhumvit 26, Khlong Tan, Khlong Toei, Bangkok 10110, Phone:+66 84 527 1640, Open: 8 a.m. – 6 p.m.
Train Night Market Ratchada, Where: Rama IX Rd, Huai Khwang, Bangkok 10310, Open: 4 p.m. – 12 a.m.
On Lok Yun, Where: 72 Charoen Krung Road, Samphanthawong, Bangkok 10100, Phone:+66 85 809 0835, Open: 6 a.m. – 2:30 p.m.
Here Hai Bangkok, Where: 112, 1 Ekkamai Rd, Khwaeng Khlong Tan Nuea, Watthana, Bangkok 10110, Phone: +66 63 219 9100, Open: 10 a.m. – 3 p.m. / 4 p.m. – 5:30 p.m.
Let's Relax, E-Mail:sparsvn@letsrelaxspa.com, Website:https://letsrelaxspa.com.