Posted December 11, 2021
By BRIANNA OARD
LOS ANGELES — As drivers and passersby go about their days in bustling Los Angeles, they slow down upon reaching Broadway and Hill Street in the city's downtown area (DTLA).
The sight of people chatting and eating in a bright, multi-colored food hall captures the eyes of many at this specific spot in DTLA, better known as Grand Central Market.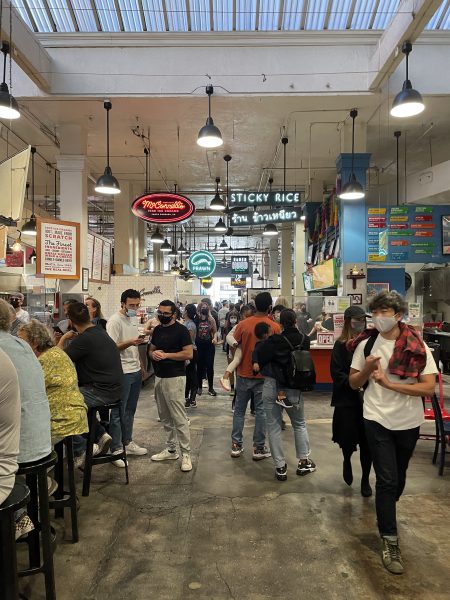 When it first opened its doors in October 1917, Grand Central Market was known as the "Wonder Market" and dubbed "the largest and finest public market on the Pacific Coast," according to its website.
Grand Central Market has always been located on the ground floor of the Homer Laughlin Building, a Beaux-Arts-style building that was Los Angeles's first steel-reinforced, fireproof structure.
Today, Grand Central Market has 40 stalls that house different food vendors, so patrons can browse around, make purchases, and eat or sit wherever they like.
"[Grand Central Market] resembles today what you might imagine to be a food hall … but [the original intent of the market] used to be similar to The Original Farmers Market, where you had all different vendors carrying produce, dry goods, provisions, [and] not a lot of prepared food," stated Erin Magian, creative director of Grand Central Market.
Magian, who has been with Grand Central Market for four years, noted that the market has evolved together with the city of Los Angeles. She added that the market's evolution over the years reflects the evolution of DTLA and how people live, use and visit cities. The role that Grand Central Market's history has played in the entire city's history is what she considers her favorite part about the historic site.
"I personally consider it an enormous privilege to have a part in maintaining the experience of Grand Central Market. It means the market itself means a lot to [many] different people," Magian stated. "Recognizing that, maintaining the authenticity, and providing everyone in LA that has been coming to the market for decades, as well as new visitors and tourists, [with] an amazing experience, [ensuring that] they are well fed, [that] it's clean, it's safe, and they're excited to tell people about it.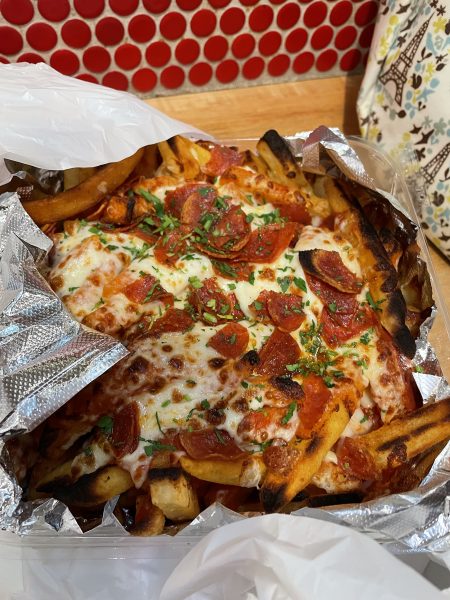 "That's really my favorite part — delivering or improving upon the already spectacular experience, knowing how much it means to so many people in Southern California," Magian added.
Jesse Cross, the head chef of Knead, a stall dedicated to creating fresh Italian American food, believes that the rich history is an aspect that makes Grand Central Market special compared to other traditional farmer's markets.
"This place goes back over 100 years now, and … the management and everything [has] created an environment for locals and tourists or people from out of town alike, [to] come down and enjoy a lot of different kinds of foods under one roof … the environment down here is a melting pot … [you have] all walks of life and styles of food from all over the world, and people," said Cross, who has been working at Knead for five years.
Jimmy Franklin, one of the three co-owners of PBJ.LA, a stall that sells inventive combinations of peanut butter and jelly sandwiches, also noted that the historical aspects of Grand Central Market are embedded in its atmosphere. For Franklin, the spirit of Grand Central Market resembles a cultural journey through cuisine.
"You walk past the pizza place, then you can pass this New York sausage place, then you can pass the Jewish deli. Then there's a burger place, there's a fried chicken place, there's a vegan place, we got PBJs … there's this great Japanese food spot that I see all the time and Chinese food and so it feels like New York and LA … It's really a journey through regional cuisine or cultural flows," Franklin stated.
The space that makes up Grand Central Market is 30,000 square feet and is composed of a food emporium and retail marketplace. There are 40 different stalls which showcase California's best ingredients, chefs, and entrepreneurs.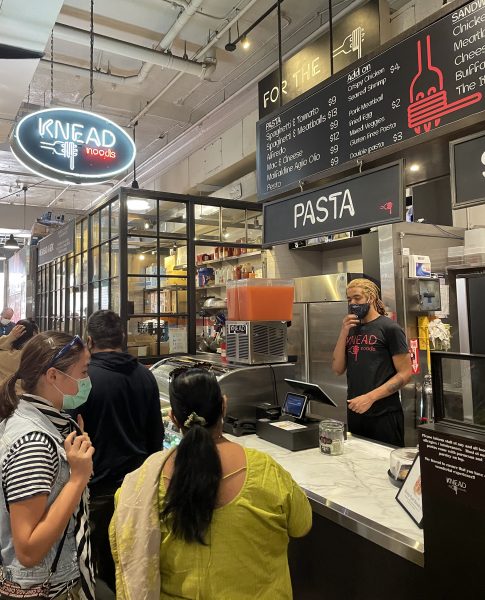 Cross, the head chef of the Italian American restaurant Knead, stated that one of his favorite parts about working at Grand Central Market is the sense of community and camaraderie that the owners and staff of all the restaurants have built with each other.
"We do a lot of collaborations with each other. We all talk shop with each other. It's really nice to be around a bunch of like-minded individuals and owners that take care of the restaurant. That's probably the coolest part about the job," Cross explained.
Grand Central Market's vendors serve a diverse range of cuisines, including Mexican, Italian, Chinese, German, Thai and Korean. There are also stalls dedicated to putting a spin on classic products, such as PBJ.LA, who sell gourmet peanut butter and jelly sandwiches; Ramen Hood, who specialize in vegan ramen; and Fat & Flour, who are dedicated to baking pies and cookies.
Jimmy Franklin co-owns PBJ.LA with fellow co-founders Brad Greenberg and Payvand Salehi, and the trio have had their business at Grand Central Market for just over four years.
PBJ.LA has become an instant hit at Grand Central Market for their new and unique approach to the classic peanut butter and jelly sandwich. Inventive combinations featured on the menu consist of organic, exotic nut butters, superfoods, artisanal jams and more, according to its website.
Among the bestsellers at PBJ.LA include Red Eye, which is made with espresso peanut butter and dark chocolate forest jam, and the Old School, which is made with peanut butter and strawberry jam or marshmallow fluff.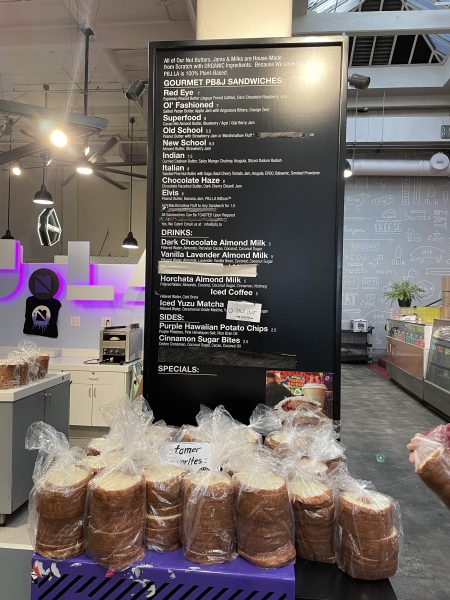 Franklin's favorite sandwich is the Indian, which is made with curried cashew butter, spicy mango chutney, arugula and spicy daikon radish.
"[The Indian] is just so amazing. It really is shocking. You know, it's like, I love Indian food — it's one of my favorite foods. But it's like, really, if you made Indian food into peanut butter and jelly, that's exactly what it tastes like. I think that's my favorite one," Franklin raved.
Another popular stall at Grand Central Market is Knead, which serves Italian American food. Owner Maria Petulla, who also owns the restaurant Union in Pasadena, opened Knead in 2016.
Jesse Cross, the head chef at Knead, stated that while Italian classics such as their chicken parmesan sandwich are among their most popular items, they have noticed that since the COVID-19 pandemic, comfort food has grown in popularity among customers. They added items such as their mouth-watering pizza fries to the menu.
"We've noticed this a lot after COVID: comfort food works. So, we're happy to be making pasta and sauces from scratch but at the same time serving up some pizza fries that just make people smile … We make all of our pasta in-house … everything we can do in-house we do [in-house] … We added a cheese steak and a buffalo chicken cheese steak to our menu, which also became huge sellers for us. And I just think it's cooking the food that people love … They come here with their families, they get some food that they go and love and enjoy their day," said Cross.
According to its website, Grand Central Market's vendors are a mix of legacy vendors, rising food stars, and success stories from the Los Angeles food scene. While there's no official definition for what makes up a "legacy vendor" at this historic landmark, Magian stated it would be something that the management team could work on.
"[Any vendor] that has been open for at least 25 years. Always pass through the hands of family," said Magian of what she would consider a legacy vendor.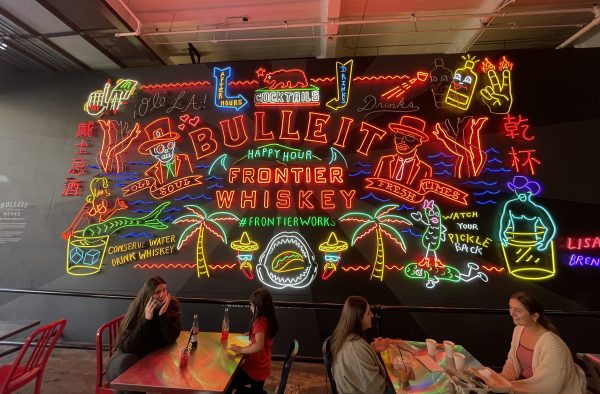 One of the market's legacy vendors is China Cafe, which has operated with the same neon signs that have floated over the 22-person countertop since it first opened in 1959.
China Cafe has been passed down through multiple generations of the same family, with its current owners Susie and Rinco Cheung, taking over for the past nine years after the former's parents retired. 
Rinco mentioned that China Cafe has kept the same menu since it opened back in 1959, with a couple of minor changes to add a few dishes that the younger generation would enjoy. He also noted how they still have customers who have kept coming back to eat at China Cafe since its opening over six decades ago.
"[We use an] old style wonton soup … our wonton will come with shrimp and everything … and [depending on] what kind of topping [the customer] wants, chicken or shrimp or barbeque pork, [we] only put [it] on the top. And [for] the soup we use a lot of chicken soup … we don't use shrimp; we don't use pork for the soup — only chicken. That's different from other restaurants," said Rinco.
If You Go
Address: 317 S. Broadway,Los Angeles, Calif. 90013.
Directions: By Metro: Take the LA Metro Red or Purple lines to Pershing Square Station, located approximately one block from Grand Central Market. By Bus: Metro Bus offers several lines and routes with nearby stops. You can plan your visit ahead of time by visiting the Metro website or Metro Trip Planner.
Parking and Fees: 308 S. Hill St., Los Angeles, Calif. 90013, first 90 minutes: $4, each additional 15 minutes: $2, daily maximum: $25.
Market Hours: Monday through Sunday: 8 a.m. – 9 p.m.Hours vary vendor to vendor. If you are planning to see a specific vendor, please check out the hours on the vendor website.
Telephone: 213-359-6007.