By ALEXANDRIA SHARFI
Posted December 19, 2022
FLORENCE, Italy — The magic of Florence oozes out of every narrow street, laughter flows from tiny bars, friends gather in piazzas leftover from the Medici reign, celebrating nothing and everything, night after night. Living in the city of love long enough to see the seasons change allows anyone to experience both the mainstream destinations that sparkle with flair, perfectly designed to deliver patrons with the memorable Tuscan experience, alongside the local dives, rich with history and pride. These special spots are the birthplace of many friendships and uncover a side of Florence otherwise invisible to its thousands of tourists. Take this guide as a mix of both sides, the least touristy of the tourist spots and the most local of the local's beloved.
Touristy, But Worth It
Colle Bereto — Piazza degli Strozzi, 5
An outdoor and indoor modernized bar complete with dark mood lighting, house music, and incredible espresso martinis. Colle Bereto is the perfect spot to grab a drink after dark and has surprisingly delicious bites to pair with your cocktail. Located less than a minute walk from Palazzo Strozzi, its location is perfect for a nighttime stroll.
Divina Terrezza — Via del Proconsolo, 3
This rooftop gem is located on the sixth floor of the Grand Hotel Cavour. The bar's modern vibe contrasts the breathtaking historic views of the Duomo to the right and Palazzo Vecchio to the left. Don't underestimate the seemingly low level of the terrace's height, its exquisite position between the two monumental structures is utterly perfect and makes patrons feel fantastically close to both structures. The intimate setup of the bar makes the experience among Florence's rooftops feel distinctly special for visitors. Visit Divina Terrezza as the sun is setting for an unforgettable aperitivo.
Pitti Palace — Piazza de Pitti, 1
Not only is this 16th-century mansion the pinnacle of the Medici family's epic rule, but it also hosts the grounds of the Boboli Gardens, one of the most magical sites in all of Tuscany. These gardens are 111 acres of winding paths, open flower fields, sparkling fountains, detailed statues, and a central amphitheater that transports its visitors through history. The lush landscapes make this destination worth every penny of the €12. ticket, which is discounted for students, seniors, and children. Grab a panini before you go and allow an entire afternoon to explore these grounds.
Rose Garden — Viale Giuseppe Poggi, 2
Enjoy the walk up to Piazza Michelangelo after your Pitti Palace tour and be sure to stop by the Rose Garden on the way. For arguably the best view of all the city, order a bottle of wine and join locals and tourists on the steps of Michelangelo to watch the setting sun light up the city's red building tops and monumental historic structures.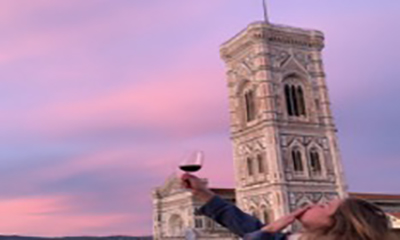 Dante's — Piazza Nazario Sauro, 12
Free unlimited wine with your dinner? Sounds like a dream. The magic of Florence makes this dream a reality at Dante's Ristorante and Pizzeria. Across the Ponte Vecchio in a less touristy area of the city, Dante's is located on a corner that happens to be next to the gelato in Florence, but we'll get to that next. Dante's offers students free and unlimited house wine to pair with their entrees. With reasonable prices, a large brick dining room, high ceilings, and a wood pizza oven, Dante's is a fun place to bring friends and enjoy the booziest dinner possible any day of the week.
Gelateria La Carraia — Piazza Nazario Suaro, 25/r
With locations all over the city, no one has an excuse not to try this delicious dessert. With cheap prices, efficient service, and various locations in prime spots, La Carraia does not disappoint. This gelataria stands out particularly for its variety and creativity in flavors— offering far more options than any other gelateria in the city. Patrons can mix and match the flavor combinations to create their own personalized Florentine dessert.
Mercado Santo Spirito — Piazza Santo Spirito, 5-6
Visit this memorable square on a Sunday afternoon. Filled with families, locals, young students, and artists, this market has every vendor imaginable for every kind of shopper. Mercado Santo Spirito hosts vendors selling handmade goods, vintage clothing, vegan food, assorted candy, specialty jewelry, frames, art, coffee, tea, and the best people-watching in all of Florence. After you shop, step into any of the surrounding cafes for aperitivo or walk through the winding roads away from the center to get into the locals' stomping grounds.
Local's Spots
Rivarno — Piazza de Santa Maria Maggiore, 7R
This Florentine cafe is nuzzled in a quieter corner of the city's center, covered with plants, and filled with kind, English-speaking baristas. Rivarno has the energy of a cozy bookstore with incredible music and bubbling conversation, attracting students, locals, and families throughout the day. Rivarno's food is incredibly fresh, prepared on the spot by a smiling bearded chef in their tiny kitchen. Andrea, the owner, is constantly updating the menu with the changing seasons and can make personalized salads per request. Stop by for a nice lunch, a glass of wine, or a lavender latte with a homemade pastry. Be sure to say hi to Andrea, Morgan, and Miley— the sweet staff of this unforgettable cafe.
Tenax Discoteca —– Via Pratese, 46 (www.tenax.org)
At a club with no English, the universal language is dance. Tenax is a 25-minute cab ride from Florence's city center and is worth every minute of the lengthy line. Tenax is home to house music from the United Kingdom and draws huge crowds for its weekend events. Be sure to buy your tickets on their website before you go, and budget time to wait in line. Tenax stands out as a surprisingly modernized cooperation amongst Florence's old-time businesses. Their website is well done and the lights and dancers in the club are on par with those that you'd see in a decent club in Miami. Tables are on the upper level to keep the focus on the DJ and the dance floor, making Tenax the perfect place to dance the night away but maybe not to hold a conversation. If you think understanding English with a thick Italian accent is hard, try it buzzed with blasting house music. Coat check is available.
Il Giova — Borgo la Croce, 73R
Arguably the best spaghetti pomodoro in all of Tuscany, Il Giova is a tiny restaurant run by couple Lucilla and Roberto and numerous family members. This hole-in-the-wall is at the end of one of the most fun streets in Florence to walk through at night, riddled with bars spilling over with art students, local couples, young people, expats, and barely any tourists. Forgo the reservation-making and enjoy waiting in the street with impeccable people watching. Their paper-printed menu never disappoints, especially the €5 half-wine carafe. Be kind to the family and they'll make you feel right at home.
I Macci — Largo Pietro Anigonni, 3
Positioned right next to the classic local restaurant, Il Giova, I Macci is the perfect post-dinner bar to have a laugh and meet some locals. The interior is modern with a brick backdrop that gives it that historic foreign flare. Young locals drinking on Borgo la Croce will often stop into Il Giova for dinner and continue their night at I Macci. With incredible bartenders who prepare perfectly crafted cocktails, this restaurant turns into a lively bar on weekend nights, setting the perfect atmosphere to have fun and meet some incredible people.
Il Rifrullo —– Via San Niccolo, 57
A walk across the Arno River will take you past Piazza Santo Spirito, right up to the entrance to the Michelangelo stairs. At the foot of this stone ascend is Il Rifrullo, a historic American-style bar that's home to a cozy fireplace, perfect for winter nights, and an open-air bar for a breezy spritz on a summer day. Although styled as American, this bar in the San Niccolo area is quite hidden and hip and attracts many local friend groups, businessmen, and expats.
---