Posted November 12, 2013
By KARLA DURANGO
LAGOS, Portugal — We were feeling good. Suitcases in hand, Lily, Miranda and I found ourselves anxiously fleeing an unexpectedly cold and rainy spring in Seville, on a midnight bus headed for a quaint seaside town in the Algarve region of southern Portugal.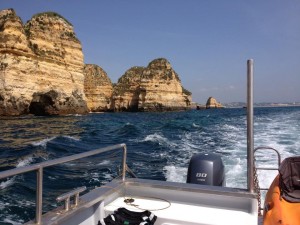 Best friends and beach girls at heart, we were all equally yearning for a classic Mediterranean adventure but, given the circumstances, we would settle for a sunny beach and warm weather. Little did we know we would end up getting that adventure after all.
After traveling all night on a crowded bus, not getting an ounce of sleep, we finally arrived at this pristine paradise.
Infinitely more beautiful than we had expected, Lagos was a small, yet exotic beach town, dotted with majestic cliffs, golden-sand beaches like Meia Praia that stretched for miles and antique looking bars and pubs that framed the town's multi-colored, mosaic-paved city center. The entire area however, took us but three days to explore.
"We spent the first two days in a trance, hopping from one beach to another, exploring the town per the recommendation of both locals and travelers we ran into on our way," Miranda said. "On the third day, we were ready for the real adventure."
Acting on that impulse, we ended up buying ourselves three tickets to a kayaking trip to "the end of world." We had not imagined however, that the experience would be quite so literal.
At about 10 on a calm Sunday morning in Lagos, we boarded the boat that would take us to open waters where we would begin our guided trek through a four-mile stretch of sea-carved caves that resided at the bottom of protruding cliffs.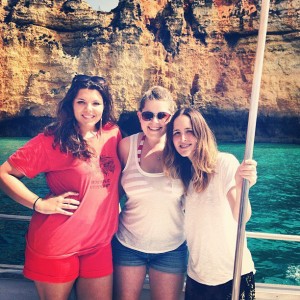 These cliffs dramatically plummet down into the turbulent waters of the Mediterranean and infamously have an end-of-the-world feel about them.
"From experience, the waters around the Algarve region are very traitorous and moody," said Adriá Flor, an avid surfer who has frequented the area precisely because of its ideal and challenging surfing conditions.
"From land the waves always look grand and serene, but when you're in the water, you experience just how big and violent they can be."
The true nature of these waters however, was unbeknownst to us mere tourists at the time we began our expedition and though we started our journey with ease, as we got further along and closer to the caves, we began to feel ourselves inching closer towards the point were we would no longer be able to control our kayak.
Of course, it did not help that the weather also suddenly began to turn on us.
"Out of nowhere, the wind increased, the waves suddenly became higher and the current grew stronger," recalled Lily. "We thought it was normal though, until we saw that our tour guide himself began to get worried and anxious to get us back to the boat."
By the time our guide reacted, however, it was already too late. Out of nowhere, came a large and powerful wave, too powerful to overcome, that knocked each and every one of us, including our guide Fernando, out of our kayaks, plunging us into the piercing cold waters of the Mediterranean Sea.
"It was not pleasant being dragged underwater," said Miranda. "Despite having a life jacket, I spent a good minute underwater being thrashed around by one wave after another."
Fortunately, at the time the wave came, we happened to all be positioned in between the adjacent walls of two cliffs that opened to reveal a secluded beach. Somehow, when the wave broke on top of us, the current propelled us straight ahead towards that beach and not diagonally towards the rocks.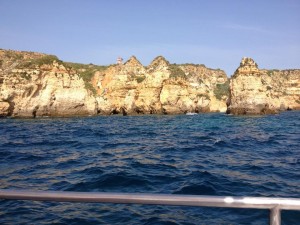 "Luckily, no one was smashed to pieces on the razor-sharp rocks," added Miranda. "This almost could have been a very different story."
After the impact, one by one, like a scene taken straight out of an episode of "Lost," we all began to wash up on the shore of what felt like an undiscovered pocket of paradise.
"We couldn't even process how beautiful the beach was, but my god, to think that, that was only the beginning of the adventure," said Lily.
Having no phone to call for rescue, we were stranded. Fernando told us that we had no other option but to wait for the tide to calm down again, in hopes of being able to ride our kayaks back to the boat, which was anchored about a mile away.
For myself however, getting back to the boat seemed like the least of my worries as I could feel my body temperature quickly dropping.
Not wanting to worry my friends who were significantly more nervous than I was, I tried to conceal the shivers until I could no longer control them and my lips began to turn blue.
After what was about five hours of being marooned on the golden sandstone beach, we had no option but to try and swim back to the boat. As we looked out to the horizon however and caught a glimpse of an angry pattern of waves slamming down one after another, we knew it was a suicide mission.
But, "there is no other way," I remember our guide telling us; the five words that would ultimately propel us to get back out there.
Swimming back to the boat is quite a blur to all of us however. The most vivid recollection I have is of the piercing pain I felt throughout my body as I slowly walked back into the water to try and get my temperature adjusted to the coldness of the ocean once again.
Of course, it didn't adjust and, on the race back to the boat, I felt like I was trapped inside a large bucket of ice. I remember feeling like my head was about to explode each time I had to dive under the waves to pass their breaking point.
After what seemed like an instant, we were finally on the boat huddled together to warm up our body temperature. We spent the ride back to land in fear of the beauty we once longed to see up close.
Somehow, the protruding golden wedges of land that rose up from an ocean of unlimited shades of blue seemed even more majestic and untouchable that ever before.
Indeed, this experience left us with a lot more respect for the art of researching and being informed about the places to which you are traveling. Being young and wanting adventure was our excuse to be ignorant, but we left knowing that in a foreign place, you can't afford to wing it.
Even paradise can pack a punch when you don't know it limits.
"We all made it in one piece, but it was definitely luck," said Miranda.
The kayaking company never offered to take us to a hospital or even to give us a refund for the mishap adventure….
If You Go
Travel to Lagos:
A very easy, convenient and cheap way to get to Lagos is to travel between the Algarve region and Seville. There is a bus service between Lagos and Seville that is operated jointly by Eva Bus (Portugal) and DAMAS (Spain). There are also buses between Lisbon and Seville that you can purchase while in Algarve that are operated by the Spanish company ALSA. A one-way fare from Seville to Lagos is €21. Return or round trip is €35.
Additional Information:
Spanish time is one hour ahead of Portuguese time.
Bus tickets are not sold on board. You must buy your ticket at the ticket office before the bus arrives or online prior to your departure.
For more information on travel to the Algarve please visit: http://www.algarvebus.info/001.htm
While in Lagos:
You can spend time relaxing on one of the many gorgeous beaches that the town has to offer. I recommend visiting Meia Praia, Praia de Doña Ana and Praia de Batata.
You can also go to the Lagos Zoo, which is the perfect place to visit with the whole family.
Of course, you can also take a boat trip to the beautiful caves around Ponta da Piedade or go dolphin watching. Staying aboard a boat at all times is a good way to stay safe and avoid the danger associated with the area's rough waters.
If you like to be active, however, and are fairly experienced, there are lots of water activities and sports to do in Lagos such as windsurfing, wake boarding, scuba diving sailing and kayaking. I do advise you, however, to take precautions, check the weather and choose your adventure carefully.
I do not recommend the company Days of Adventure, which was the one that my friends and I chose for our kayaking trip. This company also takes part in other activities like dolphin watching and mountain biking in Lagos.
For more information on water activities please visit: http://www.axessextreme.com/adventure_activities_in_lagos/
If you prefer to stay on the coast however, there are also horse-riding trips through the beach, mountain biking, tennis and golf.
To purchase tickets for these activities you can visit the Lagos Marina or the old city center that are within walking distance of each other.
For further information please visit: http://www.tripadvisor.com/Attractions-g189117-Activities-c25-Lagos_Faro_District_Algarve.html.