Posted February 28, 2014
By VALERIE LOPEZ
Conquering one of Miami's trendiest neighborhoods, SuViche opened its third location with the city's first pisco bar offering customers a one-of-kind experience.
The new restaurant is located in Wynwood, where the former Bloom was located. It opened its doors to the public last November just before Art Basel week. The space is quite different from the other two SuViche's located in Brickell and Sobe.
SuViche still offers its unique fusion of Peruvian and Japanese ingredient,s but this time  with a full pisco bar and a large outside terrace.
The place has a trendy and relaxing ambiance that gets customers into the artsy Wynwood mode as they seat in between graffitied walls, art work and on hanging seats. The outside terrace and bar are the perfect spot for a casual date, an afternoon with the girls or just to have a drink and enjoy the neighborhood's vibe. This different approach is a plus compared to its other more modestly decorated locations.
At the time of ordering, the restaurant's service was fast and efficient. Server was friendly, courteous and helpful at the time of recommending dishes and specially explaining the pisco bar specialties.
Famous peruvian "canchita" (un-popped popcorn) was served right before ordering along with water and lime.
Canchita was so good that one small side wasn't enough and we kept asking for more, the best part is that there is no extra charge when it comes to this. It's unlimited!
SuViche's menu offers the classic plates with just a few new dishes. The "SuViche ceviche" was my favorite plate. Served in a large white bowl, the fish looked fresh, tender and tasty. The citrus juices along with sweet potato, chopped red onions, choclo, camote and peruvian sauced sparkled sharply together and made the perfect combination.
Sushi rolls continued to shine alongside fresh ceviche thanks to executive chef Jaime Pesaque and its amazing red hot heat roll and the new "eye doctor" roll only offered at Wynwood.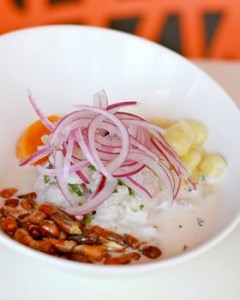 But the best was yet the come, the pisco cocktails were definitely the jackpot. Cocktails are made with fresh and fruity ingredients that accentuate the plates like, mango, coconut and chicha morada.
From the 12 different Pisco infusions served, the mango spicy was out of this world, a blend of sliced mango, pickled peppers, soda and pisco. The spiciness of the peppers along with the sweet mango and citrus pisco have never taste better together.
This Peruvian-Japanese joint outdid itself with the new location. It was one of the best ceviche places in Miami before and now without a doubt, has positioned itself to one of the best fusion restaurant in its category.
SuViche
Brickell: 49 SW 11 St., Miami
Sobe: 1119 16 St., Miami Beach
Wynwood: 2751 N. Miami Ave., Miami
Reservations: Call for reservations
Order: Online, by phone or takeout
Operating hours: Mondays-Wednesdays: 11:30 a.m.-11 p.m.; Thursdays-Fridays: 11:30 a.m.-2 a.m.; Saturdays: Noon – 2 a.m.; Sundays: Noon – 11 p.m.
Dress code: Casual
Payment form: cash and credit cards
Rating: *****