Posted May 3, 2013
By ELIZABETH DE ARMAS
It comes as no surprise that romantic films are popular. After all, love is universal. In 1896, "The May Erwin Kiss" by Thomas Edison became the first film of a couple kissing. Since then, the romantic genre has slowly evolved.
Our generation has come to know Rachel McAdams and Ryan Gosling as the "couple to be" in the romantic drama, "The Notebook." Since the movie was released in 2004, individuals are constantly comparing each love story on the big screen to the ideal fairytale story of Noah and Allie. However, romantic genres take on various themes. The "happily ever after" or "tear jerker" theme isn't always the story line.
Romance films explore the themes of passion, young love, love at first sight, hardships, dating and marriage. The genre has become so popular because many of these films serve as inspiration to its audience. Many couples, and individuals alike, can relate to these films.
For some people, these romantic films portray a love story that they have experienced in the past, or are currently involved in. For others, romantic films serve as an ideal model of what they wish to have in the future.
For most men, it is hard for them to understand why women flock to the movie theater when the latest love story comes on the big screen. Most romantic films follow the same central part ­– two characters fall in love with each other. And while falling in love, these characters go on a journey and usually experience some type of hardship. Most of the time, the characters find a way to make it work and end up living a "happily ever after." Other times, tragedy strikes but the ending of the movie offers a life lesson.
Romantic movies have been honored by The American Academy of Motion Picture Arts and Sciences, better known as The Oscars, because of the real-life emotions these movies have portrayed. For most people, wanting to fall in love and find a soul mate is on their list of "things to do." For this reason, romantic films have continued to succeed. It isn't the in-depth plot that appeals to the public – it is the message – that love can triumph and endure all things.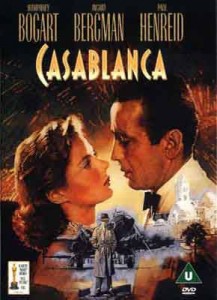 "Casablanca," (1942) "Gone with the Wind," (1939) and "It Happened One Night," (1934) are three Oscar award-winning romantic films that continue to be considered classics today.
They have endured because of the ideal love story each film created, which involved two characters that were determined to be together – no matter what. In each film, each couple faced a journey filled with several challenges.
The adventure of love, coupled with phenomenal acting and cinematography has left a lasting impression. Successful romantic movies, like successful relationships, have the power to last forever.
Tyler Perry's "Temptation: Confessions of a Marriage Counselor," approaches a romantic film as a flashback. The main character, Judith, becomes a marriage counselor after earning her Master's degree and marrying her first love that she met when she was not even eight. The story unfolds as Judith, played by Jurnee Smollett-Bell, is trying to give advice to a client who is cheating on her husband by telling her own personal story that ultimately changed her life.
Perry, who is also known as the man who created the Madea movie series, directed "Temptation: Confessions of a Marriage Counselor, "with one particular goal in mind –– creating a film based on an obsessive passion for a man that leads to infidelity and reckless behavior. After Judith marries Brice, played by Lance Gross, their marriage seems wonderful. They are happily in love, building a life together and both working toward their aspirations.
Judith takes on a job at a matchmaking company in hopes to be promoted and Brice works at a small drug store as a pharmacist with plans to one day have his own pharmacy. In the midst of this fairytale love story, Judith is introduced to a billionaire named Harley, played by Robbie Jones, who seems like the perfect catch. He has it all –– money, charisma, charm, fame –– and most importantly, he is single. Judith controls her temptation, until Brice forgets her birthday and Harley sends her flowers. The rest is what you would expect.
Though Perry's movie is directed well, the drama is overdone. Too many things spiral out of control too fast. And, things in the movie happen too coincidentally. For example, a woman by the name of Melinda begins working with Brice at the pharmacy and she seems very conflicted. It turns out Melinda, played by Brandy Norwood, is hiding from her ex-husband who tried to kill her. Wondering whom her ex-husband is? Take a wild guess.
And, Kim Kardashian has a role in this movie as a materialistic secretary named Ava who constantly puts Judith down for having a conservative taste in fashion, and not wearing enough makeup. Why Perry chose to cast Kardashian is a question left unanswered, but her acting is definitely not big screen material. Her performance was very unnatural and out of place in this film.
"Temptations: Confessions of a Marriage Counselor" is one of Perry's most intense and provocative films to date. It is a film to which many people who have experienced adultery could relate.
And even for those who haven't cheated on someone or been cheated on, this film can relate to anyone who has ever been tempted to do something they knew was wrong, but did anyways. All in all, the movie was well put together and nicely packaged. However, the intensity and drama could have been toned down.
Perry's "Temptation: Confessions of a Marriage Counselor" is just one example of how romance films have evolved. The genre of romance has always incorporated drama, but not to this extent. The infidelity and destructive behavior in this film is portrayed to depict real life scenarios. This is why romantic movies evolve over time. In order to engage the audience, the movie –– or at least the message of the movie – has to be something individuals can relate to.
"The Host," based on a novel written by "Twilight" series author Stephanie Meyer, takes on a different approach to depict romance. How individuals can relate to an alien race that attempts to take over the human race and in that attempt sabotages the woman of Jared Howe's dreams is questionable. However, the new attempt at action-filled, alien invading romance is impressive, although the science fiction romantic film was no where near as wonderful as Meyer's novel.
Jared, played by Max Irons, is in a regular relationship with Melanie Stryder, played by Saoirse Ronan, until the Seeker of the alien race captured her. In an attempt to transform her into an alien, the Seeker, played by Diane Kruger, injects Melanie with a soul called Wanderer that will lead the alien race to the location where humans are hiding. However, Melanie's human body is never completely lost. Her struggle to try to separate her human wants from the new soul that has somewhat embodied her, leads her back to her boyfriend eventually. While trying to rebuild her relationship and fighting what her human body wants, the action and drama of the film takes its course.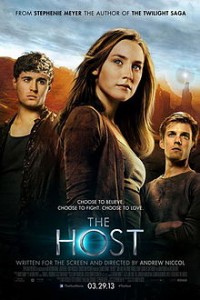 Director Andrew Niccol does a solid job in keeping the film as a romantic story line first and a sci-fi thriller second. Melanie's human memory is not erased, which allows Niccol to continue the romance. Though the cinematography also deserves a round of applause, the plot is very narrow and the movie does not allow for characters to be developed, as they should have been.
Therefore, "The Host" has a lot of potential that was undermined because the audience wasn't able to truly understand the reasoning and motive behind some of the character's actions. As a film that falls under the romantic drama, "The Host" does allow for the characters in love to share charming moments on the big screen. The storyline is not hard to follow, but the movie as a whole production didn't work.
The two romantic films, "Temptations: Confessions of a Marriage Counselor" and "The Host," have different storylines that lead up to the same result: Obstacles in love. Whether it is infidelity or an alien race, romantic films always present an obstacle that can either strengthen the romance or be the cause of destruction.
In Perry's film, Judith's choice to cheat on her husband leads to a consequence that changes her life forever. In Niccol's film, Melanie's choice to fight for what her human mind remembers she had with Jared leads to finding love again. The films have different outcomes and different storylines, but the underlying idea is constant.
Movie: "Temptation: Confessions of a Marriage Counselor"
Release date: Mar. 29, 2013
Distributor: Lionsgate
Lead cast: Jurnee Smollett-Bell, Lance Gross, Robbie Jones, Brandy Norwood
Director: Tyler Perry
Length of movie: 111 minutes
Rating: PG-13
Caution: The film does contain violence, sexuality and aggressive behavior
Screenings: The movie is playing at all local movie theaters. At Paragon Movie 13 in Coco Walk, University of Miami students get discounted ticket rates ($5) with proof of valid Cane ID from Mondays through Thursdays.
Review Rating: 3.5 out of 5 stars
Movie: "The Host"
Release date: Mar. 29, 2013
Distributor: Open Road Films
Lead cast: Saoirse Ronan, Diane Kruger and Max Irons
Director: Andrew Niccol
The movie is based on "Twilight" saga bestselling author Stephanie Meyer's science fiction novel "The Host"
Length of movie: 125 minutes
Rating: PG-13
Caution: The film does contain violence and some sensuality
Screenings: The movie is playing at Palace 18 Cinemas, Cobb Dolphin 19, AMC Mall of the Americas 14, UA Falls 12, AMC Sunset Place 24 and Regal Southland Mall Stadium 16
Review Rating: 3 out of 5 stars