Posted Feb. 14, 2023
By LILY BHOTE
As South Florida nears the 40th anniversary of Christo and Jeanne-Claude's "Surrounded Islands," it is important to recognize the role the artists played in shaping the future cultural landscape of Miami.
Christo and Jeanne-Claude's latest exhibit at the Perez Art Museum Miami is a collection of sketches that give us a glimpse into the production of their large-scale works of art, like "Surrounded Islands."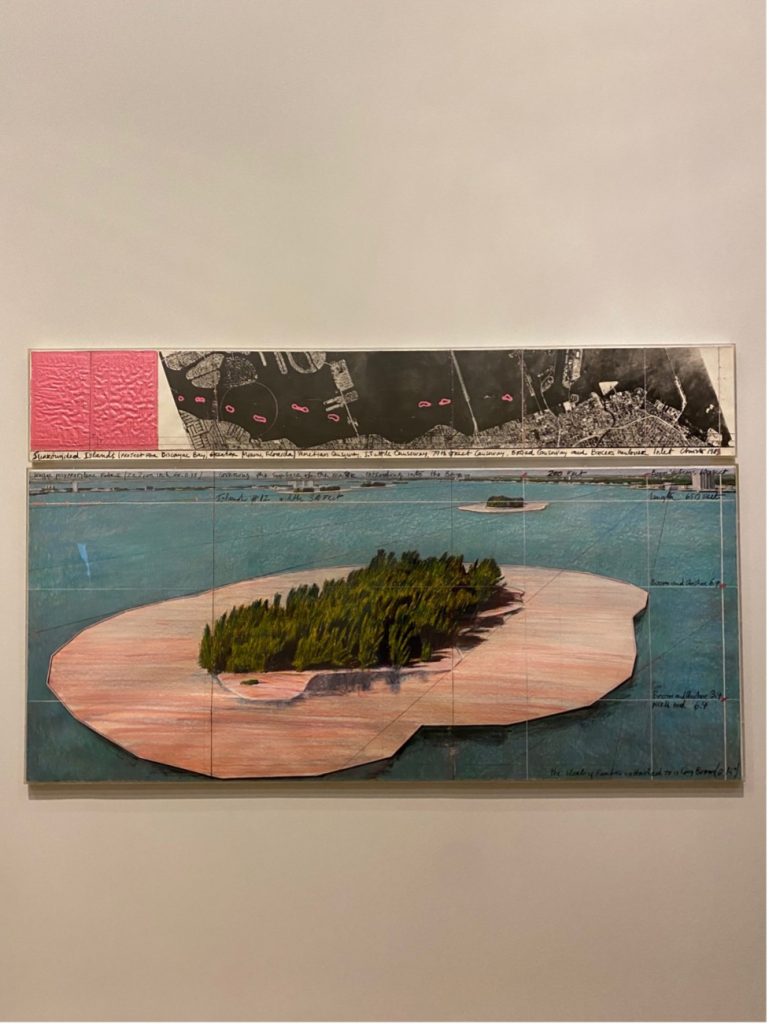 The pair is known for choosing monumental regional symbols and altering their appearance in some form. The drawings on display were donated by Maria Bechily and Scott Hodes, who were good friends of the artists.
The drawings give us a glimpse into the thought process and technical work that went into Christo and Jeanne-Claude's artwork.
"Surrounded Islands" started a sociocultural revolution that changed the way the world, and even locals, viewed Miami.
The artists covered the perimeters of various islands in Biscayne Bay with 6.5 million feet of bright pink material in a seven-mile area.
The project gained global attention and united Miamians on multiple fronts, including their desire to preserve Miami's marine environment and encourage artistic growth. In general, the project created a sense of optimism for sociocultural and artistic growth unlike anything Miami had experienced.
"Surrounded Islands made a lasting impact on the city's cultural history, marking the birth of Miami's international artistic profile while serving as inspiration for untold numbers of people in the South Florida community," PAMM's chief curator, Gilbert Vicario stated.
This new form of international recognition allowed Miami to establish itself as a premier destination for contemporary art.
"Surrounded Islands" also motivated Dade County to invest in the arts: "…because of Christo and Jeanne Claude's work in Biscayne Bay, Dade County created a Center for Fine Arts (CFA). 'Surrounded Islands' incubated a civic engagement in the arts yet unseen in Miami by the early 1980s," PAMM's manager of gallery and community programs, Darwin Rodriguez explained.
University of Miami Art History professor Joel Hollander also remembers "Surrounded Islands" as a major catalyst of expansion for Miami's art industry. A Miami native, Hollander had the pleasure of visiting surrounded Islands via boat at the time.
"I feel 'Surrounded Islands' was the turning point for Miami as a cultural destination, and Christo seems to have identified characteristics that we, ourselves, couldn't see," he stated.
These characteristics that were unidentifiable at the time have grown apparent in recent years. Miami serves as a melting pot for many cultures which creates a unique community rich in diversity unlike anywhere else in the United States.
People from all over the world come to experience the beautiful climate, music, food, art and nightlife the city offers.
The city has grown tremendously since the installation in 1983, and developments like Wynwood has further expanded the contemporary independent art scene.
Chief curator Vicario explains that the PAMM played a critical role in the production of "Surrounded Islands" as head director Jan Van Der Marck helped organize the exhibit. While at the time it was referred to as the Center for Fine Arts, the organization opened its museum doors a year later as the Perez Art Museum Miami.
"In 2018, PAMM exhibited a major show with Christo's participation, 'Christo and Jeanne-Claude: Surrounded Islands, Biscayne Bay, Greater Miami, Florida, 1980-83: A Documentary Exhibition,' which featured archival materials and artworks from the artists' site-specific 1983 installation, Surrounded Islands, in Miami's Biscayne Bay," Vicario stated.
Christo died in 2020, but longtime friends of the artist donated his drawings for PAMM's most recent Christo and Jeanne-Claude exhibit which opened in September.
Christo and Jeanne-Claude broke political, cultural and social boundaries with each thoughtfully planned project they created. Vicario describes such projects as "ephemeral public art projects" that "expanded the definition of art beyond paintings and sculptures."
Christo and Jeanne-Claude's work was often met with fierce legal opposition from the local community and government, and "Surrounded Islands" was no exception. The extensive processes to get their projects approved is part of their artistic process that forces society to take a closer look at the meaning of each project. The political and environmental undertones of these artworks are usually messages that encourage unity amongst democracy and sparks healthy debate over art's limitations.
While some may view Christo and Jeanne-Claude's ways as imposing and grandiose, others understand the steps he took to execute his visions in a thoughtful way that did not burden the community.
"As for political and environmental controversy surrounding Christo, I do not think it has taken away from the value of his art," UM's Hollander stated. "I find their approach respectful of the community inhabitants and bureaucracies."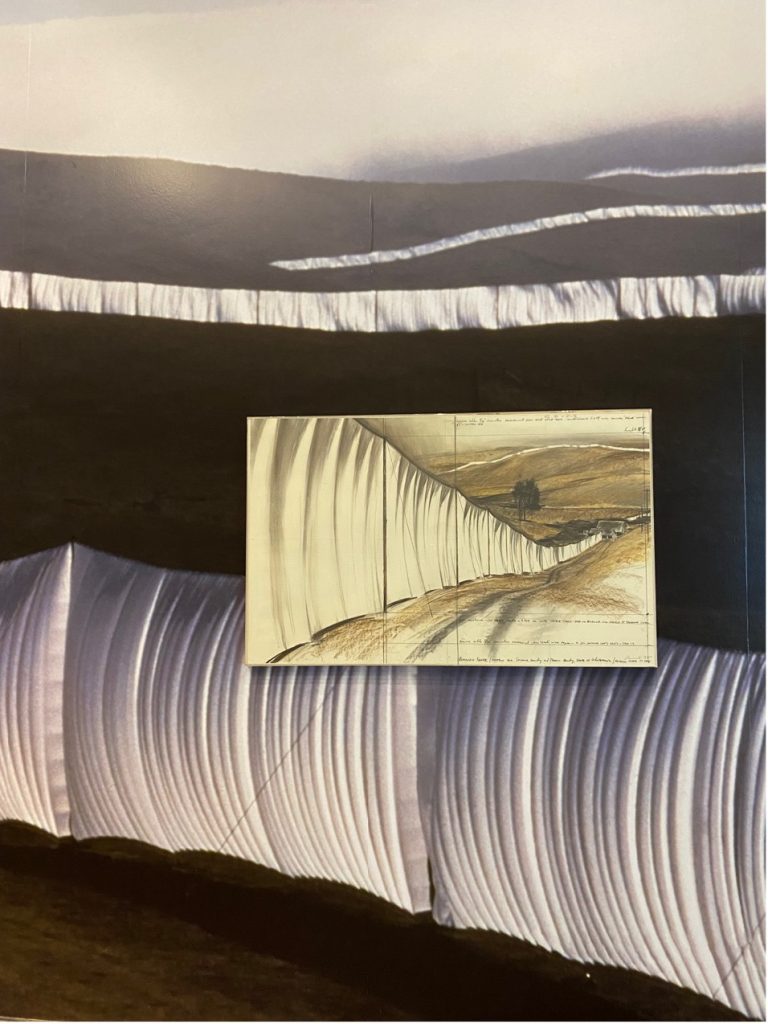 Drawings done by Christo and Jeanne-Claude in PAMM's latest exhibit gives us a glimpse into the thought process behind some of these projects, include the highly publicized "Wrapped Reichstag." Throughout Berlin's history, the Reichstag building always remained a symbol of democracy and German unification.
Christo's drawing shows a glimpse of his artistic process, as he sketched exactly where the cover needed to be tied down, along with other technical data. Wrapping this building brought awareness to the importance of civil unity, as Christo tried to convey in much of his artwork.
Other sketches showcased in the exhibit include Christo's Jeanne-Claude's "Running Fence." The project took place outside of San Francisco, spanned 24.5 miles and stood 18 feet tall.
As with most of his work, the project went through many rounds of heavy litigation and required the support of neighboring ranchers, local and federal agencies.
While some people struggled to view a fence composed of cloth and steel as art, Christo urged onlookers to search deeper.
The true art of the fence lies in the journey it took to create it, he argued. The collaboration of community, government and artists symbolizes the ability to unite people from all walks of life through art, even if the means is controversy.
Christo and Jeanne-Claude's work sparks the age-old debate: what is art? The two artists constantly pushed societal boundaries and used mediums that were not traditionally considered art, sparking heated debate on local and global stages.
Due to the nature of their projects' physical impermanence, the true artistic value of Christo and Jeanne-Claude's work lies within in the conversations their art created.