Posted Feb. 28, 2013
"The Painted Girls"
Cathy Marie Buchanan
By HADLEY JORDAN
"The Painted Girls" by Cathy Marie Buchanan is a beautiful, heart-wrenching tale inspired by Edward Degas' model for Little Dancer Aged 14, taking place during La Belle Époque (the late 19th century) in Paris.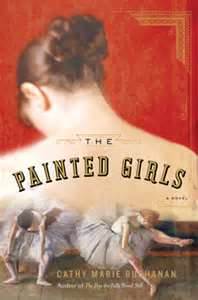 The book follows the lives of the Van Goetham sisters after their father's death, when their mother spends most of what she makes at the washhouse on absinthe and the girls are forced to find work to pay rent and buy food.
Little Marie, quiet and focused, quits school and starts training as a petite rat for the famous ballet in the Paris Ópera, where Edward Degas frequently sketched the dancers.  Her brassy older sister Antoinette exemplifies the heartbreak of living in the slums of Paris, trying to make a living by any means necessary.
Cathy Marie Buchanan is a former ballet dancer. Who, during moments of rest during class, would gaze at the Degas paintings tacked to the wall. She felt a closeness to these young dancers, trying to catch their breath during their intense classes. In later years, Buchanan saw a documentary on Marie van Goetham, the model for Little Dancer Aged 14, and learned about the darker, seedier side of the Ópera during La Belle Époque.
Buchanan was born and raised in Ontario, Canada, where she grew up hating English class and choosing a major where she wouldn't have to worry about misspelling things.  She graduated from the University of Western Ontario with a degree in Honors biochemistry and later earned an MBA, and worked for IBM in finance and technical sales before becoming a New York Times best-selling author.
Her first book, "The Day the Falls Stood Still", received instant praise, showcased as a Barnes and Noble Recommends selection and debuted on the New York Times best-sellers list. Upon releasing "The Painted Girls", Cathy Marie Buchanan received similar praise as it also debuted on the New York Times best-sellers list and quickly has become a national bestseller in Canada.
Buchanan did the extensive and meticulous research necessary to make this story a successful historical fiction novel, putting the reader in 19th century Paris and exploring the gritty realities and hard choices of being a young dancer at the Paris Ballet.
"The Painted Girls" is written from the perspective of the two van Goetham sisters, trying to earn wages to keep their family off the streets.  Antoinette, a former ballet girl, gets the job as a talking extra in the stage adaption of L'Assommoir, an anthem to the poor working class and the struggles of poverty and alcoholism in Paris and usually considered Émile Zola's masterpiece.
Antoinette falls for a boy she meets on fated chance, Émile Abadie, who leads her down a twisted road of events with seedy characters, causing her to question her allegiance to her mother and sisters.  When Marie begins to shine as a ballet dancer, she begins modeling for Monsieur Degas, who pays her to mainly stand in fourth position as she models for him.  Degas makes numerous sketches of her, turning a few into paintings and one into the statuette Little Dancer Aged 14 that caused uproar in the art world.
As Marie received harsh criticism as a model and as a dancer, she must face the cruel realities of being a dancer in 19th century Paris, struggling to make ends meet to feed her family. Buchanan writes with honesty about the uneasy relationship between an artist and his muse, showing the vulnerability of a young dancer striving to rise up the ranks in the Ópera and still earn a living.
Buchanan's writing is powerful and absorbing, showing the darker side of the famed Paris Ópera Ballet, a road marked with exhausted dancers with tarnished ambitions. The plot is enchanting and the characters are irresistible.
This historical fiction exceeds the simple descriptions of a love story or a mystery; Buchanan writes in her elegant prose, a tale of heartbreak, hope, and brutal honesty about the despair of life living in the slums of Paris and trying to transcend poverty by studying to becoming an Etoilé at the Ópera.
Title: "The Painted Girls"
Author: Cathy Marie Buchanan
Publisher: Riverhead Books
Price: $27.95, hardback, 357 pages, $14.99, Kindle or iBook
Rating: A+