Posted March 16, 2016
By DEVON-ASHLEY WADE
Some readers are Rihanna fans and are familiar with her sexually provocative imagery and wild style in, "Good Girl Gone Bad." The Rihanna who casts an image as an innocent Bajan princess also offered an edgier impression by wearing slip dresses and translucent gowns. She's the girl ready to snap at anyone who gets in her way.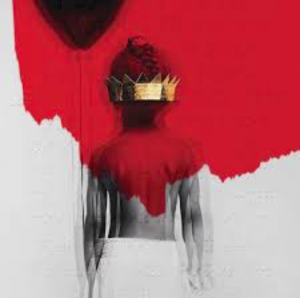 But the Rihanna you don't know is the "ANTI" Rihanna.
This Grammy-winner has given her fans what they have been waiting for with her eighth studio album, her first in more than three years since her 2012 "Unapologetic."
And with fans' eyes sparkling with anticipation, the hope for something good was all they could have asked for.
The truth is, "ANTI" is a great album consisting of an augmented and organized narrative arc about self-isolation.
If you have been a loyal Rihanna fan from "Umbrella" to "Diamonds" and "Only Girl," you will probably notice the difference in the style of this album compared to her previous ones. "ANTI" does not consist of upbeat radio hits, which does not make it an influenced club track.
For sure, Rihanna takes her fans on a music journey of understanding how her latest attitude is about, "I'll do what I want." The "ANTI" cover art depicts Rihanna as a little girl with her eyes covered by a crown and holding a balloon. The fire hydrant red draped on her is associated with her determination, power and desire for independence.
In this album, Rihanna still conveys her edgy personality. Compared to her previous albums, there is more experimentation with the vocals and sounds. The timbre of her voice changes as she transitions from a neo-soul flow in her song, "Consideration," to a pop star projecting major pipes over orchestration in "Love on the Brain."
"ANTI" consists of three basic elements of music, rhythm (retro beats), melody (high and low notes) and harmony (guitar strings that serve as a filler between the melodies.) In this album, "Bad Gal RiRi" is back conveying a serious, provocative and mysterious persona.
"Consideration (feat. SZA)": "I got to do things my own way, darling." One of the first lines of her lyrics in this introduction track amplifies the overall idea of this album, which is, "I'll do what I want." Featured in this track is SZA, a rising singer-songwriter, which contributed to a great vocal collaboration conveying the settle mood of the piece about cutting ties. In this track especially, Rihanna's Bajan accent was very evident, as she would switch from singing to rapping. The single fuses a down-tempo tune with a retro beat. This collaboration between the pop queen and a rising star truly sets the mood and a basic understanding of what will unfold in the rest of the album.
"James Joint": Depending on the style of music you prefer, this track may not be that catchy or interesting to listen to. The sounds make it a dream-like piece mixing themes of true love and marijuana. For example, "I'd rather be smoking weed, whenever we breathe," says Rihanna. It's a very simple piece that lasts only a minute, but still adds value to the message of "ANTI."
"Kiss It Better": The introduction to this track includes an electric guitar, which draws one to believe that it is a rock-inspired love song. Including the guitar and back-up vocals are very instrumental, because they build the momentum of this song. For example, "What are you willing to do, oh tell me what you're willing to do," sung by back-up vocals. This line mends the idea of putting back together the broken pieces in a relationship. The instrumentation and the richness of Rihanna's voice make this piece enjoyable to listen to.
"Work": If you are interested in a reggae-influenced club track including a lot of syncopation that drives your body to feel the music, then you will enjoy this song. When you see that Drake is the featured artist, a rush of excitement instantly goes through you. It was six years ago that Rihanna collaborated in a single with Drake, "What's My Name," so that alone draws fans to listen to their new creation. This track was the first single to drop from "ANTI," and after hearing it for the first time all you can say is that it has an amazing electric vibe. Rihanna's vocals are simply stumbling and fumbling around as she is repeating, "work." Most of the lyrics are left under Drake's control, which is quite ironic. So, in comparison to the other tracks of this album, it looks like "Work" will be one of the tracks drawing you to the dance floor.
"Desperado": This track was a disappointment. It was ironic to see how this piece followed "Work," considering the tempo was very slow and the lyrics focus on conveying an idea on the importance of companionship. Not to mention, the theme presented in this track brings listeners back from a club style to a more settle mood.
"Woo": The main idea of this track is that Rihanna is comparing herself to her ex-boyfriend's next. It begins with militant and echo-y sounds. She sings: "I bet she could never make you cry, cause the scars on your heart are still mine…Too bad she just eating off your dreams. Let me know when you're ready to plea. Maybe you just need to send for me."
"Needed Me": If you love Rihanna's wild style, this song may be just what you're seeking. Rihanna shows how "savage" she can be. The instrumentation includes bass triggers and electronic sounds, which bring out the savage within you. This is definitely a track that gets you out of your seat.
"Yeah, I Said It": On the other hand, a more soothing and tranquil vibe can be found in this song. In particular, it is not the most appropriate to listen to in any environment. It includes some explicit language not appropriate for younger listeners. However, the two-minute track leaves one yearning for a more hot and whimsy sound.
"Same Ol' Mistakes": Based on the title of this track, one can make sense of what the song is about. Rihanna touches on the regrets of her past mistakes. The style of its instrumentation can be classified as a pop-rock feel, consisting of gradual transitions from a laid back mood to one of intense vocals.
"Never Ending": Once again the guitar reappears. Unlike what was presented in "Kiss it Better," the genre of this piece is leaned more towards country. The soft back up vocals and acoustic melody illustrates Rihanna performing in a peaceful environment. Just like her lyrics, "Lost in the mirror, I knew your face once, but now it's unclear," it is slightly unclear whether this is a melancholic love song or not.
"Love On The Brain": It took only a second or two to fall in love with this track. The exchange between whiny vocals, all-tenor backup vocals and the band brought upon a cohesive orchestration. The lyrics build a mental picture of an addictive relationship. For example, "Baby you got me like ah, woo, ah don't you stop loving me, don't quit loving me, just stop loving me."
"Close To You": Concluding the album is a slow track narrating a story that rests along the instrumentals of the piano. This is not the best way to end the album. However, as it comes to an end, it leaves one with a soothing after taste to indulge in everything they just heard.
Throughout "ANTI," Rihanna explores her unhappiness and longing for independence, but, most importantly, she finds her most compelling voice yet.
Rihanna
"ANTI"
Label: Def Jam Recordings
Digital Release: Jan. 29, 2016
Physical CD in both standard and deluxe formats release: Feb. 5, 2016
Featured Artists: Drake, SZA
Features: Contains explicit language, regular album and deluxe album version available
Price: $11.99 for regular album download on iTunes, $13.99 for deluxe album download on iTunes, $15.88 for audio CD from Amazon, $13.99 for regular album at Best Buy stores, $16.99 for deluxe album at Best Buy stores
Four stars