Posted February 26, 2015
By COURTNEY BARICH
My advice for "Fifty Shades of Grey": Save your money.
Do not waste $20 like I did on this sad excuse for a movie. After reading all three books, I was overjoyed to discover that Christian Grey would come to life on the big screen. I was sadly disappointed within the first 20 minutes of the film. I have three main critiques of the film, which I will discuss: I found it unrealistic, overdramatic, and misogynistic.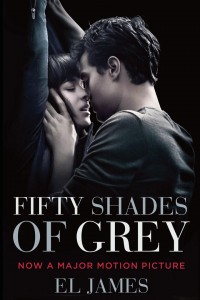 Sam Taylor-Johnson's adaptation of the novel stars Dakota Johnson as Anastasia Steele and Jamie Dornan as Christian Grey. Dakota Johnson as Anastasia Steele is not the same narrator-heroine as she is in the books. She begins mousy and uncoordinated and doesn't grow into herself at all by the end of the film.
Grey is a reclusive, young billionaire with an extreme Bondage, Domination, Sadism, and Masochism fetish. The film follows Anastasia Steele, an ordinary college senior, as she falls under Grey's "spell."
In the books by EL James, Christian Grey is an idyllic sex symbol, attractive or intriguing to most. However, in the movie, Grey is a predator. He tells Anastasia he is "incapable of leaving her alone."
If a man proposed a bulky contract combined with this one-liner before we could have relations, I would have the Special Victims Unit on the line faster than you could say SVU. But, Anastasia is a glutton for punishment and can't get enough of Christian Grey's abuse.
Although Christian writes into the contract a clause calling for a date like "normal people" once a week, I did not see a shred of romance in this relationship. From my eyes, the film shows a vicious cycle of abuse and manipulation.
As a young woman just the same age as Anastasia Steele, I was disturbed by her compliance with this situation. Anastasia has no sense of self, and is far too comfortable submitting herself to be a sex slave. What kind of message does this send to young girls? If a sexy man with a helicopter comes and buys me a car and whisks me away, does this mean I should let him keep me captive as a sexual prisoner? What happened to graduating college and finding a job? Apparently this notion is not in the cards for Steele.
Clearly my peers around the country did not feel as strongly as I did, since the film grossed a massive $81.7 million during the three-day stretch of Valentine's weekend. Perhaps my expectations for the film were set too high. After all, how could an erotic novel truly stay true to form while remaining appropriate enough for a widescreen commercial release? Much of the novel's obsession with style and money was portrayed in the film but the acting and emotion were not fully there.
My next question is: Why does Grey hold women at such a demeaning level? The film spends about two minutes explaining that Christian was adopted from a drug-addict, prostitute mother who passed away in his youth. The film also mentions a "Mrs. Robinson"-esque character that introduces Christian to BDSM at the ripe age of 15.
It seems as if the film is blaming women, and pointing fingers at the women who were supposed to be role models to Christian but abused him. I do not take pity on Christian Grey. While it is a shame that a friend of his mother's was able to seduce him and keep him as her submissive for six years, Mr. Grey is a shrewd man and knew what he was getting himself into.
However, the film was so poorly done that it's hard to say whether or not it will have any sort of political or social impact due to its lack of overall substance. The directing lacked emotion, substance and left out important details of the novel. I find it hard to believe that the romantics found this film satisfying on Valentine's Day weekend.
The film's only saving grace is the wonderful soundtrack. Annie Lennox performs a soulful cover of "I Put A Spell On You" to open the 16-track album. The film also boasts tracks from Beyoncé, Sia, The Weeknd, Ellie Goulding, and more. The music is the only thing the film got right. These tracks were sultry and can definitely be used during a consensual, less sordid sexual encounter.
As usual, most novels are better left in literary form. "Fifty Shades of Grey" should remain on the bookshelves, not on the big screen. In conclusion, please save your precious dollars and skip this flick. The curiosity factor is not enough to satiate an enormous audience. The acting felt contrived and overdone. A soap opera holds the same artistic merit and melodrama.
"Fifty Shades of Grey"
Director: Sam Taylor-Johnson
Release date: Feb. 13, 2015
Adapted from: "Fifty Shades of Grey," E.L. James
Rated R, Drama/Erotic
Length: 2 hours and 5 minutes