Posted April 1, 2021
"Later"
By Stephen King
By STAN SPIEGELMAN
Award winning best-selling author Stephen King returns to the Hard Case Crime category with the novel "Later."
"King is an American author of contemporary horror, supernatural fiction, suspense, science fiction, and fantasy. King has published seven novels under the pen name Richard Bachman. Many of his stories are set in his home state of Maine," according to Wiki fandom by Stephen King.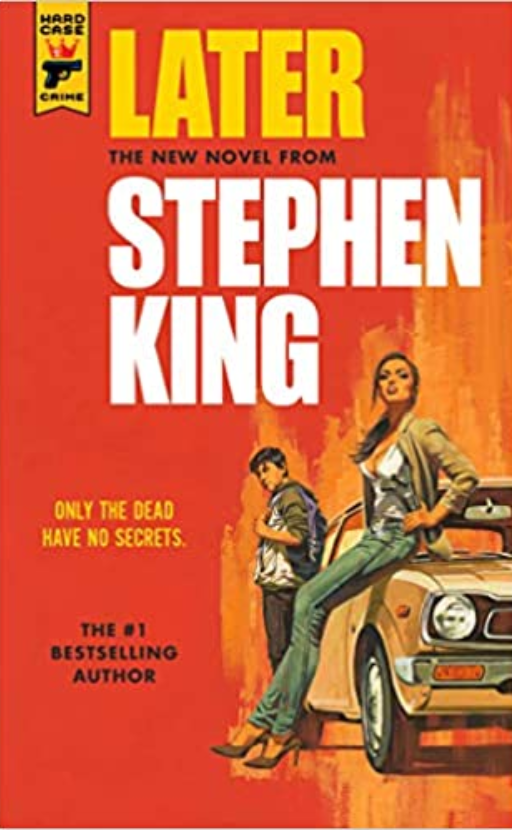 King has written two books in Hard Case Crime before, "The Colorado Kid" and "Joyland." Both novels were New York Time bestsellers.  
"Later" is told from the perspective of 22-year-old Jamie Conklin. The story intertwines between the now and "later" perspective. This narrative gives it a coming-of-age story to highlight the growth of Jamie.
Like M. Night Shyamalan's paranormal thriller "The Six Sense," Jamie has a unique ability to see and communicate with the dead for roughly a week. Any question asked between the dead and Jamie is all true statements. They cannot lie to Jamie.
"Dead people have to answer your questions — at least until they disappear — and they have to tell the truth. So I just cut to the chase," Jamie says early in the novel.
From the age of six, Jamie was not affected by his connection with the dead. He treated it as if it was like being good at a sport. However, his abilities were manipulated by adults, including his mother, Tia Conklin.
Tia runs a literary agency facing financial closure following the recession of 2008. She took over the agency from her brother, Harry, who suffers from Alzheimer's. Her best author, Regis Thomas, passes away before the completion of his 10th and final book in the series. Tia calls upon Jamie's power to speak with Regis, and ultimately figure out the content for Tia to draft the final book herself and save the company.
He was a young boy when this happened. Asking a nine-year-old to save his mother and himself from a financial disaster is unprecedent. And it gets worse than that.
Tia's girlfriend at the time Liz Dutton, became aware of Jamie's ability and never was the same. She was already a corrupt police officer, and this was the icing on the cake. Using Jamie for her career benefits leads him down a dark and gloomy path.
King has been influenced by writing since an early age. He attended the grammar school in Durham, N.C., before attending the University of Maine. While at the grammar school, King sold stories based on movies to classmates. He was forced to return the profits once teachers at the school became aware of the situation.
At the University of Maine, he wrote a weekly column for the newspaper and was graduated with a B.A. in English.
King has been a professional writer for 54 years. Alongside authoring novels and short stories, King has worked as a script writer, movie producer, and actor.
His books have sold more than 350 million copies, according to the Stephen King website. Many of his novels have become films, television shows, and comic books.
King keeps readers pealed in the 252-page novel with scenes stuffed with drugs and a vile drug lord. "Later" is similar to King's previous Hard Case Crime novel, "Joyland." with main characters facing difficult childhoods and have women at the forefront of their lives. In "Joyland," Devin is with his first love. In "Later," Jamie has Tia. Both relationships are close, yet peculiar.
As the plot thickens, so does the blood in Jamie's skin. He is facing reality with his mother's alcoholism. And the more people that now about his abilities, the more people that can communicate with the dead.
"Later" is more than a Hard Case Crime story. The inner battle between reality and the dead is the true test for Jamie. Does Jamie allow people to control himself, or does he create his own narrative? King does not disappoint readers, like many of his novels, everything is molded together and has purpose.
"Later"
By Stephen King
Publisher: Hard Case Crime
252 pp.
Fiction, hard case crime
Audiobook narrated by Seth Numrich, $22.67
$9.99 Kindle and $14.95 paperback