Posted March 7, 2013
By NICKY DIAZ
It's an understatement to say that Steven Soderbergh has made significant contributions to the film industry; especially considering his filmography includes "Ocean's Eleven" and "Traffic."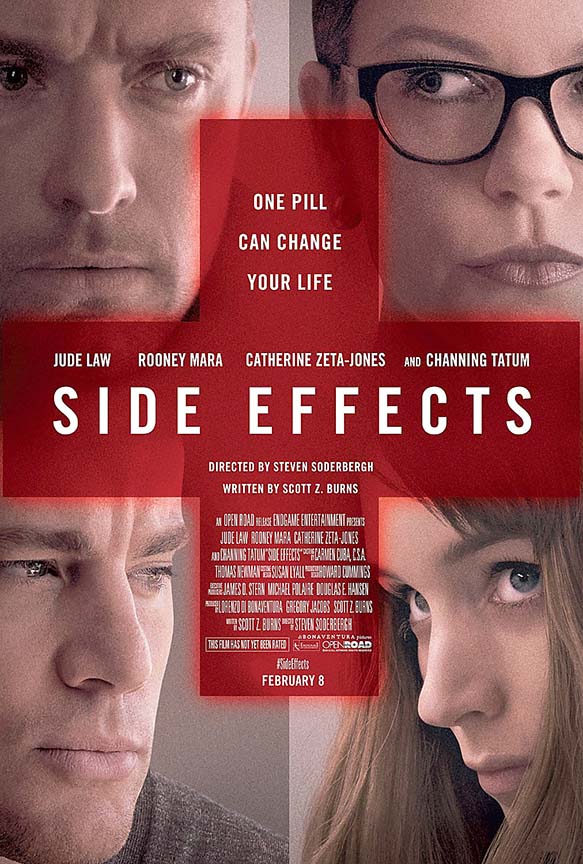 So when the 50-year-old director said the recently released "Side Effects" would be the last feature film of his career, many were disappointed.
Fortunately for audiences, though, Soderbergh made sure to leave Hollywood on a good note … to say the least.
"Side Effects" – which features an all-star cast with Rooney Mara, Jude Law, Catherine Zeta-Jones and Channing Tatum – is the best psychological thriller since "Black Swan." There's no doubt that the film's complex plot, talented cast and beautiful cinematography will be recognized during next year's award season.
The film opens with Mara's character, Emily Taylor, preparing for her husband Martin Taylor's (Tatum) release after a four-year prison sentence for insider trading. His transition back home is difficult for Emily and so she starts to see a psychiatrist, Dr. Jonathan Banks (Law). After consulting with her previous psychiatrist Victoria Siebert (Zeta-Jones), Dr. Banks tries out several medications on Emily. And that's when the madness starts.
If anything else were revealed about the film's plot, it would be spoiled. The plot's complex twists and turns are entertaining and thrilling. Although "Side Effects" isn't slow, it really picks up midway. From then on, the audience members are on the edges of their seats. Chances are you'll be shocked, scared, confused and nervous all at once for 50 minutes straight.
Despite the complex plot, the film is easy to follow. Scott Z. Burns' script is concise – no fluff or unnecessary scenes – yet it manages to explain everything thoroughly. And for those who think the film will be predictable and just another one of the lame action movies we've been plagued with so far in 2013, you're wrong.
Not only does the original and exhilarating storyline make "Side Effects" stand out, but so do the incredible performances by Law and Mara. The actors were required to explore uncharted territory with this movie's inventive plot yet they both gave incredible performances.
This isn't surprising though considering Law's and Mara's recent incredible performances in "Contagion" and "The Girl With The Dragon Tattoo," respectively. Law – as well as Zeta-Jones and Tatum – have actually worked with Soderbergh before.
The movie's stunning cinematography also captures audiences. The angles of the shots and the editing add depth to every single scene. From beginning to end, "Side Effects" is visually striking and breathtaking. Every close-up shot adds to the intense moments; every blurred effect or focused shot sets the mood for each scene. Especially when combined with composer Thomas Newman's flawless score, the film's cinematography is sure to captivate viewers.
"Side Effects" is simply suspenseful, original, captivating and well-done. Soderbergh and Burns don't disappoint in this thriller, which takes the best of the psychological and mystery genres to create 2013's first notable film.
If you haven't gotten the point yet, "Side Effects" is definitely worth the $11 movie ticket and $6 popcorn.
Title: "Side Effects"
Release date and distributor: Feb. 8, 2013; Open Road Films
Leading actors, actresses: Jude Law, Rooney Mara, Catherine Zeta-Jones, Channing Tatum
Director: Steven Soderbergh
Run time: 106 minutes
MPAA rating: R
Personal rating: 4.5/5 stars