Posted February 26, 2015
"It Was Me All Along"
By Andie Mitchell
By: EMILY JOSEPH
At 20 years old, author Andie Mitchell had been overweight for her entire life. From a young girl pining after a third cupcake to a college freshman gorging on late night snacks, her emotional attachment and addiction to food grew, as did her body. Not until she stepped on the scale on her 20th birthday did Mitchell realize her destructive relationship with food. A relationship that would take her years to mend.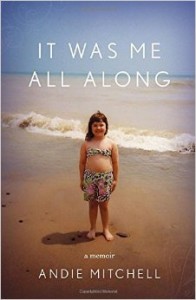 In "It Was Me All Along," food blogger Mitchell chronicles her 135-pound weight loss journey and openly discusses the struggles she faced on both ends of the weight spectrum. Through deeply personal thoughts and stories she recounts her entire journey as if writing to a best friend.
Growing up, Mitchell spent most of her time alone. While her mother worked multiple jobs to provide for their family, her alcoholic father and lack of a stable home life led Mitchell to seek comfort in food. Late night binges on Oreos and cereal filled the void from a troubled childhood.
While she resigned herself to a life of obesity, she flourished in other aspects of life. She had friends, she was prom queen, she had boyfriends, she started college and she was content. Yet she longed for more. She longed for change. She soon realized that change is not just hard, but scary.
As Mitchell relates, the process of losing weight is more than calories in versus calories out. That's exactly where this book differs from traditional weight loss stories. Mitchell faces emotional turmoil, which, while typical for a life-changing journey, is overshadowed by the result of a smaller figure. She had to learn to deal with problems instead of turning to food for an escape.
At the start of a semester abroad, Mitchell, faced with an array of fresh Italian food found herself at odds. What made her think she could continue a weight loss journey while in the world capital of pizza and pasta? Oddly enough, in Italy, she further improved her food peace. Learning that moderation made all foods possible and that movement and exercise wasn't torture, Mitchell seemed on the fast track to success.
Yet, like most things in life, there is no easy fix. Just as she thinks she's made it, Mitchell learns that a number on the scale does not equal happiness. Happiness, she discovers, has nothing to do with her weight and everything to do with her mindset, something that needed work.
Mitchell's discusses her fears of gaining back weight and being a "failure," both of which anyone who has lost weight or battled with food addictions can relate. Not everything is easy across the finish line and the other side of weight loss can involve the obsession with food and exercise. Ironically, as Mitchell thought she was healing herself through diet and intense exercise, she learns she was only abusing her body in a different way.
By learning that food isn't inherently "good" or "bad" and that enjoyment and satisfaction from meals can't be quantified in calories, Mitchell discovered balance. A balance she still battles with today, although in a healthy and progressive mindset.
As much as this is a weight loss book, it's also a story of self-discovery and self-acceptance. It's a story of a woman who, while she spent half her life overweight, refuses to dismiss or label her past. The person she was at a size 16 was the person she was at a size 16 and Mitchell is not embarrassed. She knows what it feels like to be both the fat girl and the skinny girl but chooses to respect those times and cherish the happy memories.
Now 28 years old and at her assumed "happy weight," Mitchell admits to continual growth. Never viewing fat and skinny as black and white and appreciating the person she was at both sizes.
While her journey may not be entirely relatable, as food addiction isn't universal and not everyone gets to meet Leonardo DiCaprio (yes, Mitchell met him), this book is an inspiring story of a woman reclaiming her life. Yet for those who do struggle with food and weight, Mitchell's account will hit home, remind you that you are not alone, and provide just the motivation needed to continue on a path toward success.
"It Was Me All Along" by Andie Mitchell
Clarkson Potter Publisher
$24
Released: Jan. 6, 2015
Reviewer rating: 4/5 stars