Posted March 23, 2014
By KASSANDRA MEYER
Right when you thought the female indie rock genre has been played out so many times, 27-year-old Angel Olsen comes along and proves otherwise; carrying with her a fresh, yet retro, sound when technology and cool sonic manipulations dominate the scene.
Olsen's second album, "Burn Your Fire for No Witness," isn't an experimental piece of work by anyone's standards, but it represents a vast step forward for Olsen.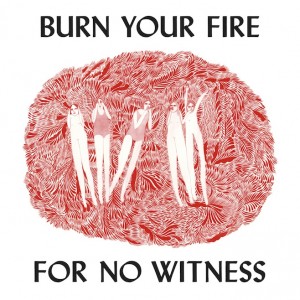 Olsen touches the core, transporting us to places we have gone and long forgotten. It is nice to see someone who still embraces sparse instrumentation and instills its emotional relevance.
Lorde's naïve themes and electronic restraints or St.Vincent's complex guitar lines accompanied with her plethora of pedals —try to capture Olsen's emotional depth, but fall short.
Olsen, on the other hand, with minimal strumming guitar, enchanting vocals and unpretentious style, lays her heart out on her sleeve.   She first arrived on the scene with her 2012 album "Half Way Home."  Unmistakably, Olsen was noticed and her album was revered, but in the way you can only really admire from a distance.  "Half Way Home" sounded like the sort of record you might dig up at a southern flea market.
Olsen's voice was a ghostly operatic trill and it danced above her bare acoustic folk and old-timey country songs like a flame flickering from a match. It sounded like some ancient relic, though one in miraculously mint condition, and its mysterious distance made for much of its appeal.
Now for her new album, Olsen is signed to Jagjaguwar –same label as Bon Iver — and living in Asheville, N.C.  Musically, she's changed everything, combining her ghostly folk with some beautifully executed 1990s —style indie fuzz and alt-country detours. But the great thing about the new album is this: Olsen suddenly sounds like a real person, not like some long-dead ancestor whispering to you in a dream.
In her new album, Olsen's voice still soars, but with added potency from a full band and John Congelton's subtly muscular production. Recorded in an abandoned chapel, it's an intimate collection of songs ranging from the chugging, distorted "Forgiven/Forgotten" to the sprawling "High & Wild" and the understated yet cathartic "Enemy."
The majority of "Burn Your Fire for No Witness" revels in personal angst, proposing that the human condition is defined by our ability to trick ourselves into feeling comfortable while ignoring the chaos that surrounds us. That jaded worldview is especially present on the sparse, two-minute opener "Unfucktheworld" where Olsen suggests that devoting oneself to other people simply serves as a distraction from one's past mistakes and lack of self-worth.
The song's gentle strumming and steady gallop bares her voice, a between cross between Karen Dalton's seductive harshness and Patsy Cline's rich tone.  She admits to a new love, "I started dancing, just to be around you" and later stops herself from getting too close, "It's not just me for you, I have to look out too, I have to save my life, I need some peace of mind." Olsen convinces herself, over and over again the reasons to be alone; but ultimately breaks down, and reveals her true reason, as singing repeatedly, "you may not be around."
This act of meaning making recurs as a theme throughout the album. In the song, "Stars," for example, Olsen wishes to "have the voice of everything" and in a moment of hatefulness and hurt realizes that the strength of fury results in the power she had been seeking all along.
But, on "Dance Slow Decades," Olsen realizes that everything she thought was true might not be, that everything is based on perception. The subjectivity of experience allows one person to think a love could matter so much and another to treat it like nothing. Olsen sings "Don't look around, it's not right, it's not wrong. Dance because you know the song. I dance because I know this one." The reclaiming of dance for herself and not tying it to another allows her to love again.
As the Joan of Arc of shivering croons, Olsen is fearless and vulnerable.  Her lyrics are full of honesty, done with unapologetic certainty, even if the rhymes are sometimes predictable, she stands by them. Listening to her album, you feel a sense of ease and at times relief, almost as if you were sharing your worries and fears to a close friend.
According to Olsen, these songs rose out of a year of "heartbreak, travel, and transformation," but this is not your typical set of sad songs. Instead, it's more a record about what sad songs, what expression, can do for the sadness itself.
Artist: Angel Olsen
Album: "Burn Your Fire for No Witness"
Label: Jagjaguwar
Released: Feb.18, 2014.
Price: iTunes $9.99, CD $14, vinyl $18, cassette $8.
Reviewer Rating: 5 out of 5.