Posted March 7, 2013
"Flight Behavior"
Barbara Kingsolver
By ISABEL BRADOR
Award-winning author Barbara Kingsolver leads readers into the small farm world of southern Appalachia once more in her 14th book, "Flight Behavior."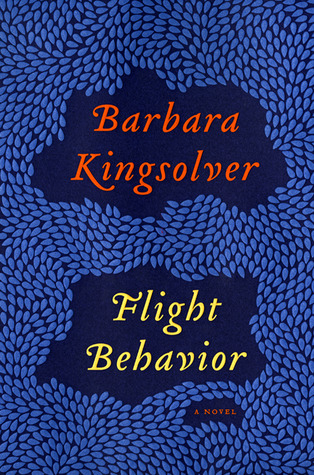 While filled with vivid descriptions, colorful analogies and very real characters, the novel does at times seems a bit lengthy.
Kingsolver masterfully crafts each analogy and metaphor to draw the reader into the life of an economically disadvantage family. The scenes dedicated to thrift store shopping, the inner monologues which cover a range of worries from threadbare clothes to unpaid light bills, and the joy felt over opening a savings account make Kingsolver's characters strikingly real portraits of everyday Americans who live in poverty.
While Kingsolver receives kudos for accurately capturing the essence of reality, she could attempt to do so in fewer words. The book teeters on the edge of being painfully long. Some scenes, such as when Dellarobia — the main character of the story — and her husband are having an intense argument in the Dollar store, are well written, but seem painfully long.
Despite some of the slow scenes, the overall pace of the book is fast enough to keep Kingsolver's reader's genuinely interested. The relationships between the characters in the story mimic many of the relationships in real life, and may cause a sense of déjà vu for many readers (i.e., the relationship between Dellarobia  and her dominating mother in law).
The relationship between Dellarobia and her husband may also inspire readers to recall snippets of information heard from their marriage counselors. The scenes describing the lack of love and overall annoyance that Dellarobia feels around her husband almost seem too real and personal, but are part of the characterizations that are Kingsolver's crowning achievements.
Also, Dellarobia's overwhelming feeling of  being "stuck" is something to which all readers can relate. The scenes that reveal she hasn't gone out to eat in more than  two years, her feeling of isolation from the real world since she stopped working, and the sense of loss over not having gone to college cause Kingsolver's audience to genuinely root for Dellarobia.
Readers feel concern, sympathy and maybe even an inkling of familiarity as Dellarobia still struggles to accept events in her life; like the hasty wedding to her husband at the age of 17 due to an unplanned pregnancy.
Yet, by the end of the reader's journey through southern Appalachia, Kingsolver has worked her magic; she's not only inspired here readers but perhaps imparted a bit of wisdom she picked up along the way.  Through realistic characters and fluid storytelling, Kingsolver manages to turn an average story plot about environmental disaster into a heartfelt story. She manages to communicate the  idea that life is composed of various choices an individual makes rather than a series of unplanned  events.
Kingsolver has written 14 books, which have been translated into more than  20 languages. She was awarded the National Humanities Medal in 2000, for service through the arts. She is also the recipient of Britain's Orange Prize in 2010 and the Dayton Literary Peace Prize in 2011. Kingsolver now lives on a farm in southern Appalachia with her family.
"Flight Behavior" by Barbara Kingsolver
Harper Collins Publisher, 2012
Released in November  2012
Available in hard cover at bookstores and at Amazon.com
Price: $28.99.
Reviewer's rating: 4 out of 5 stars