Posted March 29, 2013
By NANCY CERMENO
Norman Bates, the "Psycho" killer, is back with a sweet face and a mostly kind heart in "Bates Motel," a prequel to the 1960s film.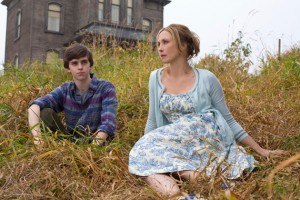 According to Nielsen ratings, three million viewers tuned in to the new series from A&E, which premiered on at 10 p.m., Monday, March 18, 2013. The series is scheduled for 10 episodes in the first season.
Hitchcock's classic is considered one of the first psychoanalytical thrillers to make it to the big screen and "Bates Motel" rides the Freudian train into the adolescent mind of one of the greatest villains of all time.
Fans of the movie are taken back to the quintessential scary house on the hill where "mother" was tucked away. The production team's precise re-creation of the home is admirable and panders to the reminiscent viewer.
Norman Bates and his mother Norma dress and act like they came out of an early 1960s episode of the twilight zone. The first few minutes make it seem like an accurate guess until you see a modern BMW and teenaged girls with iPhones!?!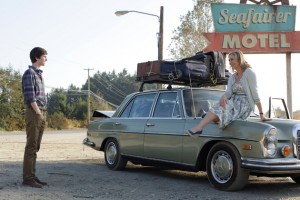 Bates relationship with his mother brings to mind "momism," a 1950s term coined by Philip Wylie. "Momism" was used to describe mothers who hovered over their sons' psyche and developed co-dependent relationships with them.
Perhaps the anachronism serves to add to the strangeness of the Bates family. Their relationship is atypical not unlike the town they chose to settle down in, White Pine Bay, Ore.
Norman's unusualness quickly attracts the short attention spans of some girls from his high school. Later, the girls come over to invite him to "study" but his mom denies him a social life under the guise of protecting him, and one already begins to question her sinister motives.
Norman sneaks out his window, with his books in tow, showing his naivety. The girls take him to a party instead where he struggles to socialize.
Back at home; Norma is attacked by the former owner of the Bates Motel, Keith Summers, a local drunk who lost the property to foreclosure. Summers rapes Norma, who screams for Norman. He makes it back only to see his mother being raped and he attacks Summers.
Soon the blood begins to spill, which sparks the beginning of the end of innocence for Norman. His blind obedience to his mother and his willingness to do anything for her foreshadows the psychotic killer's future.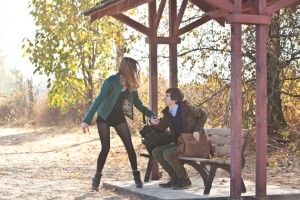 "Well, uh – a boy's best friend is his mother," is a line made famous by Bates in the Hitchcock film. "Bates Motel" is built on that one line and mommy dearest is a force to be reckoned with.
Young Norman is played by Freddie Highmore, who as a child actor co-starred with Kate Winslet and Johnny Depp in "Finding Neverland," and again with Depp in "Charlie and the Chocolate Factory." Highmore's acting has been acceptable thus far, but he will have to prove himself as the iconic Norman Bates becomes deranged.
You might recognize Mrs. Bates, Vera Farmiga, as Leonardo DiCaprio's lover in "The Departed," or from "Up in the Air," which got her the Academy Award nomination for Best Supporting Actress. She would make anyone's list of top 10 sexy moms, but in "Bates Motel" her sex appeal is disturbing.
Farmiga's acting as a manipulative mother with an ominous presence is spot on. She is more haunting then Norman by a long shot, and she should be if you remember the end of "Pycho."
Darkness stirs beneath the town of White Pine Bay. There is something odd yet seemingly normal about the townspeople. It takes a village to raise a psychotic killer and White Pine Bay might be what breaks Norman.
The show's promise is that we will see Norman Bates become the taxidermist with a murderous urge.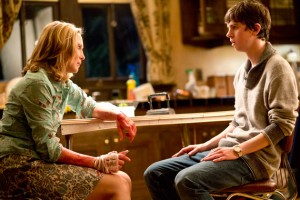 In the first episode, he finds depraved illustrations of women. By the second episode there is a hint at how he picks up taxidermy and more is revealed about the town. Norman Bates is quickly going downward and the pacing of the show is just right.
The first two episodes are enough to intrigue lovers of the horror genre, especially fans of "Psycho." Yes, it is the recycling of a character, but young Norman and his mother's influence have never been explored before.
The making of a modern killer has always been an interesting subject. When someone commits an evil act people want to know why. "Bates Motel" will have to answer those questions thoughtfully in order to stay interesting. The audience already knows there is no hope for Norman, but viewers will want to stay tuned for the how and why.
Bates Motel (2013)
Mondays at 10 p.m. on A&E
Genre: Horror/Drama
Starring: Freddie Highmore as Norman Bates and Vera Farmiga as Mrs. Norma Bates
Rating: 3.5 out of 5