Posted March 26, 2015
By AUDREY WINKELSAS
The age-old question of good versus evil is explored in a comical light in "Wicked."
The Broadway show's national tour is halfway through its Miami stop. The Adrienne Arsht Center for the Performing Arts is a perfect venue, easily accessible by both car and Metrorail. Getting there on Sunday afternoon was certainly no problem, as the cast performed to a nearly full house.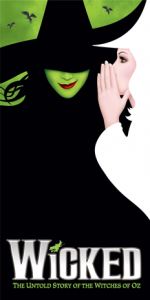 Based on the 1995 novel "Wicked: The Life and Times of the Wicked Witch of the West" by Gregory Maguire, this spin off the classic story "The Wonderful Wizard of Oz" explains that the Wicked Witch of the West is not so wicked, but rather misunderstood.
But don't expect to see Dorothy and little Toto. This story unfolds prior to Dorothy's arrival into the land of Oz, when Glinda the Good Witch and the Wicked Witch were girls.
Born green, Elphaba has always been the outcast. So it is surprising when a friendship evolves between Elphaba and Glinda, the popular, pretty, obnoxiously perky girl at school.
This tour company cast the roles of Elphaba (Emily Koch) and Glinda (Carrie St. Louis) very wisely.
St. Louis previously portrayed Sherrie in the hit "Rock of Ages" both on Broadway and in the Las Vegas production of the same musical.
A graduate of Carnegie Mellon, Koch's background includes regional performances of "Little Women," "ValueVille" and "In the Bones."
It is hard to believe Koch is the standby for Elphaba, as I cannot imagine a better pairing. The casting directors are phenomenal because the voices of Koch and St. Louis blend beautifully, as though the two are related.
It was made evident during the closing bows that Fiyero (Ashley Parker Angel), a prince adored by Glinda but who loved Elphaba, was amongst the crowd favorites, only topped by Elphaba and Glinda. Angel's soft, tenor voice lacked some authority, but it may have been this naivety that drew in audience members.
It was hardest for me to connect to the Wizard (John Davidson), partially due to his character flaws and partially due to his poor diction. Davidson's words were not always understandable, unlike Koch who sang very clearly.
The music and lyrics by Stephen Swartz are largely upbeat. This story succeeds in discussing issues such as political and social corruption while maintaining a light-hearted atmosphere good for the whole family.
Glinda makes up her own words like "confusifying" and "disrespectation," which always got a chuckle out of the audience.
Even when Dr. Dillamond (Michael DeVries), a professor at the school who happens to be a goat, is at risk of losing his right to speak like a person, one can't help but laugh when he sings "Something Ba-a-a-ad," indeed like a goat bleat.
With a combined résumé that includes Broadway hits "Oklahoma!" and "Cats" and TV programs "Law and Order" and "Sex and the City," it is not surprising the cast succeeded in drawing audience members into the world of Oz.
The costumes and props, such as Elphaba's emerald green skin, Dr. Dillamond's horns and an old bicycle with two very large wheels, help create the whimsical atmosphere.
The song "Defying Gravity" just before intermission was definitely one of the highlights of the show, incorporating special effects with a catchy melody and strong vocals. Elphaba quite literally defies gravity as she seemingly flies above the stage, escaping politics and evil for the sake of humanity and justice. How much more ideal could a story get to an audience which was born to love the tragic hero? With the roaring applause from the audience, I know that I was not the only one to feel this way.
This cast and crew did a phenomenal job accomplishing what they set out to do. I would recommend Miamians of all-ages see "Wicked" before it departs for the next stop on its national tour.
In town until March 29, "Wicked" is showing Tuesday through Saturday evenings at 8 p.m. and Sunday at 7 p.m., with matinees on Saturday and Sunday at 2 p.m. and 1 p.m., respectively.
Self-parking is available for $15 and valet parking for $25. Alternatively, take the Metrorail to Government Center where you can switch to the Metromover Outer Loop. The Adrienne Arsht Center has its own stop.
My criticism concerns a facet of the storyline, not the production itself.
Nessarose (Liana Hunt), Elphaba's sister, uses a Franklin Delano Roosevelt-esque wheelchair. Upon being asked by another classmate to go to a dance, she is ecstatic because she is about to have "the first happy night in her life." The 44 million people across the globe who have seen "Wicked" have been told that wheelchair users have no life, rarely ever have any fun, and are never happy.
Boq's asking Nessarose to the dance in the first place is a trick that Galinda pulls on him to get him away when he is annoying her. Of course, why else would anyone ask a girl in a wheelchair to a dance? Not out of genuine desire, at least according to "Wicked."
This complaint won't bother the majority of theater-goers, who innocently fail to realize the nonsense they are being fed. Regardless of the fact that only an "insignificant" portion of the population notices and is upset by this, it injures society and is sad to think that such ableism is engrained in the current "cultural phenomenon," as "Variety" magazine describes "Wicked."
But who am I to criticize this winner of a Grammy and three Tony Awards?
What: "Wicked" by Stephen Swartz
Where: Adrienne Arsht Center for the Performing Arts of Miami-Dade County,
1300 Biscayne Blvd.
When: until March 29, Tuesday – Friday, 8 p.m., Saturday, 2 p.m. and 8 p.m., Sunday, 1 p.m. and 7 p.m.
Tickets: $49 – $225,
305-949-6722
Getting there: Self-parking, $15, valet, $25; Metromover Outer Loop