Posted March 17, 2013
By ELIZABETH DE ARMAS
Let's get straight to the point: Yes, this is another Nicholas Sparks romance. No, this is not the "The Notebook."
Nothing will ever top the Rachel McAdams and Ryan Gosling dynamic duo from 2004, but love meets thriller in "Safe Haven" and you may be in need of a tissue as the movie hits its pinnacle point: some blood, some saving, some passion and some fireworks.
An early disclaimer: I am a hopeless romantic and every love story makes my eyes water and my heart melt. However, I only shed a tear — or maybe two – toward the ending — on this one.
At first, you may think you've walked into the wrong movie. Director Lasse Hallström does not start off "Safe Haven" as your typical romantic movie like he did in "Dear John."
Instead, you see a woman, Julianne Hough, frantically running down the street looking for a safe place to hide.
Then Hough, who plays Katie, gets on a bus with a black hoodie covering her platinum blonde hair and shadowing her blue eyes. It's obvious she doesn't want to seem recognizable.
The bus takes her to Southport, a small town in North Carolina, where she begins a new life away from her difficult past. From then on, the movie unravels rather quickly.
"Safe Haven" is predictable once Katie meets Alex (played by Josh Duhamel), a widower with two children. He just so happens to be the only model looking man who lives in the town. And, Katie just so happens to be the only blonde bombshell.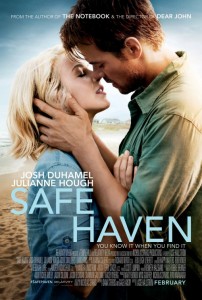 Katie plays hard to get, fails at it, and then the love affair takes off… until a ghost from Katie's past, who so happens to be a psycho cop, creeps into her present and tries to ruin her new life.
Of course it happens to be on the Fourth of July and the whole town is celebrating at Southport's traditional Independence Day parade.
And then there is Jo, played by Cobie Smulders, who so happens to be Katie's neighbor … even though she lives in the middle of what looks like a forest. And, no one in town seems to mention anyone named Jo.
Strange, isn't it?
Alex does a decent job playing the mother figure and father role to his kids. His acting is much more realistic than Katie's. You can see the emotions in Alex's eyes and body language, when he faces challenges, and when he starts falling in love.
But Katie is a little happy-go-lucky for my taste. Her acting doesn't seem as believable at times, especially when the bottle-breaking drama and scandal begins on the Fourth of July.
It's almost mechanical and seems staged. This is probably the reason a waterfall wasn't running down my face – I didn't feel it like I felt the passion you felt between Channing Tatum and Amanda Seyfried in "Dear John" or McAdams and Gosling in "The Notebook."
It is hard not to compare every Nicholas Sparks bestseller book turned movie to "The Notebook." The only movie that has ever come close – and not too close – is "P.S. I Love You," which is not even one of Sparks' novels.
Sometimes, romantic novels shouldn't be recreated into films. Sparks is way too good of a writer and, if people are watching the movies without reading his books, they won't know that his story is somewhat lost on the big screen (excluding "The Notebook," always).
Cinematography is not at its finest in "Safe Haven," but Hallström does pull it together. The little town of Southport is picture perfect – picket fences, water front diner, wood floors and friendly faces. It is the ideal place one would call safe – a haven.
All in all, "Safe Haven" is just like almost every romantic novel turned movie is – there is a handsome man who falls for a pretty woman (or vice versa) while something tries to tear them apart – but love eventually prevails. However, the continuous suspense and thrill of the plot gives "Safe Haven" the edge it needed to surpass cliché.
Movie: "Safe Haven"
Release date: Feb. 14, 2013
Distributor: Relativity Media
Lead cast: Josh Duhamel, Julianne Hough, David Lyons, Cobie Smulders
Director: Lasse Hallström
The movie soundtrack is available on iTunes and local stores such as Best Buy and Target. It features several artists such as Colbie Caillat, Gavin DeGraw, Ben Howard and Deborah Lurie.
Length of movie: 115 minutes
Rating: PG-13
Caution: The film does contain violence, sexuality and aggressive behavior
Screenings: The movie is playing at all local movie theaters. At Paragon Movie 13 in Coco Walk, University of Miami students get discounted ticket rates ($5) with proof of valid Cane ID from Mondays through Thursdays.
Review Rating: 3 out of 5 stars