Posted March 28, 2017
By HANYA ALKHAMIS
You may have heard about the LIV and Story nightclubs, both of which are owned by David Grutman. They are currently the largest, most extravagant night clubs in South Florida.
Grutman is a University of Florida finance graduate, but more importantly, he is an entrepreneur who never fails to surprise his fans with cutting edge, innovative ideas.
First, he opened an Asian fusion restaurant and lounge and now a new spot in the Design District: OTL.
Early this year, Grutman showcased his new form of art, going beyond nightclubs and fancy lounges.
OTL is a coffee, sandwiches, and pastry community hangout. This idea was no surprise to David Grutman, who wanted to be a part of everyone's daily lifestyle routine, going from the early morning to the late evening.
Unlike any typical restaurant, this approximately seven-thousand-squared-feet restaurant and café includes a creative space area upstairs on the second floor, for any designer's pop-ups. It can also be used for yoga and meditation classes.
According to customers and employees alike, there is no specific noun to define OTL. There is consensus that is it a place where you can perceive it however which way you desire, whether it is a coffee shop, a restaurant, a cafe, or anything else that comes to your mind. OTL has become, in the course of three short months, a lifestyle brand that appeals to the people of South Florida.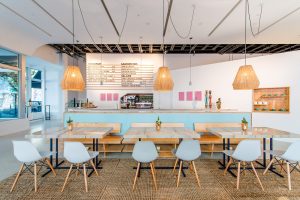 Grutman initially wanted to unify people from all around the area, including Wynwood, Little Haiti, and the Design District where OTL is located. However, there is no question that this is a place that will be appealing to people from all over the world.
I initially wondered about the name that was chosen for this surreal place. Why OTL? Mr. Grutman intimated that he wanted the name of this place to be as simple as a sticky note on a worker place cubical reading "Out To Lunch."
If you live close by, or happen to be having a shopping spree in the Design District, be sure to pass by and grab a bite of the delicious chicken curry sandwich, and if you're feeling up to it have a sip of the freshly brewed Iced latte.
The menu offering at OTL is a literal breath of fresh air. From fresh and tasty food, like the Vegan Avocado Toast and the Crunchy Kale Salad, to great service and knowledgeable servers, grabbing lunch at OTL is definitely a fresh experience.
If you are in the area in the morning and feel like having a fresh, exotic breakfast, at OTL you can find delectable options such as Overnite Oats (with coconut, chia seeds, and kiwi), Super Seed Butter Toast (with fresh berries on toasted brioche), or the more traditional Egg & Cheese Sandwich.
I need to come back to the two dishes that I mentioned originally, because they are both unique in their own way. The Avocado Toast comes with house pickled red onions, chili flakes, and cilantro on toasted sourdough.
This is an extremely green (i.e., healthy) explosion of flavor in your mouth. The perfect way to start the day. On the other hand, the Crunch Kale Salad offers an unbeatable contrast in flavor by combining creamy cashew vinaigrette with radish and croutons. These are dishes that you will want to keep having after you have tried them.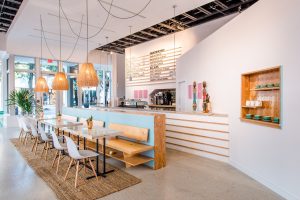 You don't even have to wait too long for the food to be at your reach. You might even catch a glimpse of David himself catching a conversation with visitors, or even helping out with the clean-up of the place.
This further enhance OTL's appeal as being more than a café and fine-dining establishment. OTL accommodates anyone's lifestyle and will surely become the third place for most who go through its doors (apart from their homes and their offices).
There are also sweets options for those with a sweet tooth in need of satisfaction. I have tried the three options (i.e., the oatmeal almond cookie, the chocolate and salt, and the banana quinoa muffin), and they are all to die for.
Moving on to the specific details of the place, the following will offer some basic point-by-point information that you will need to know to make the most of your experience at OTL.
Food: 4.5/ 5
Price: $$$
Service: Very welcoming, and kind, knowledgeable
Takes reservations: No
Delivery: No
Take outs: Yes
Outdoor seating: Yes
Disabled access: Yes, OTL has an easy access for the disabled
Attire: Casual
Noise level: Moderate; there is some music played in the background
Good for groups: Yes
Good for dates: Yes
Good for kids: Yes
Good for: Brunch and lunch
Accepts credit cards: Yes
Alcohol accessibility: Yes
Wi-Fi: Yes, and it is high speed as well
Parking: Available all around Design District
Location: Design District, 160 NE 40th St., Miami, Fla. 33137, USA.
Hours of operation:

Monday- Friday 8 a.m.-6 p.m.
Saturday- Sunday 9 a.m.-6 p.m.

Phone number: 786-953-7620
Website: www.otlmia.com