Posted February 12, 2015
"Introverts in Love: The Quiet Way to Happily Ever After"
By Sophia Dembling
By MELISSA SOTO
Sophia Dembling captivates the attention of introverts once again with a guide in love. "Introverts in Love: The Quiet Way to Happily Ever After," is a quick read for all the introverts who are determined to find love but can't seem to figure out how.
In this self-help book, Dembling uses her wit, honesty and empathy to advise the reader on how to begin a relationship with a fellow introvert or even a sociable extrovert.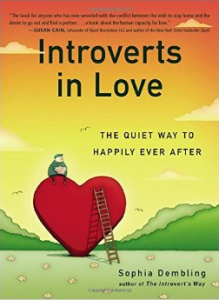 Whether they are a young introvert just beginning to date or an introvert who has been married for countless years, this book is a perfect lighthearted guide to dealing with relationship conflicts.
This is Dembling's second book in helping introverts find love. The first book in which Dembling wrote about introverts and love was "The Introverts Way: Living a Quiet Life in a Noisy World."
Dembling spends much of her time catering her writing to introverts. She publishes many articles online at Psychology Today. There, Dembling has a section known as the Introvert's Corner. She is also known for her travel writing where she has won two Cowell gold medals.
Dembling focuses not only on love but love from a feminist stance. She has also written " 100 Places Every Woman in the USA Should Go." She currently resides in Dallas with her introverted partner of 24 years and continues to write travel blogs but, more importantly inspiring, love guides.
Love is a complicated thing. When looking for a date, life partner or a way to spice up the marriage, one must really learn whom they are. Dembling says they must first identify the type of partner they are looking for. Are they looking for someone with similar characteristics, maybe an introvert? Or are they looking for someone completely different who will get them out of their comfort zone, like an extrovert?
Dembling takes the reader on a journey to seek the partner they should be looking for based on the type of introvert they are.
Dembling as well as Helen Fisher, a doctor in biological anthropology who has written five books of her own, assisted Dembling in this book, suggesting there are four personality traits that attract people to one another. These traits are known as the explorer, the builder, the director and the negotiator. Once the introvert figures out which they are as well as what trait they're looking for in a partner, their relationship days will become significantly easier.
Throughout the book, Dembling explains why introverts are "where it's at," meaning the qualities that make introverts so appealing. They enjoy silence, they never feel pressured to party, they won't pressure their partner into things they don't want to and finally they will be glad to engage in any type of introverted fun.
On the other hand, she tells us why it's so great to date an extrovert. Being around a lot of people and socializing with them for hours at an event can become mentally and physically exhausting for an introvert. If the introvert dates an extrovert, then they can live like an extrovert when they choose to while not putting in all the effort.
The introverts are able to receive all the benefits but still go back to their introverted ways as soon as they feel overwhelmed. Dembling continues the book with chapters focused on simple concepts such as how to make time for the new love in their life and how to deal with group activities.
The chapter that would appeal the most to an introvert reading this book would be "Just Show Up." Introverts have a difficult time getting out there and putting themselves in somewhat uncomfortable situations. In this chapter, Dembling suggests that introverts should say yes to any event that they think could be remotely enjoyable so the chances of them meeting a partner increase.
Dembling said "with an extrovert, you can start the conversation any old way, without any concern about sounding deep, or thoughtful, or even interesting." Saying yes to calling an extrovert is what Dembling also highlights in this chapter.
"Even if the extrovert happily swaps contact info with you, you might end up having to make the next move anyway, since you might be just one of a number of brand new best friends the extrovert made that week," she wrote. All in all, Dembling suggests to be outgoing as extroverts are all about making news friends and would love to hear from them.
Dembling has written yet another empowering book on relationships for introverts. Even though some chapters could have been left out, as they were somewhat repetitive, an introvert or someone dating an introvert will find this book to be beneficial in their relationship.