Posted Feb. 18, 2013
"Anatomy of a Single Girl"
By Daria Snadowsky
By NICKY DIAZ
Reading a young adult book once you're in your 20s or older can be tricky. Most of the novels in this genre are cheesy and it's almost impossible to relate to any of the characters. The conflicts seem mundane and the characters static.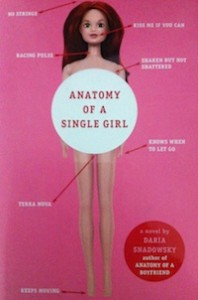 However, Daria Snadowsky manages to avoid the flaws found in most young adult novels in her latest release, "Anatomy of a Single Girl," and she offers a follow-up to her first book, "Anatomy of a Boyfriend."
Snadowsky – who is also a criminal defense lawyer in Nevada – makes her writing simple yet effective. It doesn't seem like she's trying too hard to relate to her readers; her writing doesn't seem forced. The novel tells the story of college premed Dominique who is trying to get back into the dating game after a bad breakup.
Told in first person, "Anatomy of a Single Girl" explores situations that many authors have attempted to touch on yet failed. Rather than jumping into a relationship, Dom tries having a friend with benefits while she's back home during summer break in Florida. Through this new relationship, she begins to question her values and expectations for relationships and love.
It might seem like the plot is unoriginal; so many books have been there and done that. OK, so maybe there are books that have tackled this same situation, but they don't do it like Snadowsky's. She answers questions about sex and relationships that many young girls are too embarrassed to ask.
Although she does touch on practicing safe sex, Snadowsky does not force the lessons onto her readers. She allows her readers to make their own decisions and come to their own conclusions while learning from Dom's experiences and mistakes.
Snadowsky takes the road less traveled and allows her main character to explore a friends-with-benefits relationship without any major repercussions. The ending to Dom's summer is unexpected, but Snadowsky manages to make it a smooth ending as she ties everything together nicely.
Although it can be an enjoyable and entertaining read, "Anatomy of a Single Girl" can also be used as a tool to inform young girls about sex and relationships. Snadowsky is not afraid to go into detail when it comes to Dom's experiences in her new friends-with-benefits relationship. Her writing is descriptive and even – what some parents might consider – a bit raunchy. It's sure to upset some parents, but the novel's content isn't anything that the younger readers aren't learning in their health classes. What makes the storyline so appealing is that it's so believable.
The way she tells Dom's story is impressive: It's relatable and engaging as well as educational. The key to this approach is the point of view. The first person perspective allows readers to think like Dom. Third person might have made it seem like the author is reprimanding the reader. Instead, through first person, the reader learns alongside the main character.
The novel's plot and the way Snadowsky develops her characters make up for the at-times weak writing. She has come a long way since her first novel, "Anatomy of a Boyfriend." It's easier to relate to Dom this time around. Her problems are real and there's no doubt that older readers will find themselves recalling past relationships as Dom faces heartbreak for the first time in her life.
It's easy to get attached to the characters – particularly Dom and her best friend Amy – as you brave through Dom's summer escapades alongside her. It's refreshing to read through the eyes of a female character who learns to be independent and prides herself on that, an aspect that is especially important for the young girls reading Snadowsky's latest release. This is one of the main reasons why parents should forget about the at-times raunchy passages and let their teenagers read this book; not only will they learn about sexual relationships, but they will also learn to empower themselves.
Although "Anatomy of a Single Girl" is perfect for teenage girls, older readers can enjoy it too, even though anyone older than 15 years old will most likely deny it. Let "Anatomy of a Single Girl" become your latest guilty pleasure.
"Anatomy of a Single Girl"
By Daria Snadowsky
Rating: 4/5 stars
Publisher: Random House Children's Books
Release Date: Jan. 8, 2013
Price: $16.99
Pages: 240
Age Range: 14 – 17 years
Form: Hardcover