Posted February 19, 2014
"Roomies"
By Sara Zarr and Tara Altebrando
By ROXANA MAZA
The transition from high school to college can be a bumpy one: struggles with parental independence, questions of morality and relationships tested. "Roomies" tells the story of the blooming, virtual bond between two young women assigned to be roommates and how it begins as a reluctant acquaintanceship and ends as a solid companionship.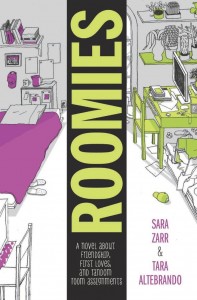 Jersey girl Elizabeth Logan, who preferably goes by "EB," and San Franciscan Lauren Cole, both are ecstatic to move away for college and be on their own, but as their last summer in their respective homes nears its end, they realize their road to freedom will not come without sacrifice, hardship and relying on each other for support.
Sara Zarr, a two-time Utah Book Award recipient and author of five young adult novels, penned her sixth, "Roomies," with fellow author Tara Altebrando, who has written three prior young adult novels before working with Zarr. Zarr gives voice to Lauren, while Altebrando writes as Elizabeth.
It is a quirky yet effective method of writing, which keeps the story fresh, amusing and engaging, because you're able to appreciate two separate writing styles complement one another.
"Roomies," because of its content and writing style, would most likely be ideal for a teen or young adult audience. Because it deals with real life issues of moving away for college, long-distance relationships, and the importance of friendship, it's a great read for those who are ready to embark on that often-intimidating stage of life, for those who are feeling nostalgic of their college years, or anyone who desires a sweet, simple read to pass time.
The fictional story, written in first-person, takes place in San Francisco and in a beach town near the Jersey shore. Both Lauren and EB will be college freshmen at UC Berkeley where they will be roommates. However, Lauren, who lives in a chaotic yet loving household with five younger, rambunctious siblings, is less than ecstatic to know her request for a single was denied, while EB is extremely happy about it.
What makes the simple storyline of two strangers e-mailing each other so compelling is that it is an experience so relatable for young adults entering that stage in their lives, because it's not always easy to become an adult and life at home can become messy as a result.
EB's constant feeling of loneliness is referenced many times in the story. While at a party, she divulges on her desire for guidance: "…I wish that I were being guided a bit more through life, that I didn't always feel as if I were drifting, like an untied balloon that nobody even realized was slipping away."
EB's need for attention is seen through constantly e-mailing Lauren, always writing lengthier, more detailed e-mails and becoming anxious for Lauren to reply sooner. The authors do a good job at exposing their differences because it's clear in the writing – whether through dialogues or personal thoughts – how more casual Elizabeth is in her speech, while Lauren is more reserved and eloquent, which is a nice touch in making them different. By having two different personalities, it's easier as a reader to relate to one or both.
Humor is well interlaced in "Roomies," as noted in Lauren's somewhat dry sense of humor through which she consistently mispronounces Elizabeth's nickname, EB, as "Ebb" all throughout the story. Although initially it is done to mock her, as the relationship develops, it is said so affectionately.
Over the course of the book, the intimacy that develops between the two girls is palpable and endearing, such as when Lauren views a picture of EB for the first time while in the company of her best friend, Zoe: "…I get to see the face that belongs to the name I've been telling all my secrets to, the person who's been telling me hers. It's weird. I wish were alone while looking at this, so I could study it and match it up to the idea I've had of Ebb, but I'm self-conscious about looking too long with Zoe watching me. Ebb's got her dad's eyes."
Other important relationships develop in the novel that add much more depth and development to the characters, and explores modern themes that were refreshing to see. Romance is one, and what sets it apart and makes it interesting is that it includes an interracial relationship. How the characters over-analyze how to keep the sensitive scale of race from tipping over into ethical issues was interesting to read over the course of the book, with touches of witty humor from both involved.
New love also leads to quite the predicament: is a long-distance relationship plausible or not? The way EB and Lauren struggle with the idea is thought provoking throughout the book and realistically handled at the end.
The theme of morality plays a big role in the story in different situations and it is due to the surrounding role models in Lauren's life that EB begins to view situations her own life as "right" or "wrong," and hopes to correct them. EB even takes one particular character from Lauren's life and refers to him in her thoughts when a situation is less than morally ideal, saying he wouldn't do that.
"Roomies" is engaging, witty and humorous, and contains positive messages, especially about finding yourself – sometimes through the electronic eyes of another. Lauren and EB lead such different lives, yet connect in such a way that it leaves the reader thinking they, upon meeting in room 402, will have the everlasting friendship many wish to have, but few ever find.
"Roomies"
Sara Zarr & Tara Altebrando
Little, Brown Books for Young Readers; New York.
Available in hard cover for $18.
Released Dec. 24 2013.
288 pages.