Posted February 17, 2016
"What She Left: A Novel"
By T. R. Richmond
By DEVON-ASHLEY WADE
A brilliant novel of revenge, mystery and love takes the reader into the life of a former student whose past is being pieced together. Alice Salmon, a lively and intelligent 25-year-old journalist, is found washed-up on a riverbank in Southampton, England. It is uncertain whether it was suicide, a tragic accident or murder. It was a shocking death, but the account of her life not forgotten.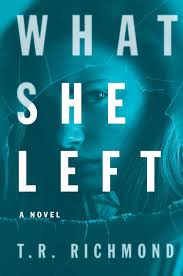 In "What She Left," author T. R. Richmond, an award-wining journalist, engages the reader in the story of Alice Salmon and her documented history that survived her. The contemporary approach used by the author presents information in the form of Facebook posts, tweets, letters, texts, transcribed voicemails and diary entries, which pieced together the truth about a complicated and vulnerable young woman.
Richmond has written for local, regional and national newspapers, magazines and websites in London. He published two previous novels, "Stag" and "Home," 10 years ago. His life has always revolved around mass media, which probably explains why he managed to structure this novel around social media platforms and centering the plot on the life of a journalist.
The novel focuses on a published work by anthropology professor Jeremy Cooke, one of Alice's former university teachers. He embarks on the investigation of Alice's death by referring to various sources of material that will document her life. In a sense, the sources enhance the novel, by making readers feel that it is a believable story. Cooke narrates most of the story.
As the narrative progresses, with the presence of danger and mystery, readers acquire knowledge of the misunderstandings, lies and secrets that cast suspicion on Alice's death.
Also, readers gradually learn that Alice's timeless issue of love was a mixture of complications, involving several men who were aroused by her sexuality, including Cooke, who holds a strange obsession for Alice, her mother Liz and her close friends. "I wasn't intending to do what came next –you've got to believe me, Liz-but my hand brushed her hair and it was like an electric shock," Cooke stated.
Alice also carried a low self-esteem, drawing her to drugs and alcohol. Due to her tendencies of drinking a lot, Alice's remarks were often questionable. She's often complained of how she never felt that she lived up to her parents' expectations and she would use her diary as a way of ventilating her guilt, frustrations and internal pain.
"I had the urge to share the other stuff with him: how I'd never felt quite amazing: it made me feel the same size as everyone else, drink and a few lines," Alice says.
This example alone, illustrates how the novel is sending awareness to parents, on how well do they actually know their children? Alice's internal struggles and habits demonstrate the challenges that adolescents often face when entering adulthood.
Primarily, the novel is a crime and thriller, which touches timeless themes of love, loss, revenge and redemption. It was an easy read, however the downside of this narrative is how the author structured the piece. The use of texts, tweets, diary entries, letters, blog posts and friends' memories made the information scattered and confusing for the reader to digest often causing a loss of interest. For example, Alice Salmon's "Summer 2011" Spotify playlist includes, "Dog Days Are Over" and "Just the Way You Are"?
The novel conveys a theme of how today's society is revolved around an evolving digital age and how people document their lives through various social platforms.
At times, the novel was emotionally involving because it would switch between disloyal and dysfunctional relationships. A sense of melancholy and mourning would take over the reader more powerfully as the story progressed. Especially, the love letters that were exchanged between Alice and her boyfriend Luke, which made the story shift from a mysterious piece to one of hatred and infidelity. In a sense, the reader acts as a detective rebuilding Alice from the digital paper trails she left behind. The plot itself was more compelling than the set-up of the narrative.
There were a few narrators of the story. Megan was Alice's friend who cared dearly for Alice and cherished their friendship. Luke, Alice's boyfriend, who leads a life filled with agony and regret. Also, Alice's mother Liz, who had a close relationship with Alice and counseled her on the dangers of life. All of the characters in this novel played a crucial role in the investigation of Alice's death. At times they seemed unreliable and mischievous. Richmond causes the reader to question whom is actually the suspect.
The novel draws the reader to unravel the mysteries that led to Alice's death. Since it's a quick read, it compels the reader to continue flipping the pages till they reach the end. The truth of what happened to Alice was revealed towards the end of the novel. Although, the structure was a little confusing, it leaves the reader wondering what led to Alice's shocking death.
R. Richmond, "What She Left: A Novel"
Release date: Jan. 12, 2016
Published by Simon & Schuster, New York.
Hardcover: $20.43, e-book: $12.99
ISBN 978-1-47677-384-1
336 pages
No images
Fiction