South Florida, as well as the state of Florida, is home to numerous popular book authors. It has been the place for both fiction and non-fiction writers, including some of the best novelists in the world, to create. Nobel Prize winner Ernest Hemingway and Pulitzer Prize recipient John Hershey lived and wrote in Key West. Recent Pulitzer Prize winners Dave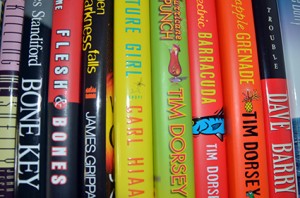 Barry and Edna Buchanan reside in South Florida. Best-selling contemporary writers such as Newbery Medal winner Carl Hiaasen and mystery writer Randy Wayne White live and write in South Florida and Southwest Florida, respectively. And Brad Meltzer, also a best-selling novelist,  writes mysteries and thrillers for an international audience from his residence in Miami.
Scores of other authors have set stories or written about South Florida. For example, Tom Wolfe's recent "Back to Blood" is set in Miami. Crime fiction author Paul Levine, a former Miami lawyer and UM law school alumnus, set his Jake Lassiter series of novels in Miami.
Nobel Prize laureate (1978) Isaac Bashevis Singer once taught at the University of Miami. Popular novelist James A. Michener also taught students about crafting best-selling novels on our campus.
So, books of all kinds are at the heart of our culture.
In this section of our Web site, we review current releases of both local and national nature by both new and established writers.
We hope you will enjoy our work.
— Staff contribution
Spring 2013