Posted February 16, 2014
"The Storyteller"
By Jodi Picoult
By ASHLEY ZIMMERMAN
Picoult does it again.
No stranger to The New York Times Bestseller List, Jodi Picoult finds her way there again, with her latest fiction novel "The Storyteller."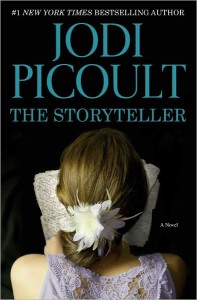 A masterfully crafted work of art, the journey of Sage Singer is full of unexpected twists and turns and written in vivid detail, allowing the reader to easily picture each moment as it unfolds.
She writes: "It's silly to anthropomorphize bread, but I love the fact that it needs to sit quietly, to retreat from touch and noise and drama, in order to evolve. I have to admit, I often feel that way myself."
Sage Singer, 25, is a baker, a loner, a ball of insecurity and a very human character. Still reeling from the loss of both her parents, the young woman locks herself away in a bakery working nights alone in a kitchen and taking solace in her solitude.
All of this changes when she befriends an old man at her grief counseling group who just happens to be an ex-Nazi. After warming his way into her locked up heart, Josef asks her a very big favor, one she struggles with for the rest of the story.
Picoult, 47, who studied creative writing at Princeton, is a bestselling author of 21 novels. She also has a master's in education and a passion for teaching. She and her husband and their three children live in Hanover, N.H.
"The Sunflower" by Simon Wiesenthal, the real life tale of a concentration camp prisoner who was brought to the bedside of a dying Nazi, in seeking forgiveness from a Jew, inspired the author to write this novel. Picoult also wrote it for her mother and other Jews, some of whom didn't live to their stories.
This isn't the Holocaust-themed novel you were assigned to read back in grade school. "The Storyteller" paints a very real and sometimes very dark picture based on both sides of the tragedy while seamlessly changing voices as the character perspective changes. Having been written for adults it also appeals to young adults.
The novel is a combination of chapters, each told by different characters in the story, allowing the reader an inside perspective from several points of view.
Perhaps this is what makes it so easy for Picoult to blur the lines of black and white, good and evil, right and wrong as she gives an intimate look at all sides of an issue. For those readers who have enjoyed her many other hit novels such as "My Sister's Keeper" and "Sing You Home," this will be another quick favorite as it grapples with a controversial subject and gives life to both sides of the argument without making either one stereotypical.
Along with Sage Singer and Josef Weber, the story is also told from the perspective of Sage's grandmother, Minka, who happens to be a Holocaust survivor, and a federal agent Leo whom Sage goes to for help.
While there are jumps from the past to present as Minka recalls her time as a young Jewish girl during World War II and Josef explains his childhood as a young German boy who grew up to be an SS soldier to Sage who is a modern-day young woman, the jumps are clear and easy to keep up with. Although it may sound confusing the change between characters and different times in the story happens effortlessly thanks to Picoult's writing.
Not only is the writing excellent, but the author's research on the topic of World War II is self-evident as she provides incredible detail that transports the reader back to this horrifying time, allowing them to be a fly on the wall as they witness acts of both horror, kindness and incredible courage.
" 'Several men in striped clothing were trying to sort us. They looked like the pods of a milkweed, plants that might have once had color and animation but that now had dried up, and were waiting to blow away on a breath. They told us, in Polish, to leave our belongings on a ramp. I grabbed the sleeve of one man. 'Is this a factory?' I asked, pointing toward the building with the smokestacks. 'Yes,' he said, his lips pulling away from this yellow teeth. 'It's a factory where they kill people,' " Picoult wrote.
This novel is hard to put down, a gripping and emotionally charged story that gives a new perspective on an old topic. The readability, flawed but captivating characters, and poetic writing make it an unmistakable hit.
Picoult's small web of characters weave together to create an incredible tale that succeeds in keeping readers invested and guessing until the very last moment, one that leaves the audience in shock and awe.
While this novel in no way makes you question if what happened during World War II was on any level okay, it does succeed in tackling larger themes like grief, acceptance and forgiveness in unexpected ways and Picoult manages to allow the reader to experience every emotion known to mankind as they take this journey with Sage.
Author: Jodi Picoult
Title: "The Storyteller"
Publisher: Emily Bestler Books, Washington Square Press, New York
Genre: Fiction
Released: Nov. 5, 2013
Length: 460 pp.
Price: $17.16 hardcover edition, $10.72 paperback edition, $8.63 Kindle edition
Extras: includes Readers Club guide